Israel-Gaza conflict: Peace shattered by rocket fire and air strikes hours before ceasefire was due to end
Israel alleges that Hamas 'terrorists' broke truce by firing rockets from Gaza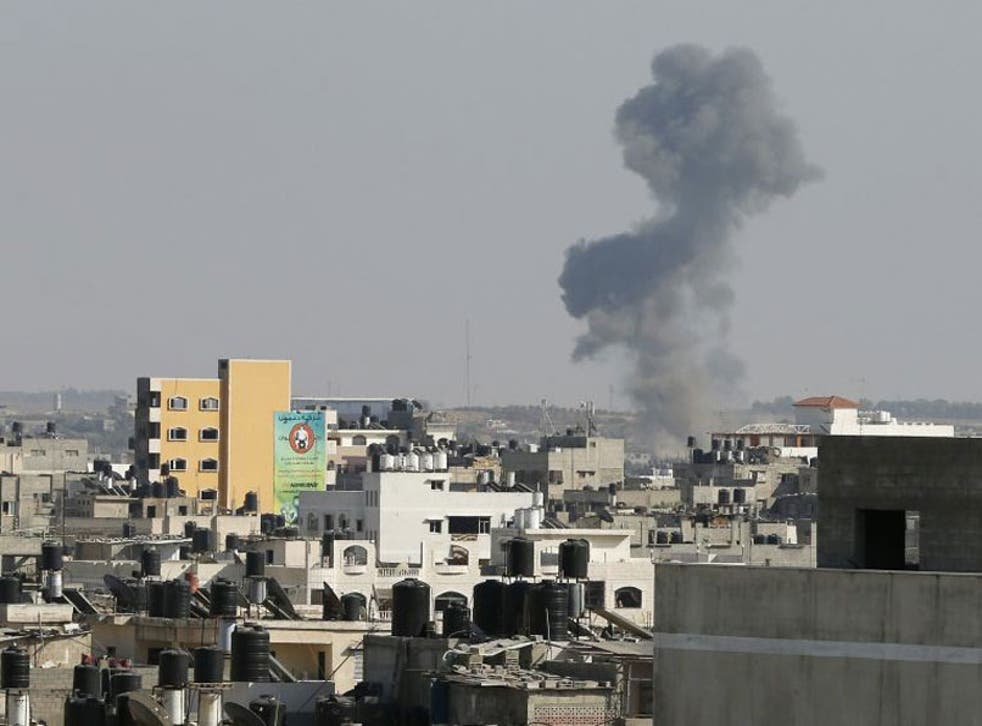 A temporary truce between Israel and Hamas has collapsed once again after rockets were reportedly fired from the Gaza Strip hours before the latest ceasefire was due to end.
Israeli forces resumed bombing targets in Gaza after the alleged attack on Tuesday and ended negotiations that were hoped to bring an end to the latest conflict.
The Hamas rockets landed in open areas and caused no injuries and there were no immediate reports of casualties from air strikes in Gaza.
The Israeli Defence Forces said three rockets landed near the city of Beersheba and Netivot and it resumed strikes on "terror targets" in response.
"Terrorists have violated the ceasefire," a tweet read shortly before 2pm.
Prime Minister Benjamin Netanyahu has ordered Israel's negotiating team to return home from talks with Hamas working towards a peace deal brokered by Egypt.
Israel started bombing Gaza with the start of Operation Protective Edge on 8 July, which the Government said was necessary to stop militants firing rockets from the coastal enclave.
The latest ceasefire lasted almost a week and had been successfully extended for a day until 9pm on Tuesday – midnight local time – to allow talks over a long-term truce.
It was not clear when or if the discussions will resume after today's round of fighting comes to an end.
"This rocket attack on Beersheba is a grave and direction violation of the ceasefire," Israeli government spokesman Mark Regev said.
He refused to say whether Israel would stop negotiations in Cairo but officials have repeatedly said they will only negotiate if there is a "total and complete" stop to hostilities.
There was no immediate claim of responsibility for the rocket attacks but shortly before the reported launch, Hamas spokesman Fawzi Barhoum appeared to hint at a launch, saying: "If Netanyahu doesn't understand [...]the language of politics in Cairo, we know how to make him understand."
In pictures: Israel-Gaza conflict - summer 2014

Show all 18
Hamas wants Israel to end a seven-year blockade that has ravaged its economy and Israel's primary aim is for Hamas to disarm.
An Egyptian compromise would see the blockade eased, rather than lifted, and let Hamas keep its arsenal but back the partial return of ousted Palestinian President Mahmoud Abbas to run border crossings and overseeing internationally-supported reconstruction efforts.
Jamal Shobaky, the Palestinian ambassador in Cairo, voiced disappointment with the Israeli stance, particularly on the question of the blockade.
"What the Israelis have offered so far in the talks is not removing the blockade but rather easing it," he said.
An estimated 2,000 Palestinians have been killed in the conflict so far, the majority of them civilians, and Israel had lost 67 people including three civilians.
Additional reporting by Reuters and AP
Register for free to continue reading
Registration is a free and easy way to support our truly independent journalism
By registering, you will also enjoy limited access to Premium articles, exclusive newsletters, commenting, and virtual events with our leading journalists
Already have an account? sign in
Register for free to continue reading
Registration is a free and easy way to support our truly independent journalism
By registering, you will also enjoy limited access to Premium articles, exclusive newsletters, commenting, and virtual events with our leading journalists
Already have an account? sign in
Join our new commenting forum
Join thought-provoking conversations, follow other Independent readers and see their replies