Israel-Gaza conflict: University hit as Palestinians endure more than 200 strikes in 24 hours
Israeli forces claimed there was a 'weapons development centre' at the site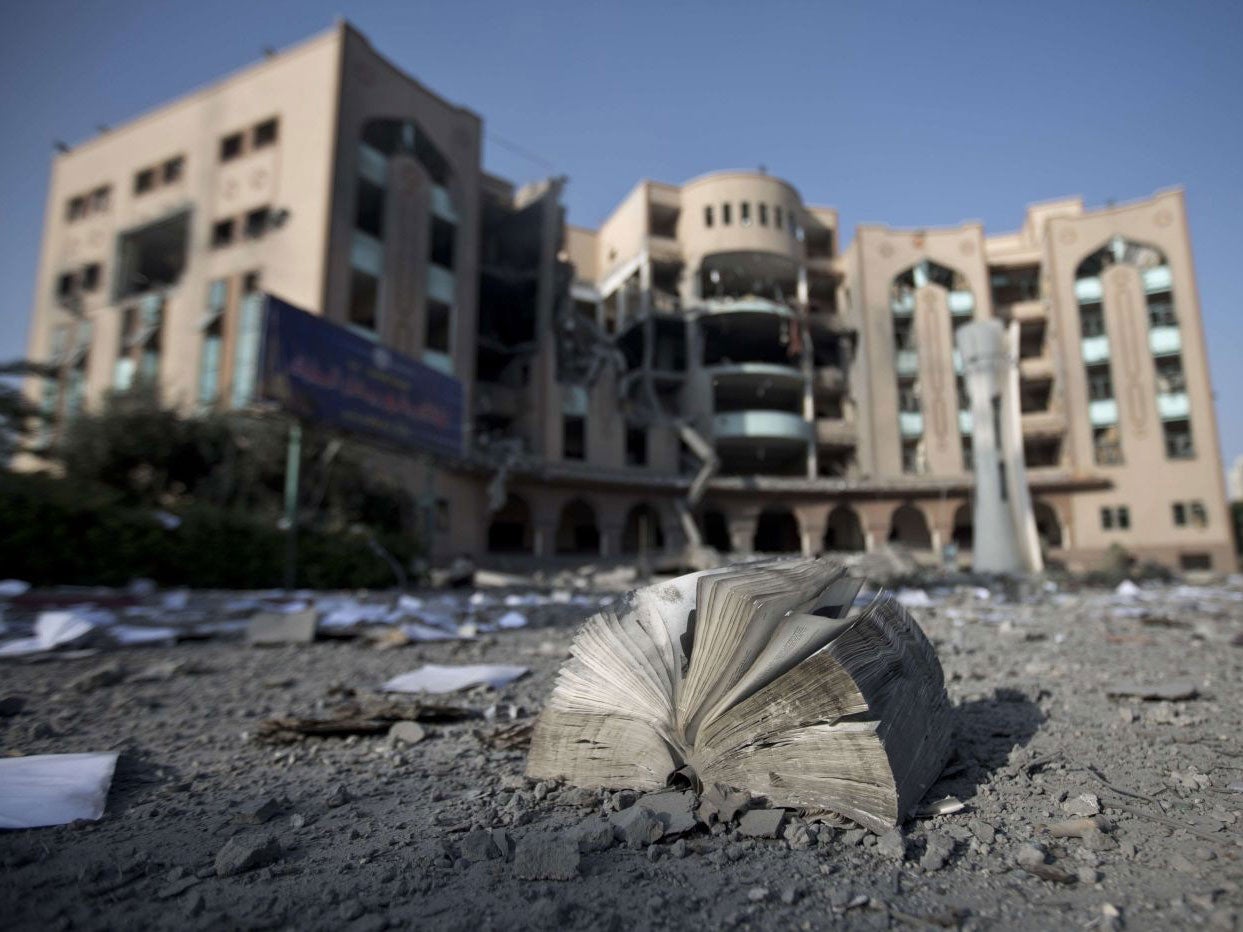 A university in Gaza has been bombed in the latest round of shelling by Israeli forces that hit more than 200 targets.
It is not yet known whether any teachers or students from the Islamic University of Gaza were injured in the overnight strike, which the Israel Defence Forces (IDF) claimed hit a "weapons development centre".
Palestinian health officials said at least 35 people had been killed by Saturday morning after more than 200 strikes in 24 hours.
Five mosques, which the IDF said contained "multiple Hamas command and training facilities" were among the targets.
The university was previously hit in the 2008 Gaza War, when the Israeli military again claimed that science facilities were being used by Hamas to develop and store weapons.
Hamas and the university denied the allegations and a UN investigation into the 2008 conflict disputed the Israeli claims, concluding: "These were civilian, educational buildings and the Mission did not find any information about their use as a military facility or their contribution to a military effort that might have made them a legitimate target in the eyes of the Israeli armed forces."
The university offers courses in disciplines including medicine, engineering, nursing, science, arts and law as well as Islamic studies.
The southern town of Rafah was targeted today as troops searched for an officer they believe was captured by Hamas in an ambush during the humanitarian ceasefire on Friday. Both sides have accused each other of breaching the peace.
Rafah's main hospital has been evacuated because of the strikes and the death toll is still being counted.
Hamas denied capturing 23-year-old Hadar Goldin and said he may have been killed in a clash with Hamas fighters about an hour before the start of the truce.
Fierce battles continued on Friday near the site of the alleged capture, where Israeli soldiers have been attempting to find and destroy tunnels near the border used by Hamas fighters.
More than 1,600 Palestinians have been killed and 8,000 wounded since the start of the conflict on 8 July and a UN report found that most strike victims were civilians, including many children.
In pictures: Israel-Gaza conflict
Show all 124
Israel has lost 63 soldiers and three civilians, its highest death toll since the 2006 Lebanon War.
Since fighting began, militants have fired more than 3,000 rockets into Israel from Gaza, reaching major cities and forcing millions to seek cover.
Additional reporting by PA
Join our commenting forum
Join thought-provoking conversations, follow other Independent readers and see their replies