Israel-Gaza conflict: 80 per cent of Palestinians killed by Israeli strikes are civilians, UN report says
Many of the fatalities have been children and 1,360 more have been wounded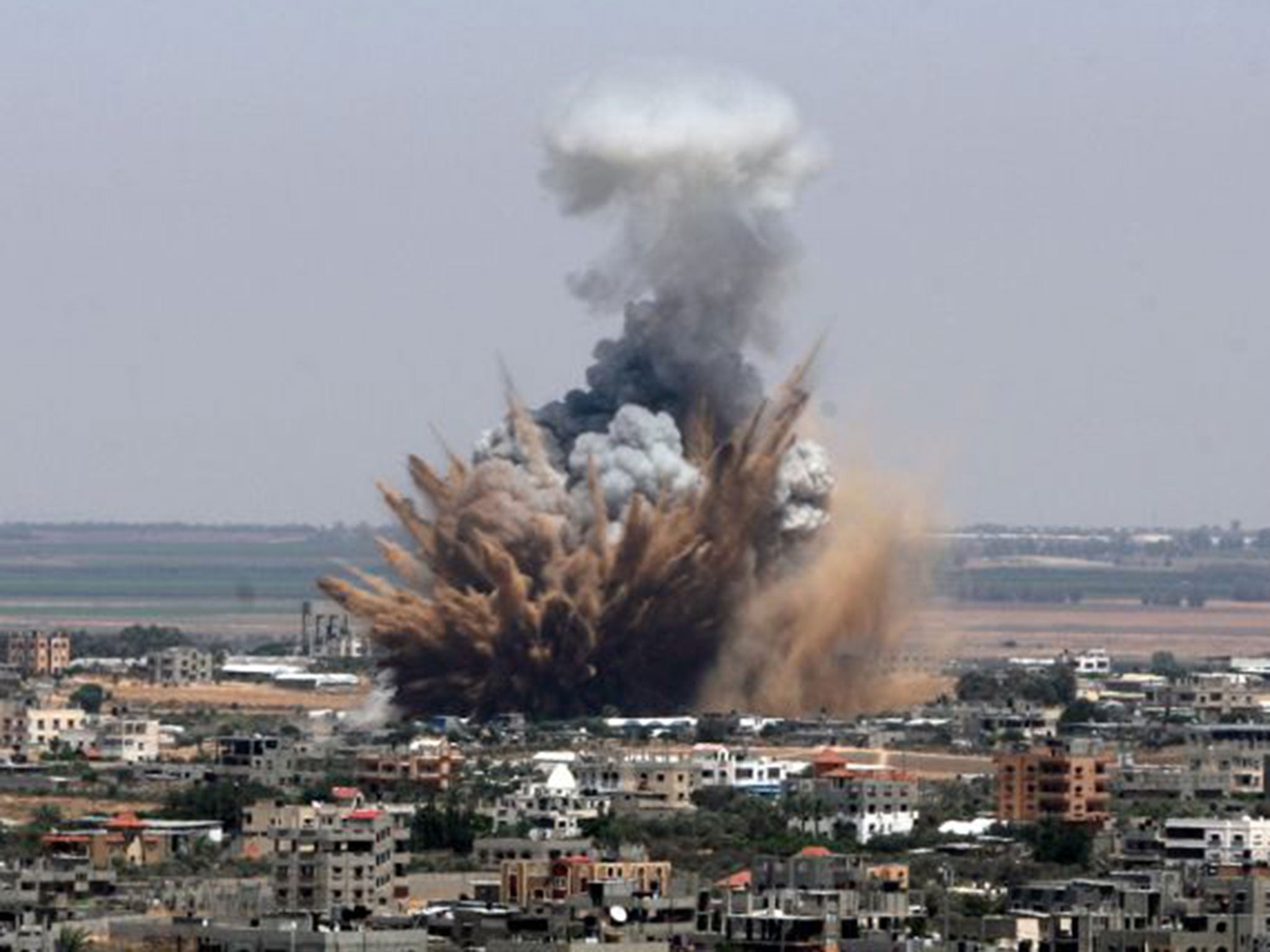 Almost 80 per cent of Palestinians killed in Gaza by Israeli bombardments have been civilians, the UN has said.
A report raised "concerns about the respect for international humanitarian law" as the impact on families was revealed.
The death toll in Gaza has risen to 182 and more bloodshed was feared on Tuesday as Hamas did not follow the Israeli Government's approval of ceasefire terms proposed by Egypt.
According to figures from the United Nations Office for the Co-ordination of Humanitarian Affairs (Ocha) 77 per cent of fatalities since the start of Operation Protective Edge on 7 July have been civilians.
Of the 138 killed when the report was completed, 36 were children, and 1,361 Palestinians had been injured.
Out of wounded Palestinians, almost 390 were children and 250 were women.
The military has repeatedly claimed that the buildings are legitimate targets but the UN report said the targeting of civilian homes is a violation of international humanitarian law unless the homes are being used for military purposes.
It added: "In case of doubt, buildings ordinarily used for civilian purposes, such as homes, are presumed not to be legitimate military targets."
More than 1,250 homes have been destroyed or severely damaged so far and more than half a million people risk losing their water supply because it is too dangerous for contractors to fix damaged pipelines.
Tens of thousands of Palestinians have already fled their homes in northern Gaza following leaflets warning of an Israeli ground offensive and 17,000 have taken refuge at UN-operated schools.
A statement released on Monday also condemned the launching of rockets by Hamas and other militant groups from densely populated residential areas.
In pictures: Israel launches further air strikes on Gaza
Show all 105
James Rawley, the UN's Humanitarian Co-ordinator for the Occupied Palestinian Territories, warned of a looming humanitarian crisis as agencies struggle with damage to health, education, water and sanitation facilities, as well as power lines.
"Our thoughts must first be with those many civilians who have already lost their lives, and the even greater number of who have suffered physical or psychological injuries," he added.
"While we await those much needed steps [towards peace], we must once again remind all parties that they must strictly adhere to international humanitarian law."
Mr Rawley said precautions must be taken to avoid civilian casualties and there must be "proportionality" in operations, adding that military assets should not be kept in residential areas.
The Israeli tactic of using "knock-on-the-door" missiles to warn people to evacuate before a strike has also been criticised, with opponents saying rockets that do not explode are still a danger to life.
The recent conflict is only a part of an ongoing "cycle of violence" in the region that is compounded by poverty, unemployment and food shortages in Gaza caused by years of strict movement restrictions imposed by Israel, Mr Rawley said.
He added: "My thoughts are particularly with Gaza's children, not only those who are already casualties of this latest conflict, but all of Gaza's children for whom fear and insecurity are a not only a reality today but a scar that will endure for a lifetime."
Join our commenting forum
Join thought-provoking conversations, follow other Independent readers and see their replies