Israeli soldier calls on people to forgive each other and put anger behind them on Yom Kippur
The Jewish holiday is also known as the Day of Atonement
Lizzie Dearden
Wednesday 23 September 2015 11:45 Comments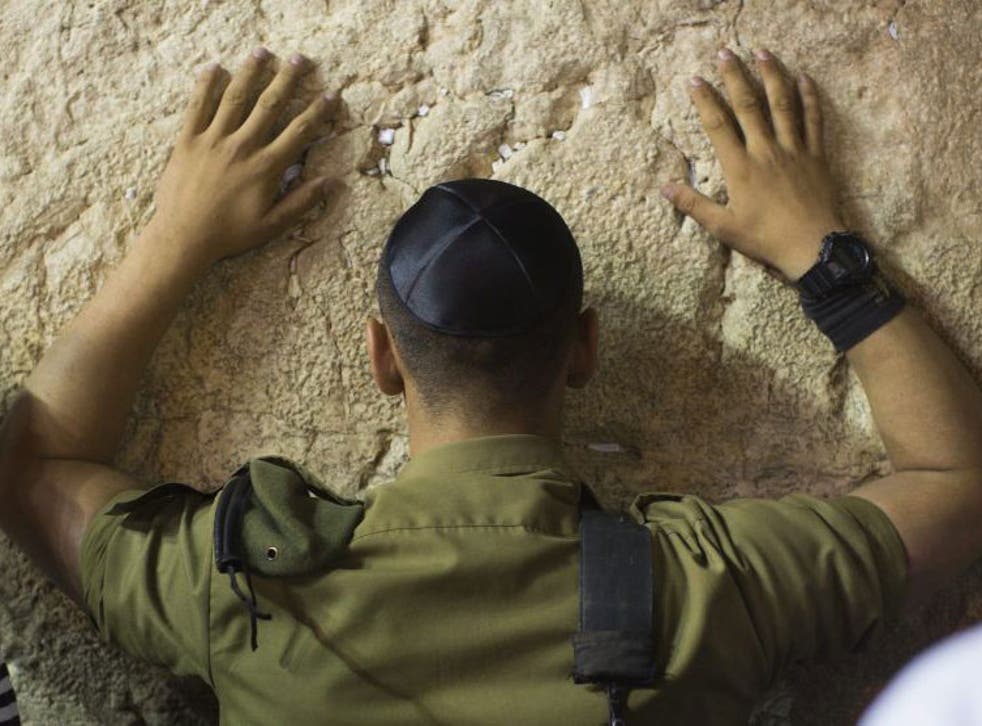 An Israeli Defence Forces (IDF) soldier has called on people to forgive each other and put "feelings of anger and hurt" behind them during Yom Kippur.
Also known as the Day of Atonement, it is the holiest day in Judaism, seeing people fast from sunset to the following nightfall, gathering in synagogues for prayers during the day.
Sergeant Yanina Jatemliansquy, a soldier with the IDF's David Company said that she was always moved by the holiday.
In a statement published by the IDF hours before Yom Kippur began on Tuesday evening, she said: "This holiday is the time for finding yourself, forgiving others and putting behind any wrongdoings or feelings of anger and hurt.
"It's the holiday when we all come together and appeal to God to protect our beloved country."
The IDF's official Twitter account described Yom Kippur as a "time of repentance and soul-searching".
According to the Jewish Press, traditional prayers ask forgiveness for sins committed against God, but the eve of the holiday is customarily dedicated to repentance for wrongs against fellow human beings.
David Cameron sent his best wishes to everyone in Britain and around the world marking Yom Kippur in a recorded message where he said it gave people a "chance to look forward to a future free from conflict and prejudice".
"That means lasting peace in the Middle East – a future where families don't live in fear of rocket attacks," he added.
"And it means wiping out prejudice in this country, because we will not tolerate anti-Semitism in Britain.
"No disagreements on politics or policy can ever justify racism or extremism in any form."
London Mayor Boris Johnson, US President Barack Obama and Hillary Clinton were among the other politicians sending greetings.
The day also marks the anniversary of the start of the Yom Kippur War, also known as the Ramadan War, October War or 1973 Arab-Israeli War.
Started by a coalition of Arab states led by Egypt and Syria, who were trying to re-gain territory lost to Israel, it ended with an Israeli victory.
Unrest was expected in the West Bank today after an 18-year-old Palestinian woman was shot by an IDF soldier at a checkpoint in Hebron - a city divided between Palestinian and Israeli control.
Hadeel al-Hashlamon, a university student, was photographed appearing to confront soldiers minutes before she was shot on Tuesday morning. She died later in hospital of her injuries.
A spokesperson for the IDF said she had tried to stab a soldier and had been given medical care, but unverified footage appeared to show her lying unattended on the ground for several minutes. A weapon could not be seen in the images.
Earlier Tuesday, the military said a Palestinian man was found dead in a village near Hebron after an explosive device he was allegedly handling went off.
Palestinians said the circumstances behind the man's death were unclear.
Tensions have been rising in Israel and the Occupied Palestinian Territories in the run-up to Yom Kippur and the Muslim holiday of Eid-ul-Edha on Thursday, which commemorates Ibrahim's willingness to sacrifice his son to God.
Jerusalem's Al-Aqsa Mosque compound, known to Jews as the Temple Mount and to Muslims as the Noble Sanctuary, has been a flashpoint for violence in recent days.
On the eve of the Jewish new year holiday of Rosh Hashanah, Muslim protesters barricaded themselves inside the mosque and threw rocks and firecrackers in clashes with police.
An Israeli man also died in Jerusalem after Palestinians pelted his car with rocks.
Several rockets have been fired from the Gaza Strip, prompting Israel to deploy its Iron Dome rocket defence system.
Speaking in Paris on Tuesday, Palestinian President Mahmoud Abbas called for an end to the violence.
"It's extremely dangerous," he said. "We don't want to see this continue."
Additional reporting by AP
Register for free to continue reading
Registration is a free and easy way to support our truly independent journalism
By registering, you will also enjoy limited access to Premium articles, exclusive newsletters, commenting, and virtual events with our leading journalists
Already have an account? sign in
Join our new commenting forum
Join thought-provoking conversations, follow other Independent readers and see their replies