Israeli soldier 'captured in tunnel attack' by Gaza militants
Reports come after a three-day ceasefire collapsed just hours in
Heather Saul
Friday 01 August 2014 16:42 Comments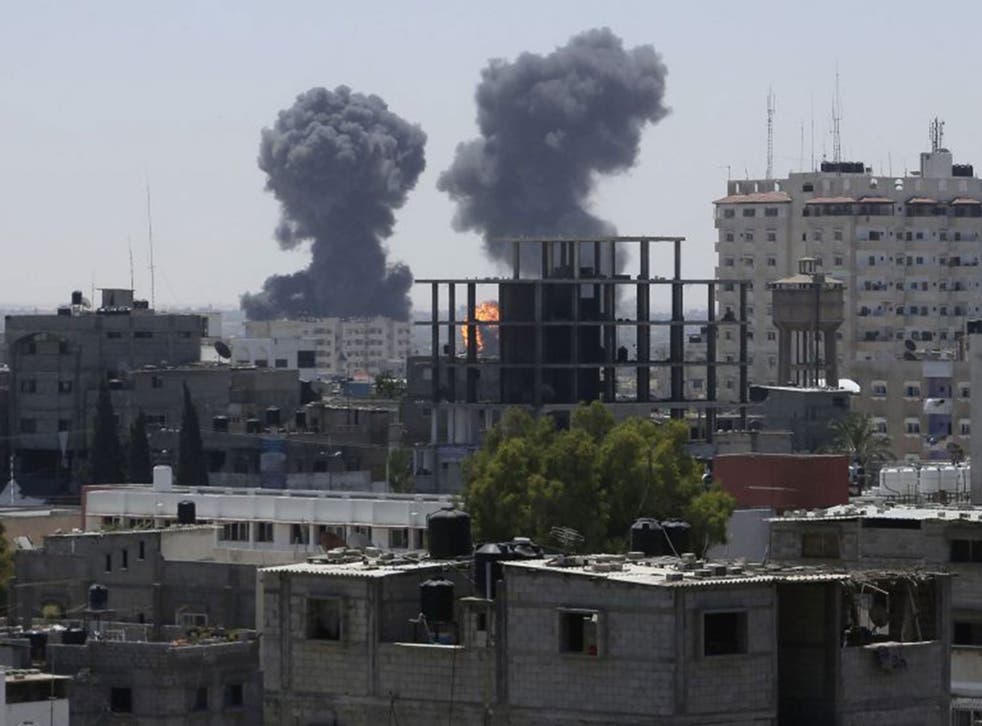 Israel suspects one of their soldiers has been captured by militants as a three-day ceasefire unravelled just hours after it began.
The Israeli Defence Forces named the serviceman as Second Lieutenant Hadar Goldin, 23, from Kfar Saba.
Earlier, it had been reported that the soldier may have had duel British-Israeli citizenship. However, the UK Foreign Office Secretary Philip Hammond said he had "no information" to suggest the soldier was British.
Cambridge Rabbi Reuven Leigh had said on Twitter he was "shaken" to hear reports that Mr Goldin has been captured, saying: "He spent a few years living in Cambridge with his family, please pray for his safe return." He later removed the tweet.
The army said they believe the soldier went missing in the Rafah area of Gaza when the Israeli military was attacked during a continued operation to destroy tunnels they suspect are used by militants to gain access into Israel.
"Out of a tunnel access point or several, terrorists came out of the ground. At least one was a suicide terrorist who detonated himself. There was an exchange of fire," said Lieutenant-Colonel Peter Lerner, a military spokesman.
In pictures: Israel-Gaza conflict

Show all 124
He said two soldiers were killed during the incident at 9.30am local time on Friday, bringing the total number of Israeli soldiers who have died during the conflict to 63.
A Hamas spokesman, Fawzi Barhoum, would not confirm or deny Goldin's capture, saying that it was being used — along with news that two Israeli soldiers were killed in the area of Rafah in the south of the Gaza Strip — as a cover for a "massacre" in Rafah that followed the apparent capture.
The White House warned the reported attack would be a "barbaric" violation of the ceasefire. In a conversation with the US Secretary of State John Kerry, the Israeli Prime Minister Benjamin Netanyahu warned: "Israel will take all necessary steps against those who call for our destruction and perpetrate terrorism against our citizens."
Officials in Gaza say 35 Palestinians were killed by Israeli shelling just hours after the ceasefire began this morning.
Gaza health official Ashraf al-Kidra told The Associated Press that in addition to the dead some 200 Palestinians were wounded in shelling of the Rafah area in southern Gaza.
Both sides have blamed each other for the ceasefire collapsing. The Israeli military said eight rockets and mortar bombs were fired from Gaza, adding that one was intercepted by the Iron Dome system and seven hit open areas.
Mark Regev, Netanyahu's spokesman, said Hamas had "yet again thrown away a chance for a humanitarian relief for the people of Gaza, by deliberately violating this ceasefire."
The ceasefire was announced earlier in a joint statement by Mr Kerry and the UN Secretary-General Ban Ki-moon amid a rapidly climbing death toll since hostilities began on 8 July.
Palestinian officials say more than 1,499 Palestinians have been killed and nearly 7,000 wounded. Israel says that alongside the deaths of 63 of its soldiers, two civilians and a Thai national have died and more than 400 have been injured.
A spokesperson for Mercy Corps, who are delivering humanitarian assistance in Gaza, said administering aid in the region is becoming increasingly difficult following continued shelling and little access to electricity and sanitation.
Mr Kerry had warned ahead of the truce it was "a respite, not an end" to the conflict.
Register for free to continue reading
Registration is a free and easy way to support our truly independent journalism
By registering, you will also enjoy limited access to Premium articles, exclusive newsletters, commenting, and virtual events with our leading journalists
Already have an account? sign in
Join our new commenting forum
Join thought-provoking conversations, follow other Independent readers and see their replies