Israeli soldier stabbed and Palestinian attacker shot as Ban Ki-moon makes visit in efforts to stop violence
The UN Secretary-General is urging both Israelis and Palestinians to work towards peace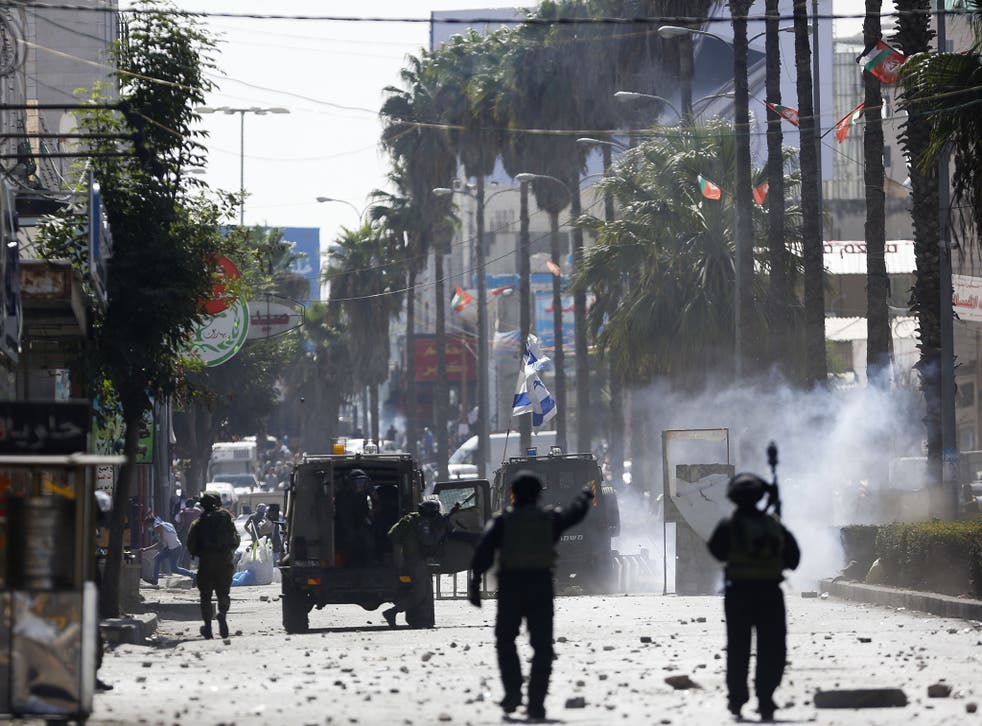 An Israeli soldier has been stabbed and a Palestinian attacker shot in the latest attack in a wave of violence driving calls for a lasting resolution to the peace process.
It came as Ban Ki-moon, the UN Secretary-General, journeyed to urge both Israeli and Palestinian leaders to end the "posturing and brinkmanship" and work towards a two-state solution.
The Israeli Defence Forces (IDF) said the officer was stabbed during a "violent riot" near the West Bank city of Hebron, which has seen frequent attacks and clashes in recent weeks.
The officer was not seriously injured and the Palestinian assailant, who was shot, was taken to hospital for treatment. There was no news of his condition.
Unconfirmed reports on social media said school pupils had been protesting in Beit Awwa at the time and named the shot man as Uday al-Masalma, saying he had died.
An Israeli man also died in a separate incident near the Fawwar refugee camp, outside Hebron, today.
A spokesperson at the Israeli Embassy said he was run over after he got out of his car to assess the damage after it was pelted with stones. Authorities were investigating whether the crash was accidental or deliberate.
Two dead in Israel bus station attack
Since the start of this month, at least nine Israelis have been killed in Palestinian attacks and 42 Palestinians have been shot dead by security forces and Israelis, including 20 said by authorities to be attackers.
After an Arab gunman killed an Israeli soldier at a bus station in Beersheba on Sunday, a mob mistook an Eritrean bystander for an accomplice and beat him to death.
An Israeli man was also stabbed by an Orthodox Jewish attacker, who believed he was an Arab, in a botched revenge attack near Haifa.
Benjamin Netanyahu, the Prime Minister, said Israel was a "country of law" and ordered crowds at the scene of an attack to leave immediately, adding: "No one will take the law into his own hands."
The opposition leader, Isaac Herzog, said today that bloodshed would continue unless peace talks resume and the long-discussed two-state solution is implemented.
He said Israeli leaders "can't keep living under this illusion that everything is fine and you can just manage the conflict…separation between the people has to be implemented".
The UN Secretary-General was due to arrive later today to meet with both Israeli and Palestinian leaders to attempt to bring an end to the wave of violence.
He issued a video message ahead of the visit calling for calm on both sides, saying he understood Palestinians' frustration but that violence would only harm their legitimate aspirations for statehood.
Mr Ban also told Israelis that he understood their concerns and fears due to the security deterioration, but added there was no military solution to the situation.
The Israeli–Palestinian conflict intensifies

Show all 10
"Let us get truly serious about reaching the only solution capable of durably stanching the bloodshed, the hatred and the fear of even greater conflict," he said.
"That is the courage and leadership the peoples of this holy land demand and deserve."
Palestinian authorities have condemned the "extrajudicial executions" of stabbing suspects and attempted attackers, while Israeli politicians have blamed their Palestinian counterparts and Hamas – the political party and associated militant group - for "inciting terror".
Hassan Yousef, a co-founder of Hamas, has been arrested by the IDF in the West Bank for "actively instigating and inciting terrorism".
The violence has been stoked partly by Palestinians' anger at the feared erosion of Muslim control of the Noble Sanctuary in Jerusalem, although Israeli authorities have continually denied any move to change access arrangements the holy site, revered by Jews as Temple Mount.
Checkpoints and walls have been set up around Arab neighbourhoods in East Jerusalem and Israelis have been encouraged to carry their guns in public as the unrest continues.
Additional reporting by AP