IDF soldiers given "licence to kill without any accountability"
Decision to cut jail time for soldier who shot and killed unarmed Palestinian attacker as he lay wounded on ground condemned by Palestinian leaders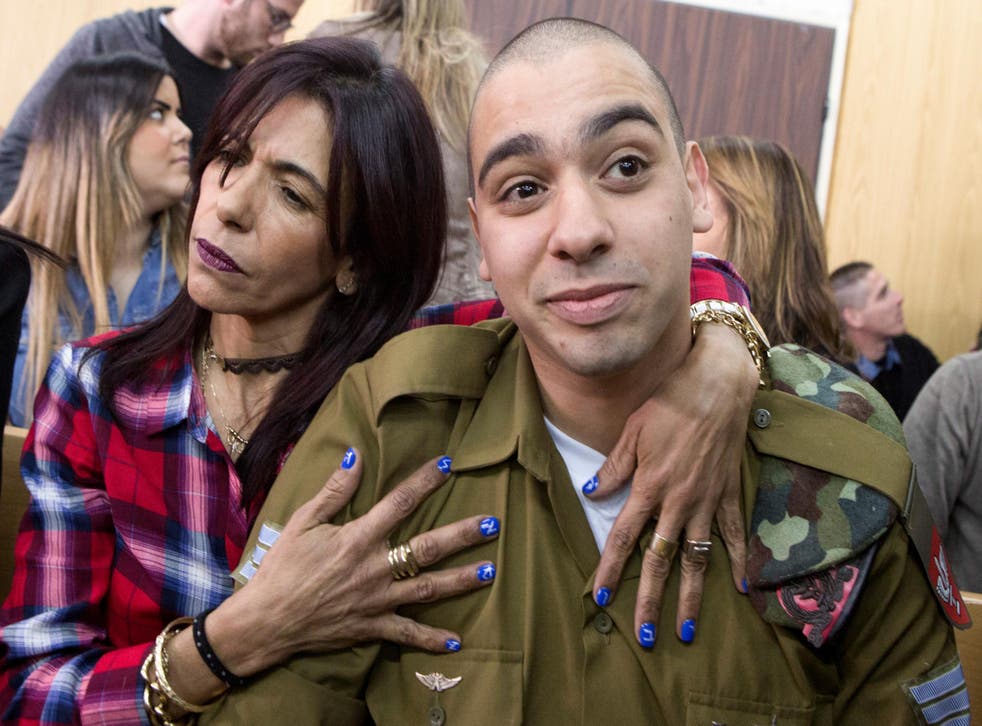 Elor Azaria, the Israel Defence Forces (IDF) medic who shot a Palestinian assailant in the head when he was immobilised on the ground last year, has had his 18 month manslaughter sentence reduced to 14 months following a decision by the Israeli military's chief of staff.
In March 2016, Azaria shot 21-year-old Abdel Fattah al-Sharif in the head when he lay wounded on the ground in the occupied West Bank city of Hebron after he and an accomplice attacked two soldiers.
The now 20-year-old was handed down the sentence by a Tel Aviv military court in January in a ruling which marked the first time a member of the IDF had been convicted of the charge in 12 years.
Israeli checkpoints impede daily life in Hebron
The prosecution had sought a sentence of between three and five years, although manslaughter can carry a sentence of up to 20 years under Israeli law.
"If [a Palestinian] kills an animal ... he would have gotten more time," Sharif's father Yusri told reporters from the West Bank at the time.
The IDF's decision on Wednesday to shave four months off Azaria's sentence was met with anger by many prominent Palestinians and rights activists.
Israel: From independence to intifada

Show all 7
"The reduction of the sentence is an encouragement for Israeli soldiers to commit violations [against Palestinians]," Mustafa Barghouti, senior member of the Palestinian Liberation Organization (PLO) central council, said in an interview with Al Jazeera.
"It's a green light, a licence to kill for Israeli soldiers without any accountability," he said.
A statement from IDF Chief of Staff Gadi Eizenkot's office said that Azaria's actions had been "contrary to the code of conduct and to the values of the IDF" but the decision was made to shorten his sentence because Azaria is a "a combat soldier and a warrior" who had "endured a lot", military spokesperson Jonathan Conricus added.
The case – and the military court's verdict – has split Israeli society, where there is widespread sympathy for the IDF, since military service is compulsory.
A 2016 survey by the Israel Democracy Institute found that 65 per cent of the Jewish Israeli public supported Azaria's claim of self-defence.
There have been several fundraisers and protests in support of the soldier, as well as high profile calls for the young recruit to be given a pardon by Israeli Prime Minister Benjamin Netanyahu.
Palestinians and rights activists, however, have widely criticised Azaria's punishment as not harsh enough for the severity of his crime.
"Senior Israeli officials should repudiate the shoot-to-kill rhetoric that too many of them have promoted, even when there is no imminent threat of death," Sari Bashi, Human Rights Watch's Israeli and Palestinian advocacy director, said earlier this year.
"Pardoning Azaria or reducing his punishment would only encourage impunity for unlawfully taking the life of another person."
Join our new commenting forum
Join thought-provoking conversations, follow other Independent readers and see their replies