Israeli soldiers shoot dead 73-year-old woman who 'attempted to run them over' in West Bank
Thawarat al-Sharawi's death on Friday came on a day of renewed violence across the West Bank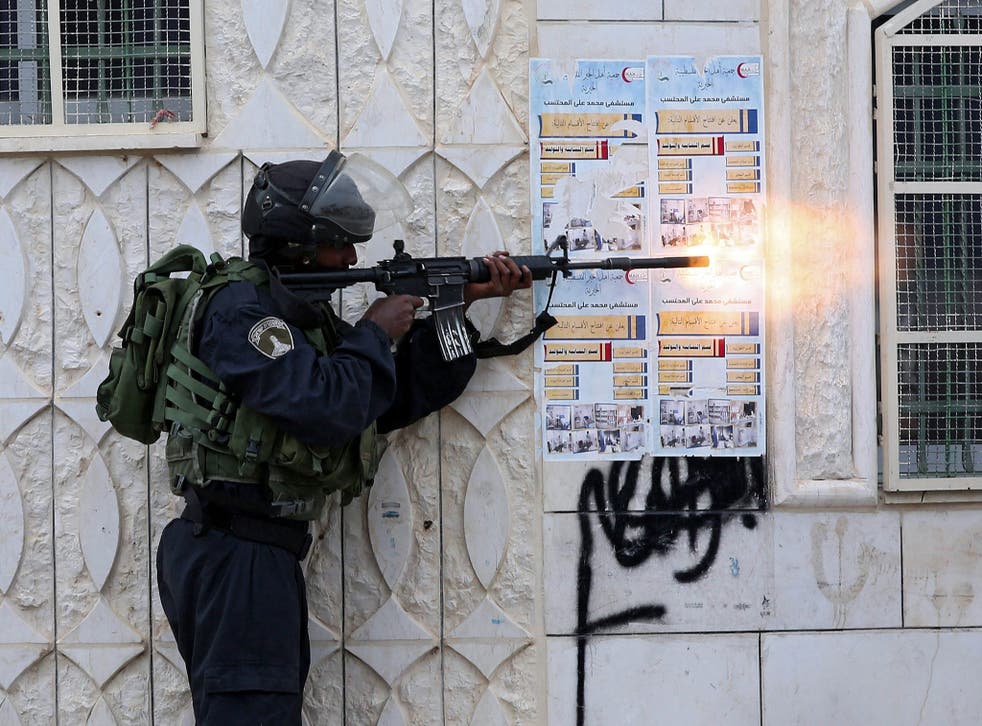 A 73-year-old Palestinian woman accused of trying to run over Israeli soldiers has been shot dead in the West Bank.
Thawarat al-Sharawi died on the way to hospital, the Israeli Defence Forces (IDF) said. Medics told the Reuters news agency she had been shot 15 times on Friday.
Mrs al-Sharawi's family claimed she been driving into a petrol station next to where the soldiers were standing in Halhul but the military said she attempted to plough her car into them.
A spokesperson said her car slowed down and then sped toward the soldiers, who jumped out of the way unharmed and opened fire.
The Israeli–Palestinian conflict intensifies

Show all 10
Footage on Israeli television showed bullet holes in the car's front and back windscreens.
Mrs al-Sharawi's son, Ayoub, said his father died during the First Intifada in 1988 after inhaling tear gas fired by Israeli troops but that his mother, who started driving in her 50s, did not want to harm anyone.
"If she had wanted to take revenge (for her husband's death), she could have done that a long time ago," he added. "There is no way she wanted to run over soldiers."
Halhul was the site of a previous car ramming attack on Wednesday, when an Israeli police officer was injured and the driver shot dead.
Mrs al-Sharawi's death came as Palestinians launched more attacks on Israelis in a continuing wave of violence that intensified at the beginning of October.
Two Israelis, reportedly aged 16 and 19, were shot on Friday as they visited the Cave of the Patriarchs in Hebron, which is holy to both Jews and Muslims.
The shots were fired from a distance as Jewish worshippers left after prayers linked to Sarah, the matriarch believed to be buried at the site.
Later on Friday, a 19-year-old IDF soldier was shot in a separate drive-by attack nearby. All three victims were hospitalised.
No suspects have been arrested for the first attack but a man has confessed to shooting the soldier and surrendered his gun, the IDF said.
Earlier in the day, an Israeli settler was stabbed outside a supermarket in Sha'ar Binyamin. The attacker was not caught at the scene.
Palestinian shot dead in Gaza
Meanwhile, a 23-year-old Palestinian man, named as Salameh Abu Jamaa, was shot dead during angry protests near a border fence in the Gaza Strip.
Another Palestinian, from the minority Christian community, was critically hurt by Israeli army fire during a violent demonstration in the West Bank city of Bethlehem, medics said.
Eleven Israelis have been killed in stabbings, shootings or other attacks since the start of October, while Israeli forces have shot dead at least 71 Palestinians, including 42 who security forces said were carrying out or attempting attacks.
Additional reporting by Reuters and AP
Join our new commenting forum
Join thought-provoking conversations, follow other Independent readers and see their replies