Israeli-Gaza conflict: Airstrike levels 7-story building in Gaza as conflict escalates
Airstrikes have levelled a seven-floor office building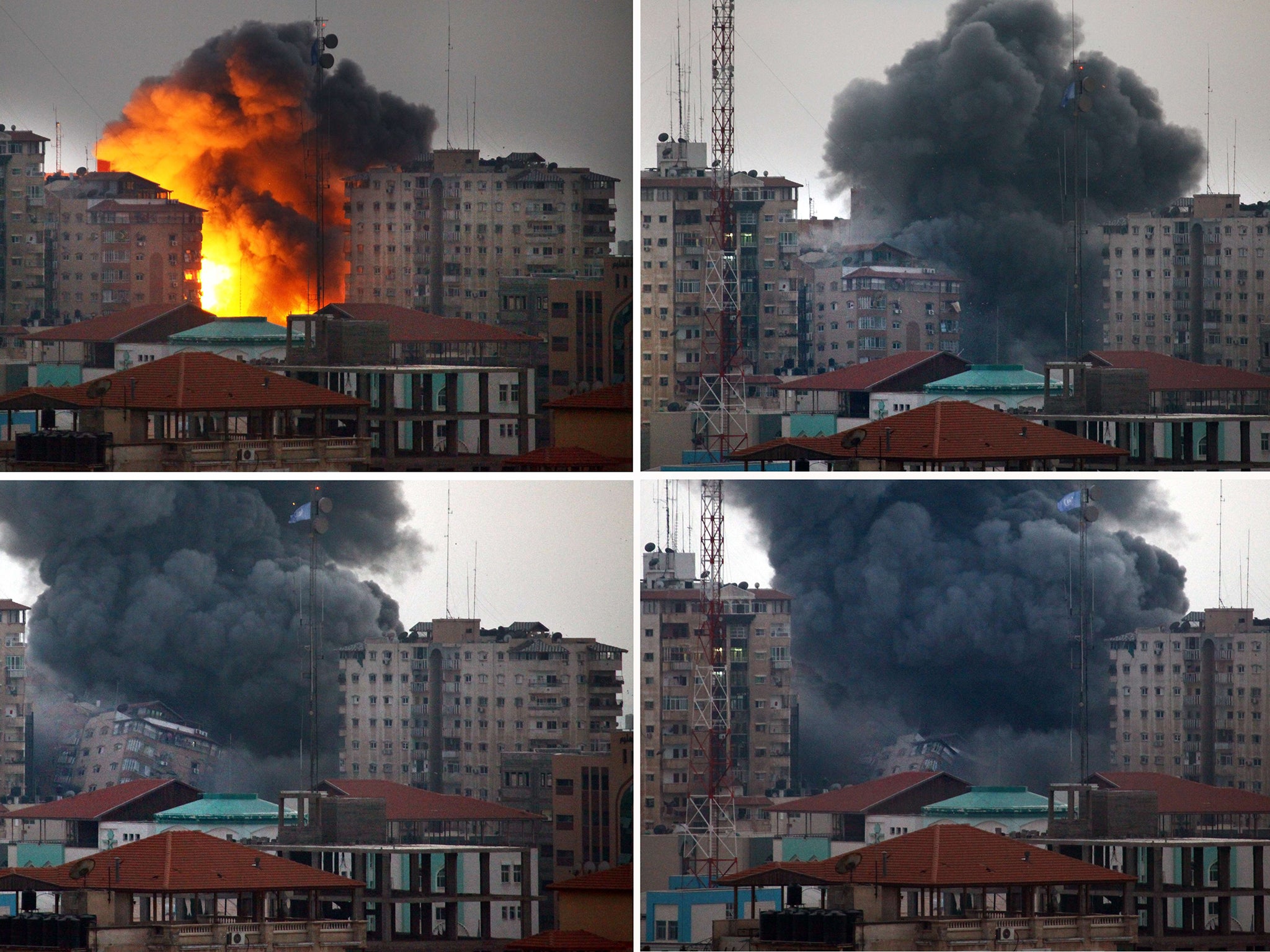 Israeli airstrikes have levelled a seven-floor office building and severely damaged a two-storey shopping centre in the Gaza Strip, signalling a new escalation in seven weeks of fighting with Hamas.
The strikes in the southern town of Rafah came just hours after Israel bombed an apartment tower in Gaza City, collapsing the 12-storey building with 44 apartments.
The targeting of large buildings appears to be part of a new military tactic by Israel. Over the weekend, the army began warning Gaza residents in automated phone calls that it would target buildings harbouring "terrorist infrastructure" and that they should stay away.
A senior military official confirmed that Israel has a policy of striking at buildings containing Hamas operational centres or those from which military activities are launched. The official said each strike required prior approval from military lawyers and is carried out only after the local population is warned.
However, he said, there was now a widening of locations that the military can target.
Meanwhile, Gaza militants continued to fire rockets and mortar shells at Israel, including at least 10 on Sunday, the military said. That was in addition to more than 100 on Saturday, most aimed at southern Israel.
Elsewhere, five rockets were fired from Syria and fell in open areas in northern Israel. It was not immediately clear whether they were fired by pro-government forces or rebel groups.
Amid persistent violence, Egypt has urged Israel and the Palestinians to resume indirect talks in Cairo on a durable ceasefire, but stopped short of issuing invitations.
Several rounds of indirect talks between Israel and Hamas have collapsed, along with temporary ceasefires that accompanied them. The gaps between Israel and the Islamic militant group on a new border deal for blockaded Gaza remain vast, and there is no sign either is willing to budge.
The Israeli military said it had carried out some 20 strikes on Gaza since midnight on Saturday.
In Rafah, Israeli aircraft bombed the seven-storey Zourab building, which houses an office of the Hamas-run interior ministry. Witnesses said the building was levelled and that the strikes caused severe damage to nearby shops, homes and cars.
Another strike hit a nearby shopping centre with dozens of shops, sparking a fire that gutted the two-storey building. Smoke was still rising from the site as shop owners inspected the damage. Windows and doors had been blown out in nearby buildings.
The military said the two buildings were attacked because they housed facilities linked to militants, but did not provide details. The Gaza City apartment tower toppled on Saturday was targeted because a Hamas command centre operated from there, the army said.
Palestinian health official Ashraf Al Kidra said two people were killed in a pair of airstrikes near a coastal road on Sunday, including one on a group of people coming out of a mosque after morning prayers. Two more fatalities were registered when a motorcycle following a car evacuating the wounded from the strikes was hit.
The UN estimates that more than 17,000 homes have been destroyed or damaged beyond repair since the war began on July 8. In some of the attacks, family homes with three or four floors were pulverised.
However, the weekend strikes marked the first time large buildings were toppled.
Since the fighting began, Israel has launched some 5,000 airstrikes at Gaza, while Gaza militants have fired close to 4,000 rockets and mortars, according to the Israeli military.
More than 2,100 Palestinians, including close to 500 children, have been killed, according to Palestinian health officials and UN figures. Israel has lost 64 soldiers and four civilians.
Israel says it is targeting sites linked to militants, including rocket launchers, command centres and weapons depots. The UN says about three quarters of the Palestinians killed have been civilians.
AP
Join our commenting forum
Join thought-provoking conversations, follow other Independent readers and see their replies