Jac Holmes: British man who volunteered to fight against Isis killed in Syria
Mother says family thought 24-year-old would 'be home for Christmas' after fighting finished in Raqqa
Lizzie Dearden
Home Affairs Correspondent
Tuesday 24 October 2017 11:32 Comments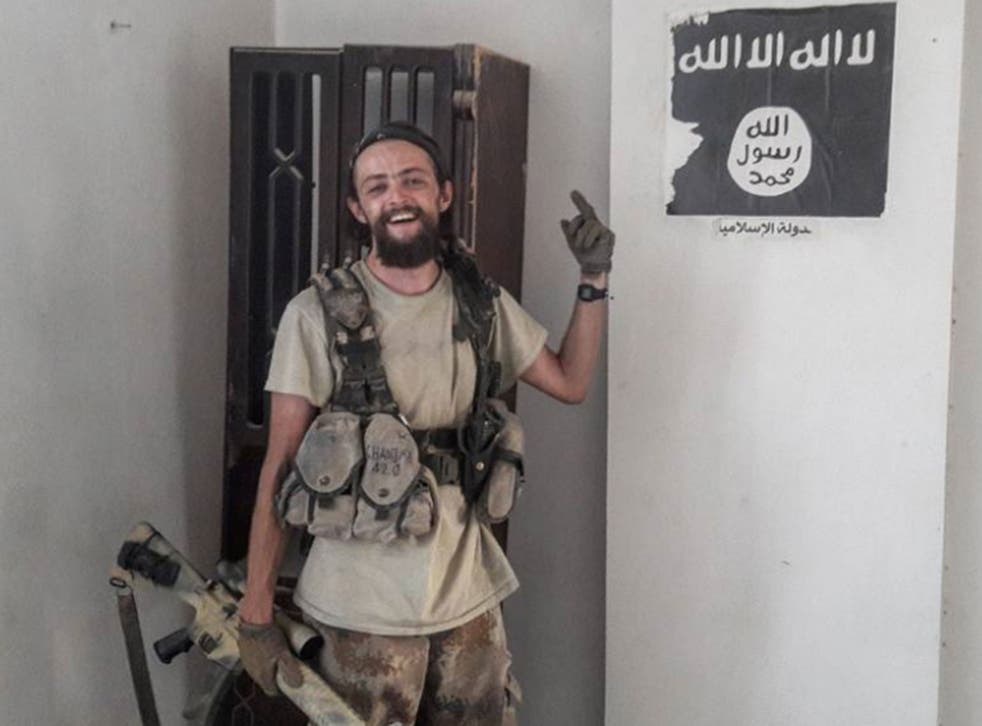 A British man who travelled to Syria to fight against Isis has been killed by an explosion in the terrorist group's former capital of Raqqa.
Jac Holmes, a 24-year-old former IT worker and decorator from Bournemouth, had no military experience before he joined the Kurdish People's Protection Units (YPG) in January 2015.
Friends told The Independent he died while clearing an area of mines to make it safe for returning civilians, in a "cruel twist" after surviving years of frontline battles retaking key strongholds from Isis across Syria.
Mr Holmes's mother, Angie Blannin, described him as a "hero" adding: "He loved what he was doing there, he loved being a soldier. He had the courage of his convictions.
"He was just a boy when he left the UK, a little bit lost. He told me he didn't know what he wanted to do with his life.
"But by going out there, he found something that he was good at and that he loved."
Ms Blannin told the BBC the family believed her son would "be home for Christmas" after surviving the worst of the fighting that drove Isis out of Raqqa.
But the terrorist group left the city, like its other lost strongholds, littered with mines, booby-traps and explosives rigged to kill opposition fighters and civilians returning to their homes.
Kurdish officials told Ms Blannin her son had been clearing mines, she said, adding: "It is all a bit sketchy but I am guessing he stepped on a landmine or one went off close to him, or it was a suicide vest."
Ms Blannin said that when her son first said he wanted to go and fight Isis she was "completely shocked" and thought she may be able to change his mind, but grew to support his resolve.
"And he had a sense of doing something for the greater good," she added. "He was a boy when he went, but my God, he definitely died a man and I am extremely proud of him. All my family are incredibly proud."
During three tours with the YPG up until his death, his mother said he had fought in every major battle, being surrounded by Isis fighters but escaping with a gunshot wound to his arm and three cracked ribs.
The Kurdish Democratic Union Party (PYD) confirmed his death with a statement saying: "British YPG fighter Jac Holmes has lost his life in the fight against Isil [Isis] in Syria."
Mr Holmes, who used the war name Sores Amanos, had been part of the YPG's "223" sniper team, appearing in videos and images chronicling their operations on social media.
He had posted photos from Raqqa on social media earlier on Monday, with photos from the city's main stadium showing hundreds of civilians and members of the Syrian Democratic Forces (YPG) present.
Mr Holmes was seen inspecting tunnels, Isis jail cells, shooting ranges and a gym.
Kimmie Taylor, a British volunteer with the Kurdish Women's Protection Units (YPG), said she felt "broken" by his death.
Syrian Democratic Forces take Raqqa from Isis – in pictures

Show all 8
"You were the best of us," she wrote in a Facebook tribute. "Everybody who knew you is numb at your loss and is sharing the agony of your family. A chunk of my heart was taken yesterday."
Ms Taylor said Mr Holmes died while deactivating an IED, adding: "Here in Rojava you became the man you were meant to be; a hardcore warrior, a hero, an example to all of what friendship and solidarity means. I will never forget your charm, your jokes, your smile, our time together."
The friends, along with former finance worker Macer Gifford, are among the British volunteers who travelled to Syria to fight against Isis alongside Kurdish groups.
Michael Enright, an actor who had a role in Pirates of the Caribbean: Dead Man's Chest, was recently filmed playing an Ariana Grande song in Raqqa as a tribute to the Manchester attack victims.
Mr Holmes's death brings the number of recruits from the UK killed to six, following Mehmet Aksoy, Luke Rutter, Ryan Lock, Dean Evans and Erik Konstandinos Scurfield.
Mark Campbell, co-chair of the Kurdistan Solidarity Campaign, said he was "in shock".
"It is a cruel and agonising twist of history that Jac should fall clearing IEDs for civilians days after the full liberation of Raqqa, but he fulfilled his dream of defeating Isis in Raqqa and he is now immortalised into history," he told The Independent.
Mr Campbell described the volunteer as "just a boy" when he arrived in Syria but said he learned fluent Kurdish and "showed extraordinary courage" in battle.
The Home Office has warned that anyone travelling to fight in Iraq and Syria – for whatever side – can be prosecuted upon their return.
The Foreign Office has also advised against all travel to Syria, where all British consular services are suspended, making government aid impossible.
Additional reporting by PA
Register for free to continue reading
Registration is a free and easy way to support our truly independent journalism
By registering, you will also enjoy limited access to Premium articles, exclusive newsletters, commenting, and virtual events with our leading journalists
Already have an account? sign in
Join our new commenting forum
Join thought-provoking conversations, follow other Independent readers and see their replies