Khashoggi: one year on
'Even in death, Jamal is protecting us': Saudi activists mark anniversary of Khashoggi's killing which rocked the world
'The world's eyes are finally on the Saudi crown prince', activists tell Bel Trew, mourning loss of 'cornerstone' of their community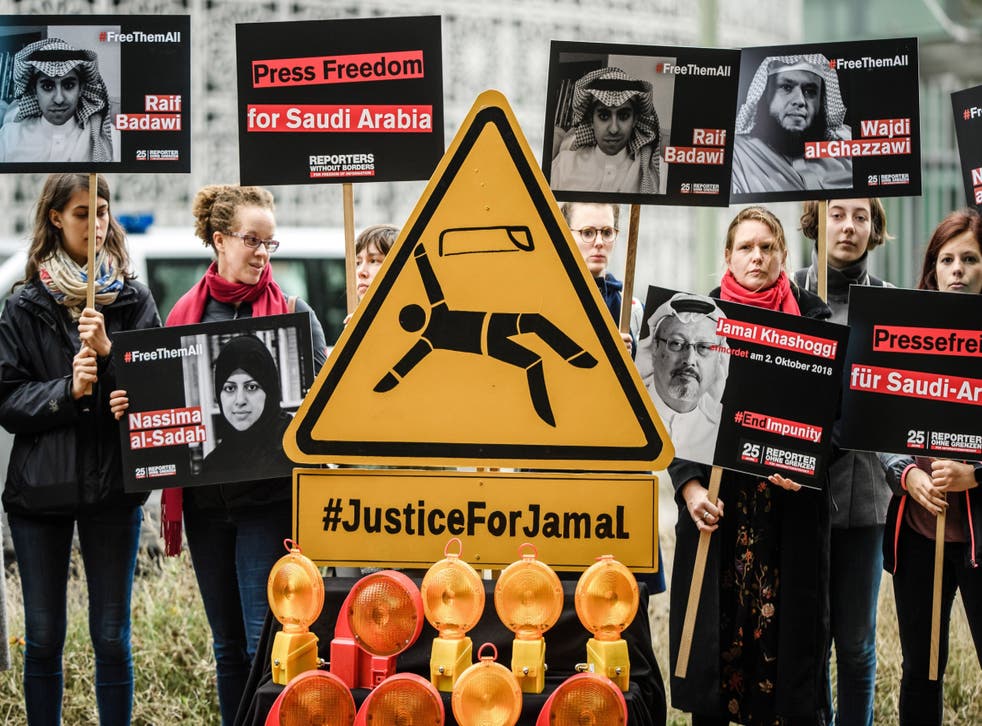 The murder of Jamal Khashoggi was so brazen and brutal even veteran Saudi activists, who knew the regime well, initially reassured his worried Turkish fiancee that media leaks of what had happened could not be true.
Then secret recordings of the killing and the grisly dismemberment of his body in the Saudi consulate in Istanbul emerged, providing graphic detail about Khashoggi's final moments.
United Nations experts later concluded that it was a "premeditated extrajudicial execution" and there was "credible evidence" linking the murder to the Crown Prince Mohamed bin Salman.
MBS, as he is known, has repeatedly denied any knowledge or involvement in the killing.
But the stark details of the death of Khashoggi, a royal insider turned moderate regime critic, shook the world and its confidence in the young and powerful prince, once heralded as a great reformer.
Jamal Khashoggi death: key figures

Show all 7
Saudi activists across the world who were friends with The Washington Post columnist said losing a cornerstone of the community, while devastating, had a profound impact on those fighting for rights in the kingdom.
Finally, they said, the world was listening.
Yahya Assiri, director of human rights organisation ALQST, says previously, "a lot of people would reject our narrative and not believe what we said we had been going through". He adds: "People now understand the situation within Saudi better than they ever had before."
Assiri, who spoke to Khashoggi just days before he vanished, has faced numerous threats himself, and Amnesty International believes his phone was hacked due to his communications with the late journalist.
"A few days ago, there was a statement read at the UN human rights council signed by 15 EU member states, criticising the regime for its terrible human rights situation and demanding an international investigation into the murder of Khashoggi," Assiri continues.
"This would never have happened before."
Monitoring groups have repeatedly ranked Saudi Arabia as having one of the worst rights records in the world – it is among the last countries in the world that still bans women drivers and carries out public executions. But at the same time, the kingdom has been heralded as the west's vital moderate ally in the battle against extremism.
However, since the devastating details of Khashoggi's killing were revealed, that has changed, Assiri argues. He said even he "could not believe the horrific details" of what happened to his friend.
"I kept talking to Jamal's fiancée [Hatice Cengiz] – saying don't believe the Turkish media. I couldn't believe it, it did not seem possible," Asiri recalls.
"It's astonishing. The credibility of the regime was completely destroyed."
Iyad Baghdadi, another fervent critic of the Saudi regime who knew Khashoggi well, agrees. Baghdadi has said that in April he was whisked away by agents in Norway, where he lives, after they informed him of a specific threat that emanated from Saudi Arabia.
He said he felt the world was finally paying attention, and the Norwegian authorities would not have acted so quickly in the past.
"In a way, Jamal is protecting us right now. His murder has made it so much more difficult for Mohamed Bin Salman to kill dissidents again," he tells The Independent.
"We are aware that we're not safe, but we're also aware the Arab world's new Gaddafi has a lot to lose if he tries it again," he adds.
Jamal Khashoggi entered the Saudi consulate in Istanbul on 2 October to pick up divorce papers, as his fiancée waited outside. He was never seen leaving the building; his body never found.
Details of his death were only revealed by Turkish intelligence officers who had been secretly tapping the consulate. Two experts on a UN investigating team who listened to 45 minutes of recordings revealed in interviews with the BBC this week that they heard members of the hit squad joking about butchery even before Khashoggi got there.
But the Saudis, who at first denied the killing took place in the consulate, then blamed the murder on rogue operatives who they said had intended to forcibly repatriate him. Saudi's public prosecutor said Khashoggi was killed after discussions for his return failed.
The prosecutor added that Saud al-Qahtani, a former top royal adviser who is believed to have given orders over Skype to the killers, briefed the hit team on Khashoggi's activities before the operation.
The whereabouts of al-Qahtani and other members of the killing team remain unknown. No one has been properly punished.
Mohamed bin Salman, meanwhile, in two interviews with American networks over the last week has again denied ordering the killing but said he takes full responsibility, as it "happened under my watch".
UN expert Agnes Callamard in her interview with BBC dismissed this defence as "problematic", saying "he is only taking corporate responsibility" for the killing.​ Khashoggi had once been at the heart of the regime, serving as a media aide to Saudi's ambassadors abroad in the 2000s. He was also editor in chief of Saudi Arabian daily al-Watan.
He was later banned from writing for Saudis newspapers and in 2017 went into self-imposed exile in the US, where he held residency, and becoming a columnist for The Washington Post and a critic of the regime, albeit a gentle one.
In one of his first pieces for the American daily, he wrote: "We are not opposed to our government and care deeply about Saudi Arabia ... yet we are the enemy".
Ten days before his murder, he spoke to Assiri about penning a letter to the crown prince urging him to free political prisoners, including a string of Saudi women's rights activists who disappeared into jails in the summer of 2018 for fighting oppressive legislation.
"Even in his last days, he was trying to find a compromise. He wanted to send a nice letter to MBS, making it clear freeing prisoners of conscience would be good PR for him," Assiri tells The Independent.
"I disagreed with Jamal, telling him: 'You have tried so many times'. He replied: 'Our friends behind bars deserve our best efforts to free them'. They killed him before he could finish a draft."
The killing of such a prominent yet mildly spoken critic of Saudi was so surprising it "opened Pandora's box", according to prominent London-based dissident Saad al-Faqih.
"People went back and re-examined the Saudi blockade on Qatar, the diplomatic clash with Canada, the war in Yemen, the [alleged Saudi kidnapping of] Lebanese prime minister Saad Hariri," al-Faqih tells The Independent.
"Life for the dissident in terms of our message was easier to convey than before and much easier for people inside the country to digest."
MBS speaks about his role in the murder of Jamal Khashoggi
"The world's eyes are on MBS," he adds.
In Germany, a Saudi royal in exile who has watched distant members of his family vanish into house arrest, said that before Khashoggi's murder, German police would likely not have rushed to aid as they did 10 days ago, when he sounded the alarm about a potential threat.
Prince Khalid bin Farhan al-Saud said international uproar at Khashoggi's murder had also incentivised and empowered Saudi activists in exile to launch a slew of new projects.
Earlier this year, he started an organisation to help Saudi activists fleeing the kingdom set up their lives abroad. More recently he formed a political movement calling for regime change and a constitutional monarchy, which is far more dangerous than any of Khashoggi's tempered criticism of the state.
And that is why the prince believes he is constantly monitored by pro-Saudi regime figures.
He said someone stole all the plants from his balcony and his beloved cat, "as a kind of message" last week, prompting the German police to guard his building. In the past, he claimed the regime had attempted to lure him to Saudi's consulates much like Khashoggi.
"People take us seriously now, I have more protection," he tells The Independent.
"Although I still look left and right, and behind me wherever I go, although I can't go out in the evenings, I'm pushing ahead with my new movement."
He claimed he is even enlisting the support of disgruntled princes within the kingdom.
Meanwhile in Ireland, Abdulaziz Almoayyad, another activist in exile, worked with Khashoggi on an online resistance movement. Called the "Bee Army", it offers cyber protection to activists needing a safe platform to speak out within the kingdom amid a surge in pro-Saudi automated Twitter accounts, known as "electronic flies".
After Khashoggi's killing, Almoayyad launched a new initiative enlisting journalists to write 1,000 articles imagining what Khashoggi would have written if he hadn't been killed.
"He could have written 52 articles every week in the Washington Post over the last year if he was still alive. So, we are telling journalists keep his voice alive through us," he explains.
"We are fighting back as hard as we can. Nobody has paid a price for Khashoggi's killing but we have public opinion on our side."
In an undisclosed location, a Saudi rights activist who operates under the pseudonym Regina Nasr, 30, says she is fighting to secure the freedom of as many as 17 female protesters who vanished in jails or are in unknown locations within Saudi Arabia.
Among them is Loujain al-Hathloul, also 30, who was arrested in May 2018 in a sweep of arrests, after fighting Saudi Arabia's archaic ban on women driving and its stifling male guardianship system.
"It's a horrific thing that happened but if there was one positive outcome: the world finally understands what is really happening in Saudi," she tells The Independent.
"Before, they dismissed us all as spoilt, rich and happy. Now finally they know."
Register for free to continue reading
Registration is a free and easy way to support our truly independent journalism
By registering, you will also enjoy limited access to Premium articles, exclusive newsletters, commenting, and virtual events with our leading journalists
Already have an account? sign in
Register for free to continue reading
Registration is a free and easy way to support our truly independent journalism
By registering, you will also enjoy limited access to Premium articles, exclusive newsletters, commenting, and virtual events with our leading journalists
Already have an account? sign in
Join our new commenting forum
Join thought-provoking conversations, follow other Independent readers and see their replies