James Foley beheading: 'I want to be the first UK woman to kill a Westerner', says British jihadist in Syria
Khadijah Dare converted to Islam as a teenager and moved to support jihad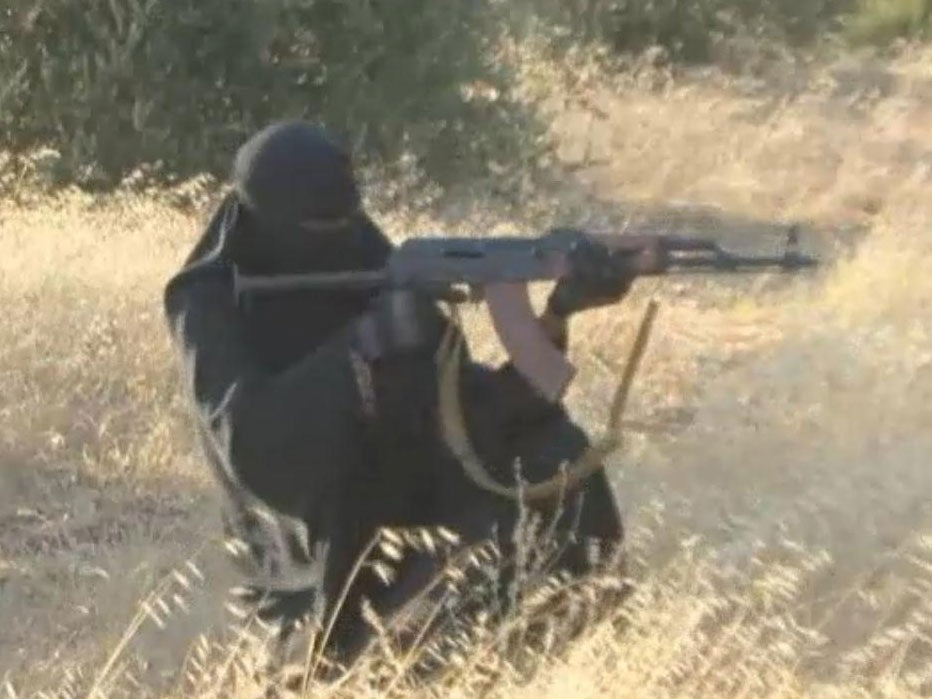 A London woman who travelled to Syria to marry an Islamist militant has said she wants to be the first female jihadist to kill a British or American captive.
Glorying in the beheading of James Foley on Twitter, Khadijah Dare asked for links to footage of the brutal murder.
Writing under the name of Muhajirah fi Sham, which means "immigrant in Syria", she said: "Any links 4 da execution of da journalist plz. Allahu Akbar. UK must b shaking up ha ha. I wna b da 1st UK woman 2 kill a UK or US terorrist!(sic)".
Dare, who is believed to be around 22 and from Lewisham in south-east London, has a photo of her young son holding an AK47 as her Twitter profile picture.
Among Isis propaganda and photos of dead bodies, the feed also reportedly contains images of sunsets, baby seals and a kitten in a teacup in bizarre juxtaposition to the horrific views she espouses.
Earlier this year she delighted in the public execution of a man accused of rape in Syria.
She wrote: "On da way 2 da market in Manbij [near Aleppo], me and sum sisters was wonderin wat da commotion was all about ... On da way back frm da market, we see da body of a young man, with blood coin his nose ... tied onto a tree."
Giving her name as Maryam, she appeared in a Channel 4 documentary last July on British women joining the jihad in Syria.
She was filmed with her husband, Abu Bakr, an Isis-affiliated fighter from Sweden who she arranged to marry through his mother on Facebook.
They have one son together and were reportedly expecting another child last year.
"I couldn't find anyone in the UK who was willing to sacrifice their life in this world for the life in the hereafter," she said.
"I prayed, and Allah ruled that I came here to marry Abu Bakr."
Although she does not fight herself, she shot a handgun and rifle for the cameras, later squabbling with her husband about who had the better Kalashnikov.
On film, she described watching football on television as a child, studying psychology and sociology at college and missing takeaways, her mother's cooking and junk food.
Her parents know she is in Syria but not what she is doing, Dare said, claiming she will not return to Britain even if her husband is killed.
"I will stay here because I didn't come here for him," she said.
"I wouldn't like to go back to the UK. I'll stay here, raise my children, focus on the Arabic language to communicate with the Syrian people."
Since moving to Syria, she has used Twitter to urge fellow British Muslims to join her, saying only one other British woman was there.
Earlier this year, she wrote: "All da people back in Dar ul kufr [land of disbelievers] what are you waiting for ... hurry up and join da caravan to where the laws of Allah is implemented.
"No one from Lewisham has come here apart from an 18-year-old sister shame on all those people who afford fancy meals and clothes and do not make hirja [Mohamed's journey]. Shame on you."
An investigation by the Evening Standard found she was not born into a Muslim family but converted to Islam in her mid-teens.
Dare reportedly attended the Lewisham Islamic Centre, which was also allegedly frequented by the men who murdered Drummer Lee Rigby in Woolwich.
She is one of a "significant number" of British extremists believed to be in Syria.
The Government and intelligence agencies have launched multiple initiatives to track jihadists who have travelled abroad and stop them returning to the UK, and to prevent the radicalisation of British Muslims.
In pictures: James Foley
Show all 11
The Foreign Secretary, Philip Hammond, said on Wednesday that the man filmed brutally decapitating Mr Foley and delivering a chilling "message to America" appeared to be British.
"We have been saying for a long time that there are a significant number of British nationals in Syria and Iraq operating with extremist organisations," he added.
"That's one of the reasons why this organisation represents such a direct threat to the UK's national security."
Join our commenting forum
Join thought-provoking conversations, follow other Independent readers and see their replies