Christian prays alongside Muslims in Jerusalem to diffuse tensions over holy sites
Image shared thousands of times on social media as counterpoint to recent violence over site known as Temple Mount in Judaism and the Noble Sanctuary in Islam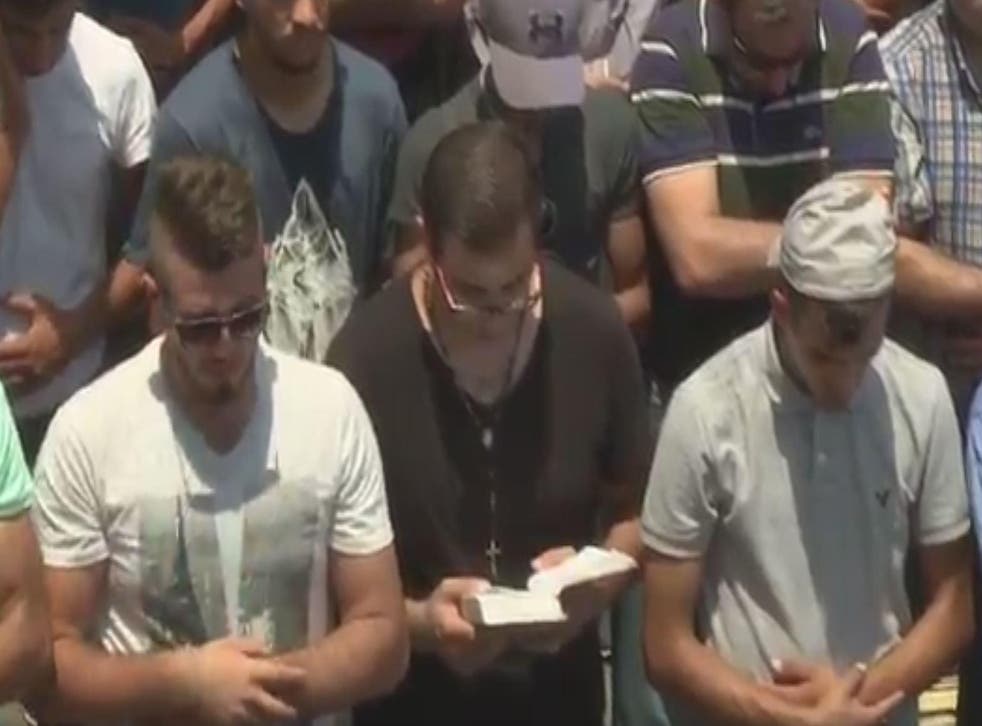 A picture of a Christian man praying alongside Muslim worshippers in Jerusalem has been praised as a positive example of how different faiths can co-exist despite recent tensions over one of the city's holiest sites.
Footage of Palestinian Nidal Aboud was captured by CNN during Friday prayers in a neighbourhood just outside the walls of the contested Old City. In the clip, Mr Aboud stands quietly reading from his Bible while Muslim men around him kneel to pray.
The young man said he had never attended Muslim prayers before, but was moved to do so after two police officers were killed at the site known as Temple Mount in Judaism and the Noble Sanctuary in Islam by Arab gunmen, triggering a wave of fresh violence in the contested capital.
Since then, three Palestinians have been killed and one injured in street clashes, and three Israeli settlers have been killed in their West Bank home.
"My motivation was to stand in solidarity with my Muslim brothers and in solidarity with our Palestinian issue against the (Israeli) occupation and its policies against our holy sites, whether it's the mosque or the church," Mr Aboud told CNN.
"I had a dream since I was a child. I wanted to spread the world with love. I wanted to be the one who plants love in people's hearts."
The Jerusalem Quartet: Should classical music really be a legitimate target for political demonstration?

Show all 2
Screenshots and a video clip of Mr Aboud have been widely shared by local media and internet users, most praising his simple act
Jerusalem's Temple Mount hill is the holiest site in Judaism and is also revered by Muslims, who pray at the hill's al-Aqsa mosque. It is believed to have been where the First Temple of Judaism once stood, and also where the Prophet Mohammed ascended to heaven.
The area has been under Israeli jurisdiction since the 1967 Six-Day War, but is administered by Muslim authorities under the auspices of Jordan.
Israeli authorities have limited Muslim access to the al-Aqsa mosque since the gun attack earlier this month, a move which has been met with widespread protests from Palestinians.
While the Israelis say the site's new security measures, including metal detectors, are to prevent further attacks, Palestinians have criticised what they say is an attempt by the Israelis to control it.
Register for free to continue reading
Registration is a free and easy way to support our truly independent journalism
By registering, you will also enjoy limited access to Premium articles, exclusive newsletters, commenting, and virtual events with our leading journalists
Already have an account? sign in
Register for free to continue reading
Registration is a free and easy way to support our truly independent journalism
By registering, you will also enjoy limited access to Premium articles, exclusive newsletters, commenting, and virtual events with our leading journalists
Already have an account? sign in
Join our new commenting forum
Join thought-provoking conversations, follow other Independent readers and see their replies