EU says it will not recognise Jerusalem as Israel's capital before final peace agreement
Federica Mogherini says there is 'full EU unity' on maintaining the status quo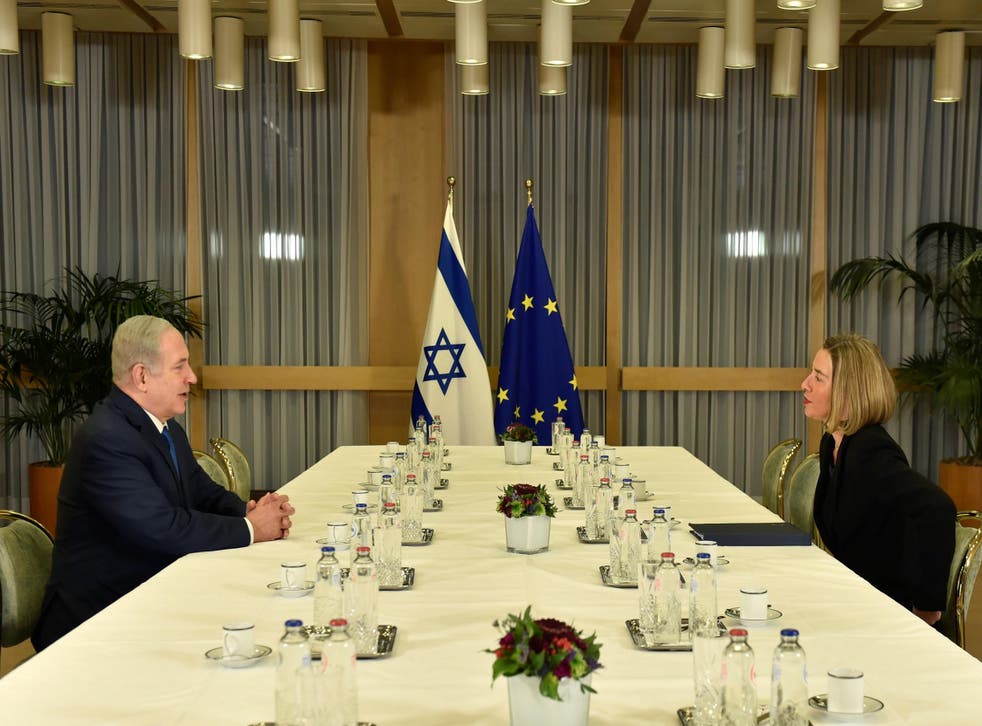 The EU's foreign policy chief has rejected a call made by Israel's Prime Minister for it to follow the US in recognising Jerusalem as the country's capital.
Federica Mogherini said during a news conference in Brussels that there was "full EU unity" in support of the status quo, whereby the international community conducts diplomatic relations via embassies in Tel Aviv.
Israel has said Jerusalem is its capital since it occupied the eastern part of the city, part of the West Bank, after the Six Days War in 1967. Many Israelis regard it as their "eternal and undivided" capital but Palestinians say East Jerusalem is the capital of a future Palestinian state.
But in an announcement on Thursday that drew international condemnation Donald Trump said the US State Department would be moving its embassy to Jerusalem from Tel Aviv in a move that was a de facto acknowledgement of the city as the capital.
The international consensus on Jerusalem is that its status should be decided at the later stages of peace talks between Israel and the Palestinians.
The view is that Jerusalem should eventually become the capital of both an Israeli and Palestinian state as part of the two-state solution.
But Mr Netanyahu, during the first visit to Brussels by an Israeli prime minister in 20 years, claimed Mr Trump's decision was a reflection of "reality" and urged the EU member states to follow them.
Protests erupt after Trump recognises Jerusalem as Israel's capital

Show all 22
He said all or most European countries would move their embassies to Jerusalem and recognise it as Israel's capital even though there is no evidence that any are planning to do so.
The politician said foreign powers must make the declaration "because recognising reality is the substance of peace, the foundation of peace".
Mr Netanyahu said Europe must "stop pampering the Palestinians".
"I think the Palestinians need a reality check. You have to stop cutting them slack. That's the only way to move forward towards peace", he added.
Mr Trump's decision has been followed by days of fighting between Palestinian militants and the Israeli Defence Force in the West Bank and Gaza.
Protesters took the street for a "Day of Rage" on Friday which saw thousands take to the streets.
The following day two Hamas militants were killed when Israel launched fresh airstrikes on Gaza in response to rocket fire from the enclave and an Israeli security guard was stabbed in Jerusalem's central bus station on Sunday.