Jerusalem latest: Donald Trump to have new Israeli train station near Western Wall named after him
Transportation minister hails US President's 'historic and brave decision' to recognise Jerusalem as Israel's capital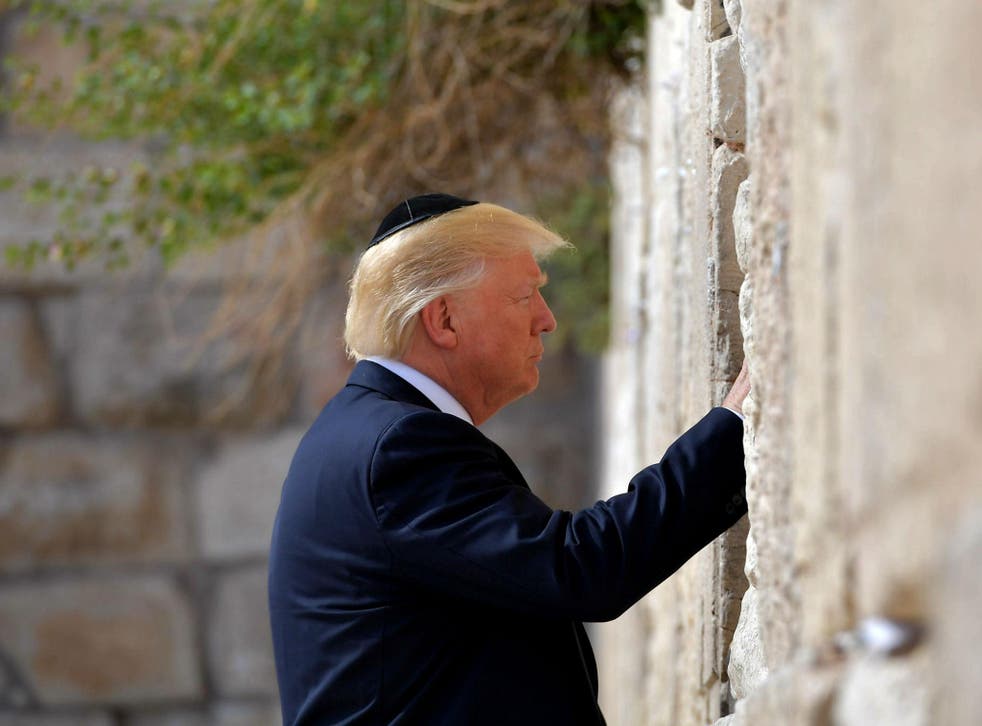 A new train station close to the Western Wall in Jerusalem is to be named after Donald Trump, Israel's Transportation Minister has announced.
Yisrael Katz said the stop, which will be called the "Donald John Trump, Western Wall" station, was a tribute to the US President's decision to recognise Jerusalem as the capital of Israel.
Mr Katz told the Yedioth Ahronoth newspaper: "The Western Wall is the holiest place for the Jewish people, and I decided to call the train station that leads to it after President Trump following his historic and brave decision to recognise Jerusalem as the capital of the State of Israel."
The announcement comes weeks after Mr Trump ordered the State Department to begin the process of moving the US embassy in Israel from Tel Aviv to Jerusalem and recognise the latter as the country's capital.
At the time, he said: "Today we finally acknowledge the obvious: that Jerusalem is Israel's capital. This is nothing more or less than a recognition of reality. It is also the right thing to do. It's something that has to be done."
The move was criticised by much of the international community amid fears it will harm the prospects of peace, but was backed by most Israeli leaders.
Mr Trump became the first sitting US president to visit the Western Wall when he travelled to Jerusalem in May.
One of the holiest sites in Judaism, the wall is the only remaining part of the of the Second Jewish Temple that was destroyed in 70AD.
It is also considered important in Islam as the place where the Prophet Muhammad is said to have tethered his horse, Buraq.
World news in pictures

Show all 50
The planned train station will be at one end of a new 3km tunnel stretching from HaUma station on the outskirts of Jerusalem to the Cardo in the heart of the city's ancient Jewish Quarter, close to the Western Wall.
The new line is expected to cost more than £500m and, if approved, would take four years to build.
It is likely to face strong opposition from Palestinians and much of the international community because the route will go through East Jerusalem, which is not legally recognised as Israeli territory by the international community. The area is heavily disputed, having been recaptured by Israel during the Six Day War in 1967.
Because the track will pass under Jerusalem's historic Old City, construction work could also be delayed if sites of archaeological interest are discovered during excavations.
Mr Katz said he had ordered government officials to make the new line his department's top priority. It will form an extension to the high-speed rail line between Jerusalem and Tel Aviv that has been under construction since 2001 and is due to open next year.
Register for free to continue reading
Registration is a free and easy way to support our truly independent journalism
By registering, you will also enjoy limited access to Premium articles, exclusive newsletters, commenting, and virtual events with our leading journalists
Already have an account? sign in
Register for free to continue reading
Registration is a free and easy way to support our truly independent journalism
By registering, you will also enjoy limited access to Premium articles, exclusive newsletters, commenting, and virtual events with our leading journalists
Already have an account? sign in
Join our new commenting forum
Join thought-provoking conversations, follow other Independent readers and see their replies