Jerusalem: Palestinians won't accept any US peace plan, says Mahmoud Abbas
'The United States are no longer an honest mediator in the peace process. We will not accept any plan put from the United States'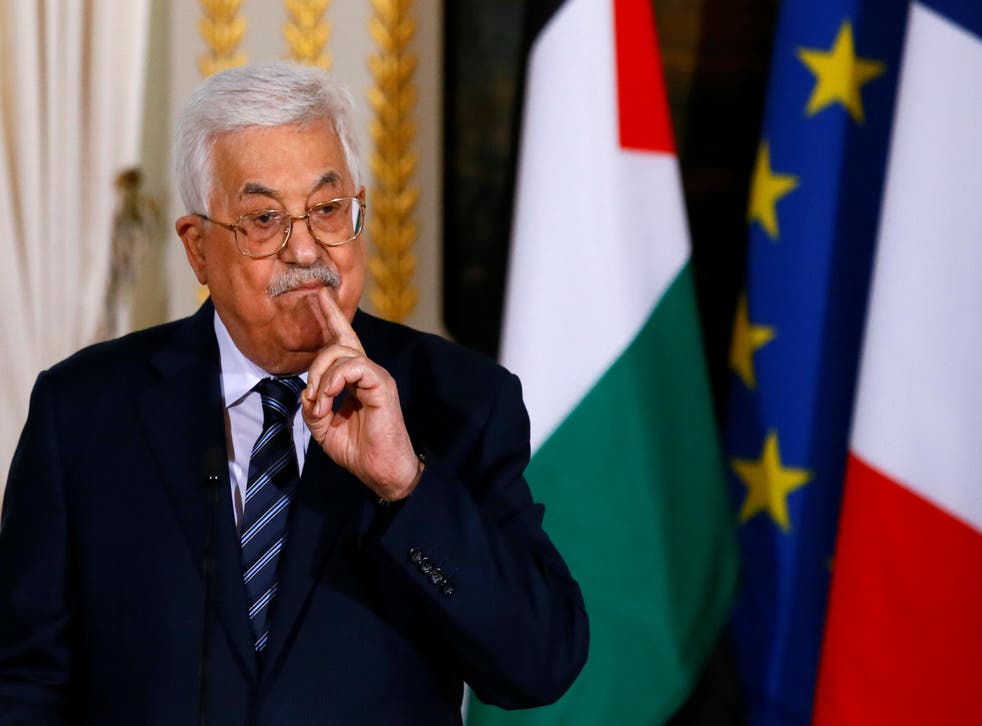 The United States has "disqualified" itself from the Middle East peace process by recognising Jerusalem as Israel's capital, Palestinian President Mahmoud Abbas has said.
Mr Abbas said the US was "no longer an honest mediator" and declared his government "will not accept any plan put forward" by Washington, urging Europe to play a more influential role instead.
Speaking through a translator at a joint news conference with French President Emmanuel Macron in Paris, he also condemned Donald Trump's threat to cut off financial aid to countries that criticised his administration.
The United Nations General Assembly voted by 128 to nine to declare Washington's controversial decision on the status of Jerusalem "null and void," an outcome a spokesman for Mr Abbas described as "a victory for Palestine".
The official UN position is that Jerusalem is a "final status" issue to be decided at the end of Israeli-Palestinian peace talks. No member country bases their embassy in Jerusalem – something Mr Trump said the US has plans to do in the future.
Washington's decision sparked global condemnation and protests in the Middle East, as well as fears it would kill off the decades-long peace process.
"The United States are no longer an honest mediator in the peace process," Mr Abbas told the press conference. "We will not accept any plan from the United States of America because of its bias and violation of the international law."
He added: "We call upon countries that did not recognise Palestine yet to do so to preserve the two-state solution before it's too late."
The United Nations General Assembly votes 128-9 to declare the United States' Jerusalem capital recognition 'null and void'
Mr Macron reiterated that France remained committed to a "two-state" solution in which Israel and Palestine peacefully co-exist.
He said France would recognise a Palestinian state "at the right time", and not under pressure.
"The American mistake was to want to unilaterally manage from afar a situation whose solution is in the hands of the Israelis and Palestinians," added French President, who denounced the US threat to withhold aid from UN member states that voted for the resolution.
Some of the biggest recipients of US aid - most of them Muslim or Arab countries – defied Mr Trump's threat and supported the motion.
US Ambassador to the UN Nikki Haley had warned that she would be "taking names" of member states that backed the resolution, while the American leader said: "Let them vote against us. We'll save a lot. We don't care. But this isn't like it used to be, where they could vote against you and then you pay them hundreds of millions of dollars."
Middle Eastern leaders welcomed the outcome of the General Assembly vote, with Iran's foreign minister Mohammad Javad Zarif declaring it a "global no" to Mr Trump's "thuggish intimidation".
Turkish President Recep Tayyip Erdogan said he expected Washington to rescind its decision to recognise Jerusalem as Israel's capital.
Join our new commenting forum
Join thought-provoking conversations, follow other Independent readers and see their replies