Female Isis members underestimated by security services because of jihadi bride stereotypes, UN warns
Report says stranding female jihadis like Shamima Begum in Syria 'could exacerbate future Isis-related threats'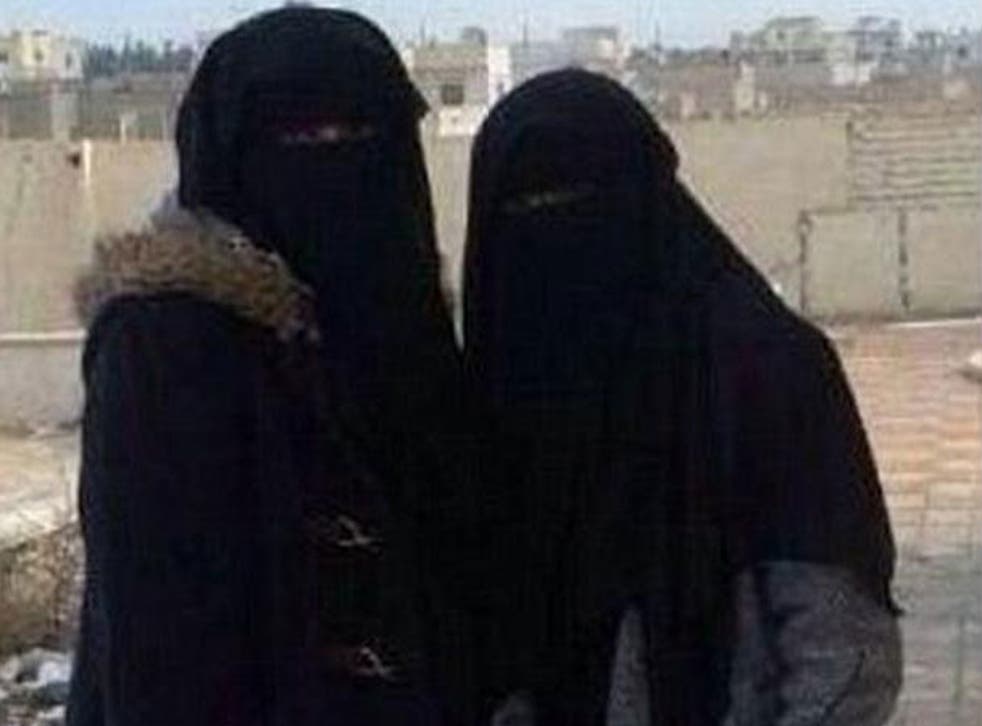 Jihadi bride stereotypes are causing female Isis members to be dangerously underestimated by security services, the United Nations has warned.
In the wake of home secretary Sajid Javid's decision to strip Shamima Begum of her British nationality, an arm of the UN Security Council said there was an "urgent need" to monitor female jihadis remaining in Iraq and Syria.
A report said that countries choosing to leave women in conflict zones "could exacerbate future Isis-related threats and, more generally, threaten the long-term recovery and stability of the region".
The Counter-Terrorism Committee Executive Directorate said the situation was also "overburdening local judicial capacities and detention facilities, increasing the risk of human rights violations and sowing the seeds of potential further radicalisation".
The report comes as the home secretary admitted the government did not know how many women travelled from the UK to join Isis, or how many British children have been born in the group's territories.
Syria at war: Fleeing the caliphate

Show all 14
Asked whether there was any plan for Ms Begum's son, Mr Javid told MPs: "Sadly, there are probably many hundreds of children that have been born to foreign fighters.
"As I mentioned, 900 people have gone out, we don't have a breakdown between men and women, but a significant proportion have been female foreign fighters.
"Some of them may have taken children with them, and many of them would have had children out there whilst in Syria and working with Daesh."
Several British women became high-profile radicalisers, including Scottish university student Aqsa Mahmood, who communicated with the Bethnal Green girls on Twitter before they left for Syria.
Ms Begum is among at least 20 British women and children being held in Syrian Democratic Forces camps after fleeing Isis's last territory, The Independent understands.
The UN report said only a tiny fraction of an estimated 4,700 female foreign Isis members had returned to their home countries compared to their male counterparts, with potential reasons including their inability to travel without a male guardian.
"Given the low number of female returnees, there is an urgent need to understand what happens to those who stay," the report said.
"Even less is known about the fate of local women who lived in Isis-occupied territory and might have been associated with, or supported, the group in various ways, whether or not on a voluntary basis."
The UN Security Council called on the UK and other member states to recognise the "many different roles, including as supporters, facilitators or perpetrators of terrorist acts" that women play.
Warning against assumptions that returning men pose a higher threat than women, the UN said not all male Isis members had combat experience and the group's propaganda showed that some women did.
"The gendered assumption that women lack agency can have serious security implications by letting dangerous actors slip through the cracks," the report said.
"Women play important roles in Isis's recruitment and propaganda activities … even if women do not fight, they can still spread radical ideas and encourage others to commit attacks."
Research suggested that women are treated more leniently by courts based on sexist assumptions about them being "duped" or forced into terrorism, meaning they are given less deradicalisation support and security monitoring.
In 2017 a judge spared a woman from prison who spread Isis propaganda online after her lawyer argued she was a "good mother" who was led astray.
"In your exceptional case, the sooner you are returned to your children the better for all concerned," Farhana Begum Ahmed was told.
The UN report suggested such views may have been fuelled by the stereotype of naive jihadi brides who travelled to conflict zones for romance and adventure.
Researchers said the "tendency to ascribe rational motivations to men and emotional motivations to women" persisted, even though there was no evidence that the drivers of radicalisation differ by gender.
"Whereas women are infantilised and not taken seriously, and the risk that they pose is underestimated, men and boys are subjected to harsher judgements that ignore their vulnerabilities and dismiss the level of manipulation that they may have experienced," the report said.
But the report added that violence against women and "disrespect" towards female Muslims helped drive them towards Isis, which offered a twisted version of empowerment to western female recruits.
Register for free to continue reading
Registration is a free and easy way to support our truly independent journalism
By registering, you will also enjoy limited access to Premium articles, exclusive newsletters, commenting, and virtual events with our leading journalists
Already have an account? sign in
Register for free to continue reading
Registration is a free and easy way to support our truly independent journalism
By registering, you will also enjoy limited access to Premium articles, exclusive newsletters, commenting, and virtual events with our leading journalists
Already have an account? sign in
Join our new commenting forum
Join thought-provoking conversations, follow other Independent readers and see their replies