Jordan blocks Syria border leaving thousands of refugees in the desert - including hundreds of pregnant women
Thousands of Syrian refugees, including hundreds of pregnant women, are caught on a barren piece of desert, with scorpions and snakes for company, as Jordan refuses to let them cross into the country. Emma Gatten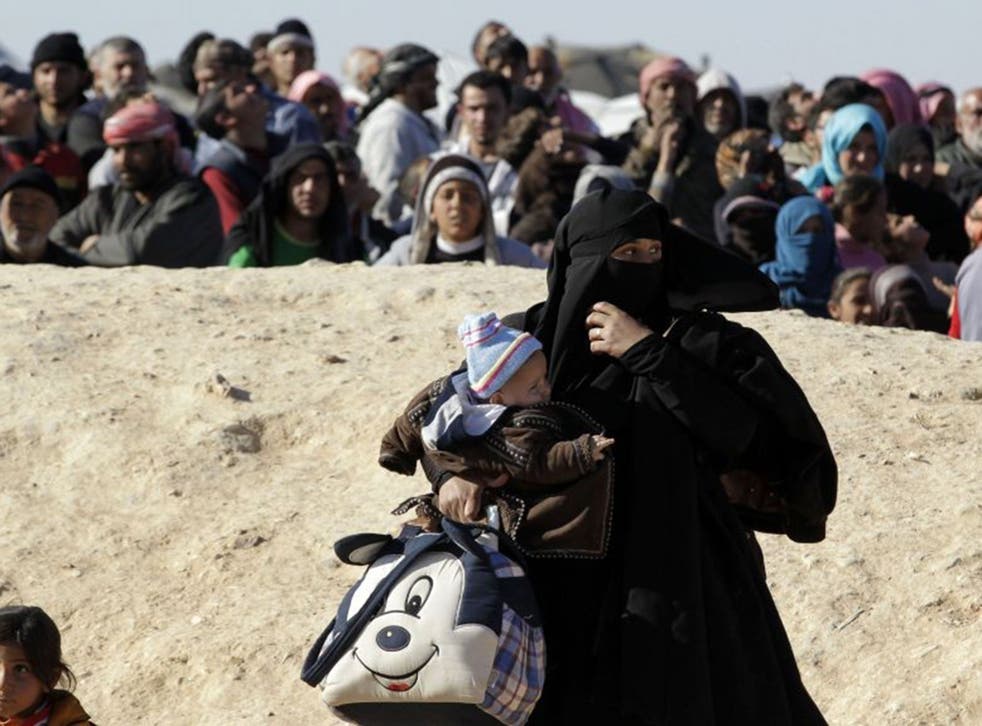 There are growing fears for thousands of Syrian refugees stranded in a desolate no-man's land along the Jordanian border ahead of the first winter storms expected this weekend.
An estimated 16,000 people are penned into a rocky desert area between two long earthen banks or berms 60 miles from the nearest metalled road, village or any other infrastructure, prevented by border guards from moving further into Jordan. The group consists mostly of families, including hundreds of pregnant women, some in their third trimester. Seventeen babies have reportedly been born at the site since mid-December. There are no sanitation or medical facilities and the only water in the area is brackish, aid agencies say.
The Jordanian government has refused the group further entry into the country, citing concerns – which aid workers privately concede are legitimate – that the group may have been infiltrated by Isis.
"I know people still stranded at the berm. My relatives left Syria because of the heavy bombing," Khadija Taleb, one of at least 80,000 refugees at Jordan's Zaatari camp, told the International Committee of the Red Cross recently. "The area there is an earthen wall, an arid desert devoid of everything and inhabited by scorpions, snakes, insects and wild animals."
After a relatively mild few weeks, Jordan is bracing for the first winter storms this weekend. Refugees are using limited tarpaulin and blankets to stay warm and dry. One aid worker described the area as "totally inhospitable" and agencies say they fear refugees are at risk of death from freezing conditions.
The Jordanian government has granted access to a limited number of aid agencies, which are supplying basic needs of the refugees
Syrian refugee children experience snow for the first time
Reporters visiting the site in recent days witnessed an elderly Syrian woman being told to be patient as she waited to get further into Jordan. "We are thrown into the middle of the desert. Have mercy, for God's sake," the woman called to a Jordanian guard.
Adam Coogle, Middle East researcher for Human Rights Watch, said it was not necessary to hold people at the berm. He points out that Jordan's two refugee camps are currently at only half their full capacity, and that the government has set up "sophisticated screening processes" to ensure anyone deemed a security risk cannot enter.
In recent days, the Jordanian government has begun to speak of the berm area as a de facto "camp", raising fears among aid agencies that the country will seek to make the area a semi-permanent base for refugees.
"It is unlikely that we will ever be able to provide sufficient support to the most vulnerable, who are currently in the remote border areas, due to multiple access constraints," said Catherine Osborn, a Norwegian Refugee Council adviser in Jordan.
Increased fighting in Syria since Russia joined the civil war in September has prompted a sharp rise in the number fleeing the country, and the number at the berm site has risen swiftly since last November. But as Lebanon, Jordan and Turkey have significantly tightened their border policies over the past year, refugees are finding it increasingly difficult to escape Syria. Shortly after Turkey implemented new visa restrictions on Syrians entering by air or sea earlier this month, up to 400 intending to travel on to Turkey were deported from Lebanon back to Syria.
The build-up at the border began after Jordan restricted access at its two other crossings in mid-2013 and again in mid-2014, HRW says. Jordan's policy, Mr Coogle says, may be partly to do with "not wanting to encourage the idea that Jordanian territory is open, especially as other countries have closed their borders."
In Lebanon, only a handful have met new humanitarian criteria for entry over the past 12 months amid tightened restrictions and there have been several reports of people being turned away despite meeting the criteria. Amid increased public frustration at the strain on its resources, the government last year told the UNHCR to stop registering new refugees.
Haley Bobseine, a researcher with Human Rights Watch in Lebanon, said she had met refugees who say family members are stuck in Syria "afraid for their lives in the immediate sense, but they don't qualify. They are checking up on their families to make sure they are still alive".
But aid agencies and rights groups also express sympathy for Syria's neighbouring countries, who have taken huge numbers of refugees. Lebanon now has the highest per capita number of any country in the world, around two million in a population of just over four million, while Jordan officially has 630,000.
The Jordanian government wants to see those refugees at the berm relocated to a third country. "We can send them in our aeroplanes," said government spokesperson Mohammad Momani.
Register for free to continue reading
Registration is a free and easy way to support our truly independent journalism
By registering, you will also enjoy limited access to Premium articles, exclusive newsletters, commenting, and virtual events with our leading journalists
Already have an account? sign in
Register for free to continue reading
Registration is a free and easy way to support our truly independent journalism
By registering, you will also enjoy limited access to Premium articles, exclusive newsletters, commenting, and virtual events with our leading journalists
Already have an account? sign in
Join our new commenting forum
Join thought-provoking conversations, follow other Independent readers and see their replies