Game of Thrones actor Josephine Gillan posts video showing baby being taken by police in Israel
Game of Thrones actor Josephine Gillan begs public for help after Israeli authorities take her baby daughter
'Three nights ago the social services came in the night at 12:30am! With the police and kidnapped my daughter and took her to another family!' says actor
A Game of Thrones actor has asked the public for help after Israeli child welfare authorities took her eight-month-old daughter away.
Josephine Gillan, who played the role of Marei in the HBO series, said she had left her baby in the care of a close friend while she received treatment for postnatal depression.
"Three nights ago the social services came in the night at 12:30am!" Gillian wrote on a GoFundMe appeal for help with legal costs.
"With the police and kidnapped my daughter and took her to another family! I'm not allowed to see her or have contact! I have no idea where she is."
She added: "I was not there at the time and was not aware of what they had done! It's absolutely outrageous. I have not done anything wrong and neither has my friend who was caring from her."
Officials, who were accompanied by police and were acting on a court order, took the baby from a family that had been looking after the child for Gillan last week.
World news in pictures

Show all 50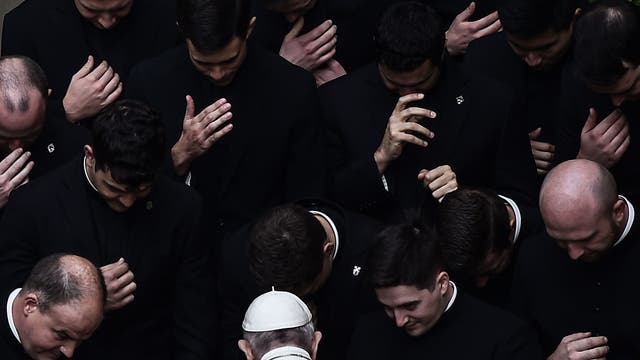 They have temporarily placed her in foster care – arguing the decision was in the best interests of the baby.
Gillan shared a video on Twitter showing authorities taking away the baby at night while neighbours shouted at them and a woman sobbed.
She said had been left "heartbroken" by the saga and simply wants to see her "baby girl again".
The actor made her first appearance in Game of Thrones in season two as a prostitute and later appeared in several other seasons. She said she had been out of work since the series ended – adding that she had also been "busy" with motherhood.
The British-Israeli actor went to Israel last year just before her child was born.
According to Channel 12, the child was taken last week after a court order was issued and another hearing is scheduled for next week. They reported Gillan came back to Israel to fight the order.
Israel's Ministry of Social Affairs and Social Services told The Times of Israel the case was being dealt with by various departments including the ministry's international department which was in contact with British welfare authorities.
The statement said: "Our only priority is the welfare of the baby and we are trying to find the best solution".
But it declined to comment on the details of the situation and referred to the privacy of the child and the necessary confidentiality of such cases.
Gillan has previously spoken candidly about working in the prostitution industry prior to gaining a role on the hit TV series.
"Game Of Thrones saved me from a life of prostitution, and has made me a much stronger person," she told The Mail on Sunday in June 2016.
"I was working as a w**** and at the same time making X-rated movies, using the name Sophie O'Brien, when I saw an advert on a website for actresses in the film industry," she continued.
"They were looking for young women with natural breasts and no tattoos, who didn't mind being filmed naked. So I immediately sent in a picture," Gillan added. "They wrote back that they wanted me and I was thrilled because it was an amazing opportunity to do some proper acting. But I had no idea how much it would change my life."
Join our new commenting forum
Join thought-provoking conversations, follow other Independent readers and see their replies