Kabul attacks: Third explosion hits Afghanistan capital hours after twin suicide attack by Taliban kills 24
The Taliban has intensified its insurgency in recent months, amid attacks claimed by Isis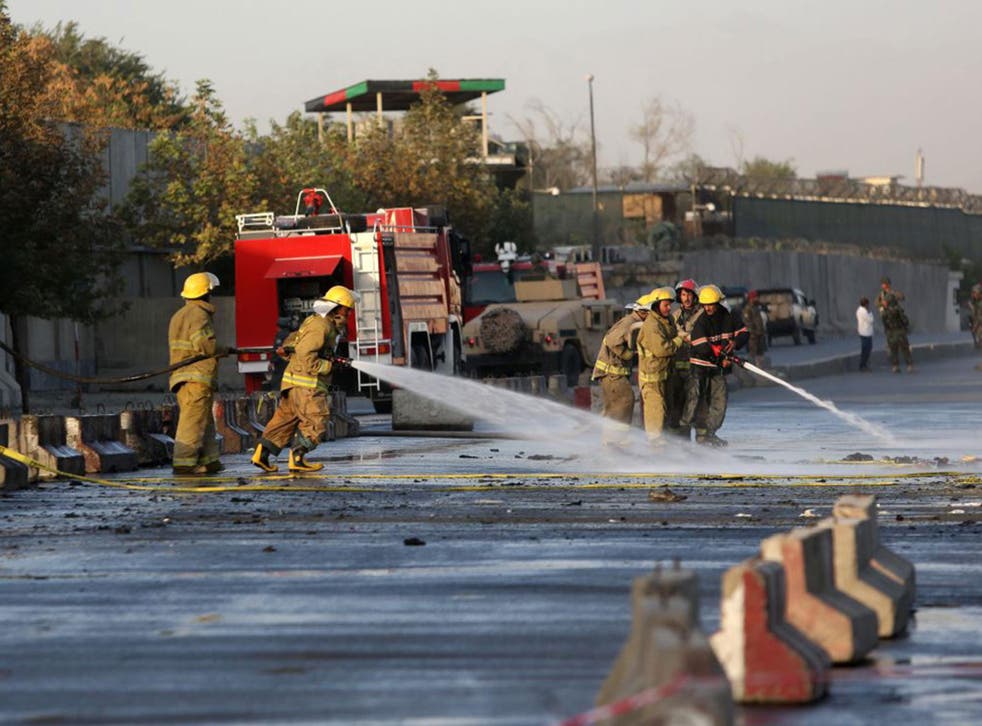 A third explosion has rocked Kabul just hours after a twin suicide attack left at least 24 people dead.
Witnesses said they heard gunfire following the blast in Shar-e-Now district of the Afghan capital shortly before 11.15pm local time (7.45pm BST).
Afghan television network Tolo News reported that a guest house was under attack following the explosion in Flower Street, near the Ministry of Interior headquarters.
All major roads in the area were blocked by police amid continuing gunfire believed to be linked to the blast.
Sediq Sediqqi, a spokesperson for the Ministry of Interior said the target of the attack was not immediately clear but that two attackers entered a nearby building after the explosion.
Police believe it is a guest house, possibly accomodating foreigners and diplomats who frequent the district.
Officials said a suicide bomber driving a car laden with explosives was reponsible for the blast but no group immediately claimed responsibility for the attack and the number of casualties was unclear.
It came just hours after a Taliban suicide attack near the defence ministry killed at least 24 people, including an army general and police commanders, and wounded 91 others.
Two blasts in quick succession hit a crowded area of the city near government buildings, a market and a main intersection.
Troops, police and civilians rushing to help victims of the first explosion were targeted by the second bomber who blew himself up minutes later.
"When the first explosion happened people crowded to the site and then the second blast occurred, which was really powerful and killed lots of people," said Samiullah Safi, who witnessed the attack.
Aftermath of bomb in Kabul
Officials feared the death toll could rise as recovery work continued at the scene.
The Taliban claimed responsibility for the attack, as it steps up its bloody campaign against Afghanistan's Western-backed government.
There was a brief lull after the death of the Islamist group's former leader, Mullah Akhtar Mansour, but analysts say the group is seeking to re-assert itself following the rise of Isis and al-Qaeda in Afghanistan.
Monday's bombings came less than two weeks after gunmen attacked the American University in Kabul, killing 13 people.
It was the deadliest attack in Kabul since at least 80 people were killed by an Isis suicide bomber who targeted a demonstration on 23 July.
Government officials have been preparing for a conference in Brussels next month at which foreign donors, concerned about the ability of the Afghan security forces to withstand Taliban violence, are expected to pledge continuing support.
Additional reporting by agencies
Register for free to continue reading
Registration is a free and easy way to support our truly independent journalism
By registering, you will also enjoy limited access to Premium articles, exclusive newsletters, commenting, and virtual events with our leading journalists
Already have an account? sign in
Register for free to continue reading
Registration is a free and easy way to support our truly independent journalism
By registering, you will also enjoy limited access to Premium articles, exclusive newsletters, commenting, and virtual events with our leading journalists
Already have an account? sign in
Join our new commenting forum
Join thought-provoking conversations, follow other Independent readers and see their replies