Kabul suicide bombing: Isis claims responsibility for terror attack on Shia cultural centre killing 41 people
Officials and witnesses say many of the victims are students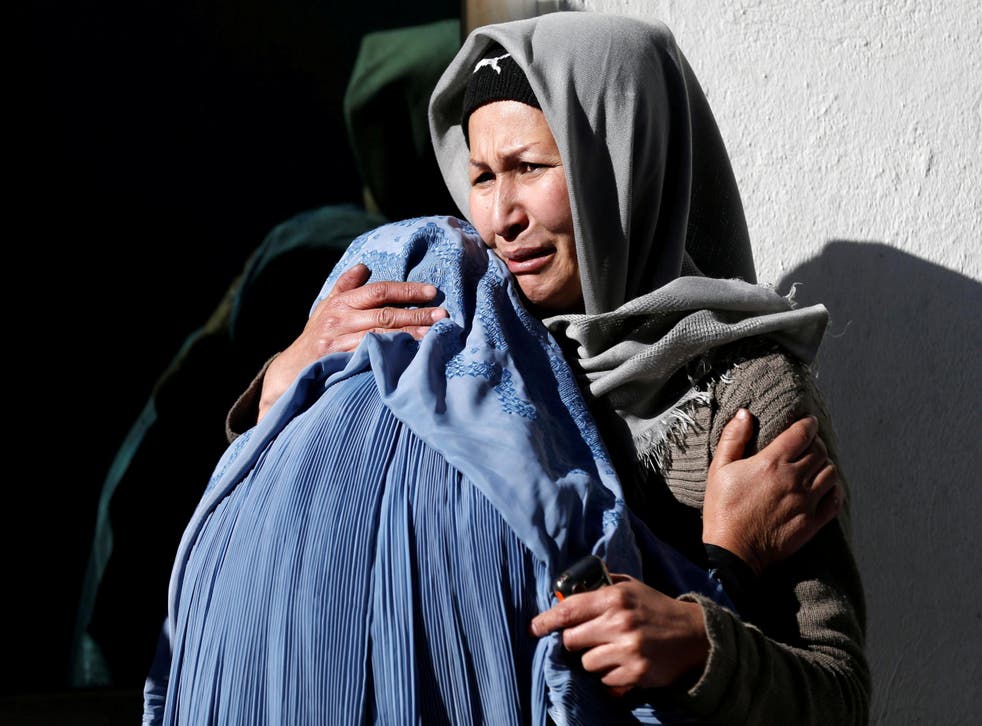 Isis has claimed responsibility for a coordinated bomb attack on a Shia cultural centre in the Afghan capital Kabul,
Afghan officials say at least 41 people died and 30 were injured in the attack on Thursday morning.
According to the group's news agency, Amaq, three bombs were detonated before a militant in a suicide vest stormed the Tibian Social and Cultural Centre.
The attack occurred during a morning panel discussion on the 38th anniversary of the Soviet invasion of Afghanistan. Many of the victims were students, according to witnesses.
The blast reportedly ripped apart the offices of the neighbouring Afghan Voice news agency. Amaq said any deaths of journalists were accidental.
Sayed Abbas Hussaini, a journalist at the news agency, said there appeared to have been more than one explosion during the attack, following an initial blast at the entrance to the compound. He said one reporter at the agency had been killed and one injured.
The floor of the centre, at the basement level, was covered in blood as wailing survivors and relatives picked through the debris, while windows of the news agency, on the second floor, were all shattered.
Photographs sent by witnesses showed what appeared to be serious damage at the site, in a heavily Shia Muslim area in the west of the capital, and a number of dead and wounded on the ground.
Sayed Jan, a participant in the conference, told Reuters from his bed in the hospital: "There was a reading and an academic discussion and then there was a huge bang.
"I felt my face burning and I fell down and saw other colleagues lying around me and smoke everywhere."
Taliban spokesman Zabihullah Mujahid issued a statement on Twitter earlier denying involvement.
Donald Trump's ever-changing views on Afghanistan
Biraj Patnaik, Amnesty International's South Asia Director, said in a statement: "This gruesome attack underscores the dangers faced by Afghan civilians. In one of the deadliest years on record, journalists and other civilians continue to be ruthlessly targeted by armed groups.
"With the Afghan capital hit once again, no one can credibly claim that Kabul is safe. The European governments who insist on this dangerous fiction by forcibly returning Afghans are putting their lives in danger."
John R Bass, US ambassador to Afghanistan, said: "I strongly condemn today's horrific and indiscriminate attack on civilians at a cultural and social centre in Kabul.
"On behalf of all my colleagues, I extend sincere and heartfelt condolences to the families and friends of the victims. This incident once again demonstrates the depravity of those who seek to undermine peace and stability in Afghanistan. We remain confident the Afghan government and people, supported by their friends and partners, will defeat those behind these terrible acts.
"The United States continues to stand with all Afghans in their pursuit of peace, security and prosperity."
US President Donald Trump had been informed of the blast and was said to be monitoring the situation.
Military officials have identified Afghanistan as one of several hubs for Isis following the loss of its self-declared "caliphate" in Syria and Iraq.
The group's regional branch, named Wilayat Khorasan, has been competing against the Taliban since gathering support from local militants in 2014.
Afghanistan: Between Hope and Fear

Show all 16
The two terrorist groups have been battling for control over areas of Nangarhar and Farah province, as well as continuing an insurgency against the Afghan government.
Isis has launched several rounds of deadly bombings and shooting attacks in Kabul and other Afghan cities, predominantly targeting Shia Muslims, as well as assassinations across the country.
Its activity has drawn increasing US air strikes against Isis militants in Afghanistan, as well as the Taliban and al-Qaeda factions, seeing a record 653 bombs, missiles and other munitions dropped in October.
According to a report this month by Reporters without Borders, Afghanistan is one of the world's most dangerous countries for media workers. Before Thursday's attack, two journalists and five media assistants were killed doing their jobs in 2017.
Additional reporting by news agencies
Join our new commenting forum
Join thought-provoking conversations, follow other Independent readers and see their replies