Kremlin is 'prolonging' war in Syria by bolstering Assad regime with air strikes, says Foreign Secretary Philip Hammond
British Foreign Secretary condemns Russian air strikes for bolstering Assad's regime and increasing  the flow of desperate refugees into Europe. Kim Sengupta reports from Zaatari refugee camp
Kim Sengupta
Zaatari refugee camp
Monday 01 February 2016 22:09 Comments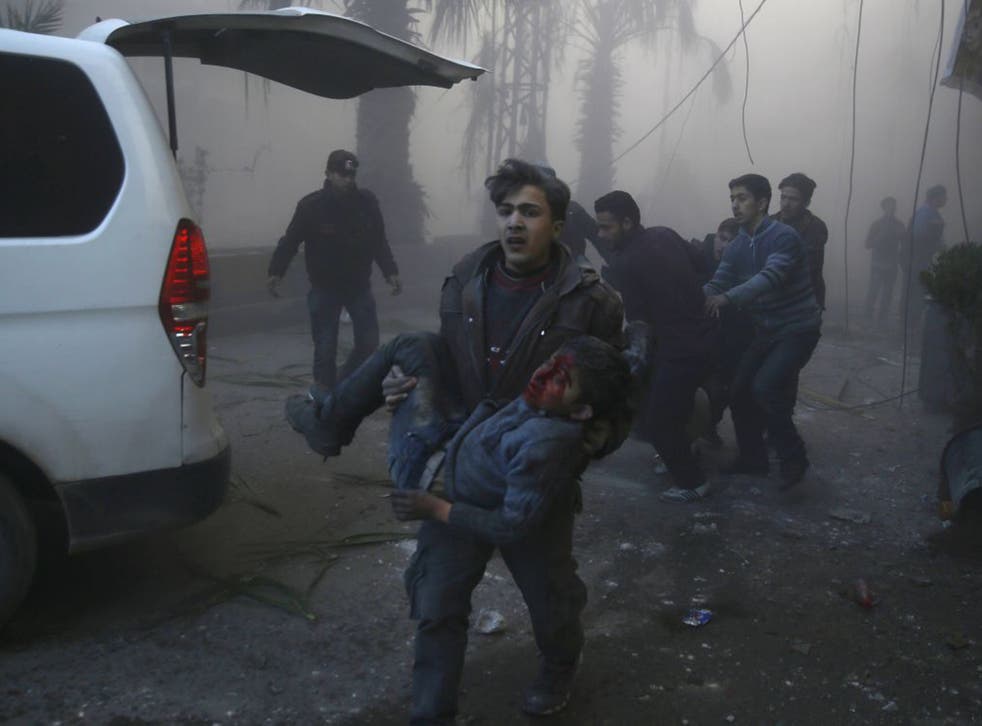 Russia's air strikes in Syria have prolonged the bloody war and played a key role in the West's refugee crisis, Britain's Foreign Secretary has said, in one of the most scathing indictments of the Kremlin's policy in Syria by a Western government minister.
"The Russians have given the regime another gasp of life and that is bad news for everyone, and they will hold responsibility for prolonging this conflict," Philip Hammond said on Monday. "It's a constant source of grief to me that everything we are doing is being undermined by the Russians."
Mr Hammond was speaking after visiting the Zaatari camp in Jordan, where more than 80,000 Syrians have sought safety from the civil war. His visit precedes a donors' conference on Syria later this week, where Syria's neighbours who are coping with millions of refugees will be offered financial help, including the proposed opening up of European Union markets.
The hope is that boosting economic welfare in these countries will help halt the flow of refugees into western Europe. But Mr Hammond said: "Since the Russian intervention in Syria, the dribble of people who were perhaps going back from these camps to Syria has stopped dead and there is a new flow coming in because of the actions the Russians are taking, particularly in southern Syria, along the border just a few kilometres from here."
Vladimir Putin's intervention in Syria has been viewed as game-changer, with Moscow now seen as central to a resolution of the five-year conflict. "Russia cannot continue to sit at the table as a sponsor of the political process and at the same time be bombing the civilian areas of the groups of people we believe will be the backbone of the new Syria once Assad has gone," Mr Hammond said. "The Russians cannot be both part of the political process and the key drivers of the military disaster happening on the ground.
"The Russians say let's talk… While they are talking they are bombing and they are supporting Assad. What we need are people who will stop bombing while they do the talking, not people who bomb at the same time."
Mr Hammond said the West simply did not know whether Mr Putin would, at some stage, be prepared to see President Bashar al-Assad leave power, a demand of the opposition, nor the Russian leader's long-term plan. "The thing I have learnt watching Putin, first as a Defence Secretary and then as Foreign Secretary, is it doesn't matter how much you watch – you can't see anything. He is completely inscrutable.
"We have no idea what his game plan is, we don't know. There are no councils discussing these things, it's what's going on in Mr Putin's head."
The UK has given £1bn in aid toward refugee camps in the countries neighbouring Syria. Mr Hammond brought an offer this week of £380,000 for a community policing project being overseen by former British police officers in Zaatari, which is now the fourth largest city in Jordan.
But Jordan says it is already hosting 1.27 million refugees and wants to construct more well-made camps like Zaatari. More than 20,000 Syrians are now trapped at Jordan's border without sanitation or medicine, desperate to enter the country properly as it permits only a trickle to do so.
Prime Minister Abdullah Ensour has said there were now grave security concerns about those seeking to come. "We will make it very clear in the London conference that the Syrian crisis is no longer only a refugee concern but also a security burden – an issue of sleeper cells, illicit drugs, trafficking, terror and radicalisation. It is true that supporting the refugees is our duty, but we are doing this on the behalf of the world, especially Europe," he said.
Conditions in Zaatari, built in July 2012, have improved recently after previous reports of extortion, drug dealing, sexual assaults and prostitution. Stephen Boddy, a retired sergeant from Northern Ireland working with Jordanian police officers, said yesterday that the introduction of mobile police stations had helped camp residents gain access to officials.
In pictures: Russian air strikes in Syria

Show all 19
Zaatari now has its own schools, clinics and mosques. There are supermarkets, restaurants, fashion stores and beauty salons on a road that aid workers call the Champs Elysées.
The fear among some is that their refugee status is becoming institutionalised. Hamid Abdussalam, who was a teacher near Deraa in Syria, arrived in Zaatari in 2013 with his wife and four children. "I did not think we would be here this long. We don't want to end up like the Palestinians, becoming refugees for generations," he said. "We thought for a long time that we would go back to Syria. But that is not possible now; I must think of something else, choose what to do."
Some Syrians in Jordan have already made that choice. Last summer, after Angela Merkel's apparent invitation to come to western Europe, some 500 people a week were boarding buses out. Britain and other western European governments hope that help for Jordan will lessen the incentive to make that journey. "It's not just a question of a bucket of money and that's all you need," Mr Hammond said. "There is a constant need to replenish, the scale of the problem isn't getting any smaller."
What about the Kremlin conundrum? "We will continue to pressurise the Russians every way we can. We will try to persuade them that we need to implement some confidence-building measures, get access for humanitarian purposes, end the bombing of civilian areas and ultimately get a ceasefire."
He did not look convinced that peace would break out any time soon.
Register for free to continue reading
Registration is a free and easy way to support our truly independent journalism
By registering, you will also enjoy limited access to Premium articles, exclusive newsletters, commenting, and virtual events with our leading journalists
Already have an account? sign in
Join our new commenting forum
Join thought-provoking conversations, follow other Independent readers and see their replies