Kurdish forces in Syria launch powerful counterattack to set up extended battle against Turkey
Rex Tillerson claimed US presence would stabilise the country but it has done the opposite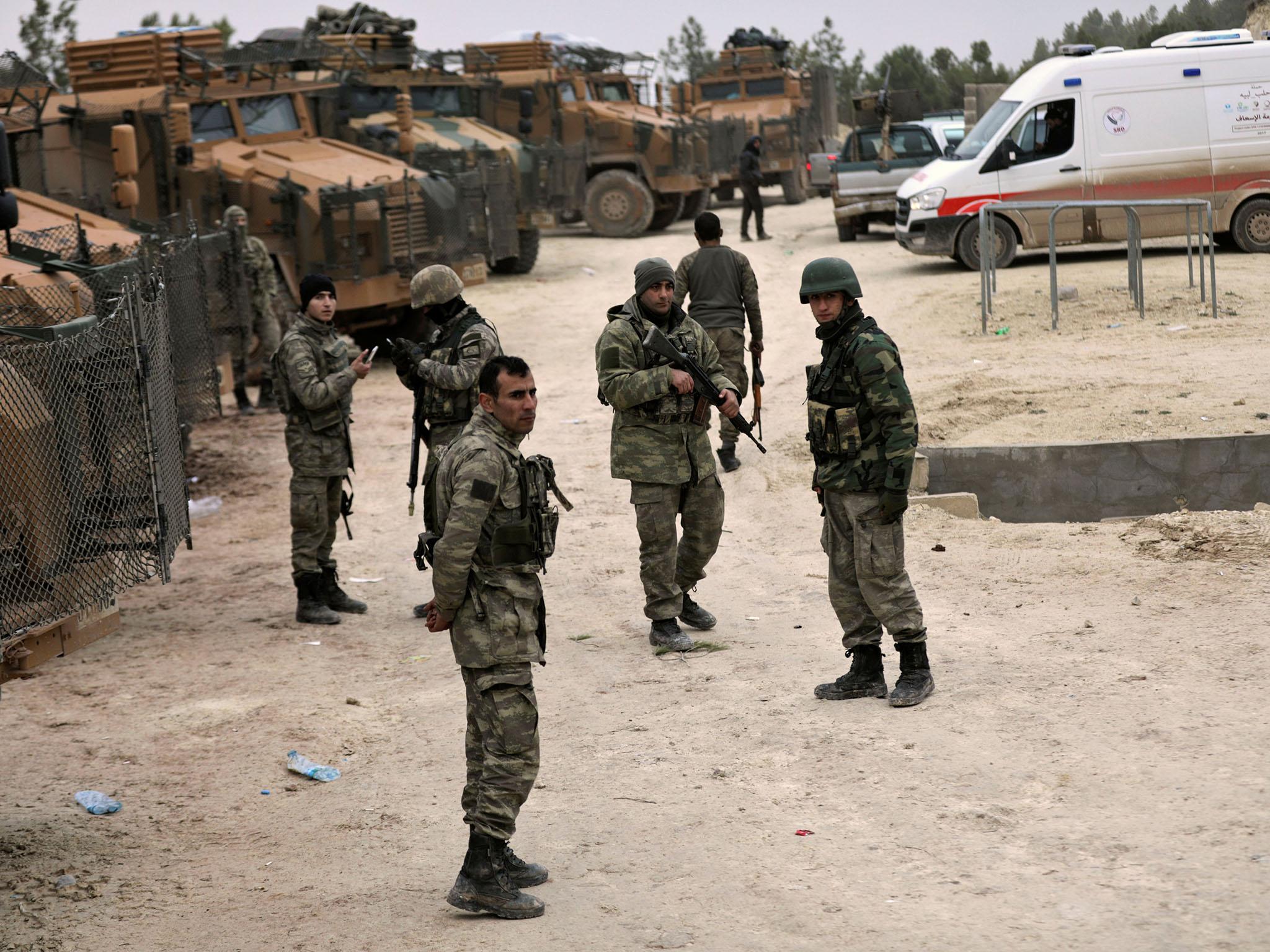 Turkey is hoping for a quick victory in Afrin, but its soldiers and allied Syrian militiamen are facing counter-attacks by Kurdish forces on villages close to the border. The Kurds are reported to be readying reinforcements to join the battle from their bases in north east Syria where they have thousands of troops who until recently were fighting Isis.
Turkish President Tayyip Erdogan says there would be "no stepping back from Afrin" which means that the campaign, bizarrely named 'Operation Olive Branch', will continue. But it will take time to drive the Kurdish YPG paramilitary forces out the Afrin enclave north of Aleppo. So far the Turkish offensive has captured only a few villages close to the border in three days of fighting and there are a total of 350 villages in Afrin.
The population of the enclave is estimated to be 200,000, many of whom will be come refugees if Turkey and Arab militiamen take control.
The Syrian Observatory for Human Rights said that there had been a strong Kurdish counter-attack overnight that had recaptured two villages called Shenkal and Adamaly.
Turkey needs a swift success in Afrin because it is diplomatically isolated and there is growing international pressure to end the fighting. France has called for an emergency meeting of the UN Security Council to discuss the fighting in Afrin and other parts of Syria. Britain said it would look for ways to prevent escalation. But Mr Erdogan said said in a speech in Ankara that Turkey had discussed the Afrin offensive "with our Russian friends, we have an agreement with them." This probably refers to Russia agreeing to limited Turkish action as warning to the Kurds not to become the permanent proxies of the US in Syria.
Turkish forces and some 10,000 Free Syrian Army militia based in Turkey would be facing even more difficulties if Russia had not allowed Turkish jets to operate in Syrian airspace. Though Turkey is a member of NATO, it has become closer to Russia because of US military support for the Syrian Kurds against Isis since 2014 and Turkish suspicion that the US was complicit in the military coup that almost overthrew Mr Erdogan in 2016.
A clash between Turkey and the Syrian Kurds was always likely once Isis had been defeated. Ankara had hoped that the US would then drop its alliance with the Kurds once Isis had been defeated. But on 17 January, the US Secretary of State Rex Tillerson gave a speech in which he said that US troops would stay in Syria on an open-ended basis, which in practice means they will remain based in the Kurdish enclave in the north east of the country. He said they would do so to prevent the advance of President Bashar al-Assad's forces and reduce Iranian influence in Syria. This was a dangerous new departure for the US in Syria.
Mr Tillerson said that the continued US presence would stabilise the country but in fact it has done the exact opposite. He himself does not seem to have taken on board that this was wholly predictable since his words would anger Russia, Syria and Iran but, most importantly, would have an even more explosive impact on Turkey.
In effect, the US was underwriting the existence of a permanent Kurdish statelet under US protection and controlled by people whom Mr Erdogan has denounced as "terrorists" and promises to destroy.
Several days earlier the US had said it would train a 30,000 strong border force to be drawn from the ranks of the Syrian Democratic Forces. This grouping contains Arab fighters, but is essentially run by the Kurds.
World news in pictures
Show all 50
Turkey is putting out contradictory signals about how long its operation will last. Mr Erdogan insisted that it will go on as long as necessary, regardless of outside pressure. But Turkish Deputy Prime Minister Mehmet Simsek who oversees economic affairs said: "our investors should be at ease, the impact will be limited, the operation will be brief and it will reduce the terror risk to Turkey in the period ahead."
There are other dangers stemming from the Turkish intervention. Syria is riven by ethnic and sectarian rivalries and territorial claims with all sides claiming that their community has been displaced recently or in the recent past.
Mr Erdogan has been stirring up these animosities saying at the week-end that "55 percent of Afrin is Arab, 35 percent are the Kurds who were later relocated, and about seven percent are Turkmen. We aim to give Afrin back to its rightful owners."
This means that If Turkey and its Arab militia allies do occupy Afrin there is the prospect of ethnic cleansing of Kurds living there. Christians and Yazidis are also fearful that they will be targeted by the Arab militiamen fighting alongside the Turkish army.
Join our commenting forum
Join thought-provoking conversations, follow other Independent readers and see their replies