Iraqis seize Kurdish military base and oil field in Kirkuk
US-trained special operatives part of strategic advance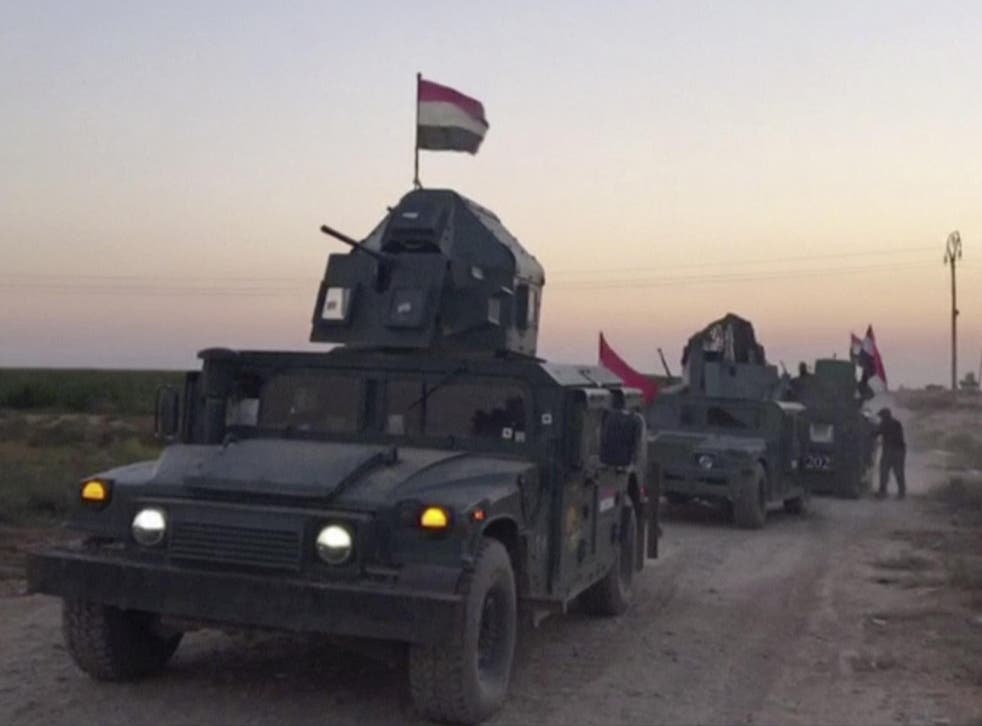 Iraqi forces said they have seized a military base, an oil field and other key infrastructure from Kurdish soldiers near the northern city of Kirkuk, as the two US allies face off over territory and oil in the wake of the Kurdish region's independence vote last month.
Clashes broke out despite an order from Iraqi Prime Minister Haider al-Abadi for his troops to avoid violence. Iraqi forces advanced into the contested province with the goal of returning to positions they held before 2014, when they fled in the face of an Isis push. The positions had since been taken over by Kurdish troops.
The conflict between Kurdistan and the Iraqi government over land and oil is decades old, but a Kurdish referendum for independence last month inflamed the tensions. The Iraqi government, as well as the United States, Turkey and Iran all opposed the vote. For Baghdad it added urgency to the need to reassert its claims to the province, which has around 10 percent of the country's oil reserves.
Kurdish forces took full control of the ethnically and religiously mixed city of Kirkuk in 2014 after the Iraqi military fled from large swaths of northern Iraq in the face of an Islamic State push. It also seized oil fields formerly run by Baghdad that pump hundreds of thousands of barrels of oil per day.
Lieutenant General Abdul Ghani al-Asadi, commander of Iraq's elite counter-terrorism forces, said his units were in control of the K1 military base outside Kirkuk on Monday, the Baba Gurgur oil field and the airport.
Iraqi forces also said they had taken key road junctions, police stations and military positions.
While some Kurdish forces withdrew after negotiations, the Kurdistan Region Security Council said that it destroyed five US-supplied Humvees used in the advance by Iraq's popular mobilization units, an umbrella group containing Iranian-backed militias which fight as part of Iraq's security forces.
A video shared online showed six bodies of what appeared to be Kurdish peshmerga soldiers lying by a roadside near Iraqi vehicles. One wore the uniform of a lieutenant colonel.
"This is the result of disobedience of Massoud Barzani," said the Iraqi fighter filming, referring to the leader of the Kurdish region.
The flare-up presents an awkward dilemma for the United States.
Washington has trained and equipped the advancing Iraqi troops and the Kurdish forces, known as peshmerga, on the other side. The Iraqi side is also backed up by Shiite militia forces close to Iran - at a time when the Trump administration has boost rhetoric about trying to curb Iranian influence in the region, including increasing sanctions on Iran's Revolutionary Guard Corps last week.
Kurdistan's security council put out a series of panicked public statements last week as Iraqi forces massed on the edges of the province.
As Kurdish authorities warned they were about attack, Abadi tried to defuse tension, taking to Twitter to assure that Iraqi forces "cannot and will not attack our citizens."
Iraqi commanders initially dismissed troop movements as routine deployments aimed at securing nearby Hawija, recently recaptured from Isis militants.
But Shiite militia leaders close to Iran said that they were there to move into the province and had presented a list of demands to peshmerga commanders. They said they had given a 48 hour deadline for Kurdish forces to withdraw.
After the deadline expired, Abadi accused the Kurds of deploying militiamen from the Kurdistan Workers' Party (PKK), a faction that has waged battles for autonomy in Turkey's Kurdish region for decades.
Abadi said it amounted to a "declaration of war," but it appeared little more than a pretext. PKK fighters have been present in the city for several years.
A Kurdish official, who declined to be named when criticizing an ally, called lack of US response to the Iraqi moves a "comical really" because of the presence of Iranian-supported militias.
"If you want to push back Iranian influence, don't stay quiet," the official said. "In the Middle East silence is taken as a sign of weakness."
But as well as highlighting the deep rifts in Iraq, the standoff has also exposed splits within the Kurds themselves.
While politicians and authorities led by Barzani's Kurdistan Democratic Party (KDP), have said they will stand their ground and fight, their rival Patriotic Union of Kurdistan, or PUK, has been more amenable to an agreement to allow Baghdad to enter.
Still in the hands of Kurds was the Bai Hassan oil field, which is under control of the KDP and has a capacity of around 200,000 barrels of oil a day, with Kurdistan's government heavily reliant on it for their energy needs.
"The orders are to surround K1 and oil fields and stop and call on the Kurdish forces to retreat," said a counter-terrorism officer who declined to be named because of the sensitivity of the topic as the operation was launched. "There are strict orders to avoid violence."
But militia commanders took a more combative tone. Anyone who fights Iraqi forces is "the same as Isis," said Karim al-Nuri, a spokesman for Iraq's mobilisation units. State television said that counterterrorism forces, the 9th Division of the Iraqi army and federal police forces had taken "large areas" of the province without a fight. It said popular mobilisation units took positions "outside Kirkuk."
On Sunday Colonel Ryan Dillon, a US military spokesman in Baghdad had described the situation as "stable" but said the "heightened tension" was distracting from the fight against Islamic State militants.
World news in pictures

Show all 50
After recapturing the city of Hawija, Iraqi forces were supposed to deploy to the borders with Syria to stamp out the last pockets controlled by Isis militants.
In addition to Kurdish troops, the K1 military base was also home to a contingent of U.S.-led coalition advise and assist forces before the advance. Dillion said all coalition forces in Iraq were "safe and secure".
The Washington Post
Register for free to continue reading
Registration is a free and easy way to support our truly independent journalism
By registering, you will also enjoy limited access to Premium articles, exclusive newsletters, commenting, and virtual events with our leading journalists
Already have an account? sign in
Register for free to continue reading
Registration is a free and easy way to support our truly independent journalism
By registering, you will also enjoy limited access to Premium articles, exclusive newsletters, commenting, and virtual events with our leading journalists
Already have an account? sign in
Join our new commenting forum
Join thought-provoking conversations, follow other Independent readers and see their replies