Largest hospital in rebel-held Aleppo 'completely destroyed'
Syrian and Russian warplanes accused of bombing hospital two days after barrel bombs put it out of action
Harry Cockburn
Monday 03 October 2016 23:52 Comments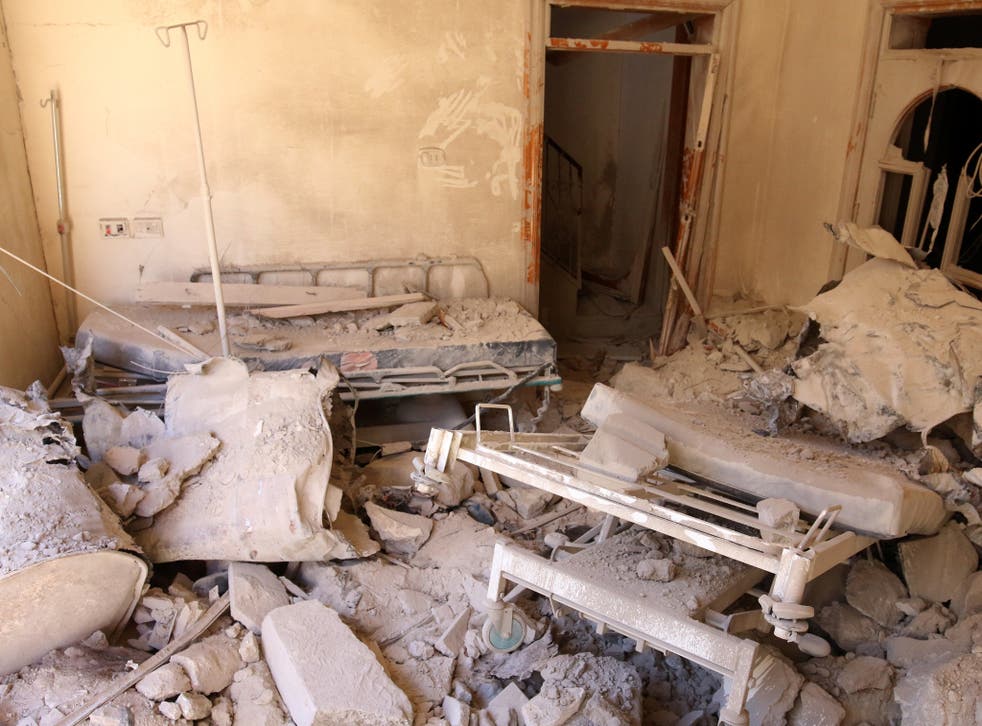 The largest hospital in rebel-held parts of Aleppo has been "completely destroyed" in airstrikes, activists have said.
The attack on the main trauma unit of the M10 hospital was the third set of airstrikes to hit it in a week.
Earlier attacks, blamed on pro-Assad forces and backed by Russian warplanes, reportedly reduced the site to "a bloodbath", and had left the hospital unusable.
But Adham Sahloul of the Syrian American Medical Society told Sky News the hospital has now been "completely destroyed."
"It is gone," he said.
Three maintenance workers were among those killed in the attacks, humanitarian charities said.
According to the UK-based Syrian Observatory for Human Rights the airstrikes killed six people in total.
United Nations general secretary Ban Ki-moon has described the assault as a war crime.
Pablo Marco Blanco, operations manager at medical charity Medicine Sans Frontiers, told The Independent last week the loss of the hospital was significant, and the morale of doctors so low, "most of them are ready to die," he said.
Talks between the US and Russia collapsed on Monday after US officials said Moscow was not keeping up its commitments to halt violence and deliver humanitarian aid.
One US intelligence official speaking on condition of anonymity said the current bombing campaign in Syria was "one of the deadliest" since the civil war began in 2011.
"These air strikes, mostly focused on Aleppo, have utilized a wide variety of deadly munitions, including barrel bombs, thermobaric bombs, incendiary munitions, cluster bombs and bunker busters," the official said.
Representatives for Russia and the US were due to meet in Geneva to plan co-ordinated airstrikes against Islamist militant groups, but the US has ordered its officials to return home.
Hospital in Aleppo bombed out of service in latest bombings
Following the breakdown between the two countries, the UN security council said it would begin to negotiate a draft resolution that urges Russia and the US to ensure an immediate truce in Aleppo.
Register for free to continue reading
Registration is a free and easy way to support our truly independent journalism
By registering, you will also enjoy limited access to Premium articles, exclusive newsletters, commenting, and virtual events with our leading journalists
Already have an account? sign in
Register for free to continue reading
Registration is a free and easy way to support our truly independent journalism
By registering, you will also enjoy limited access to Premium articles, exclusive newsletters, commenting, and virtual events with our leading journalists
Already have an account? sign in
Join our new commenting forum
Join thought-provoking conversations, follow other Independent readers and see their replies