Middle East peace process dealt a blow as Israel gives go-ahead for 300 new homes in West Bank
Alistair Dawber
Thursday 09 May 2013 14:00 Comments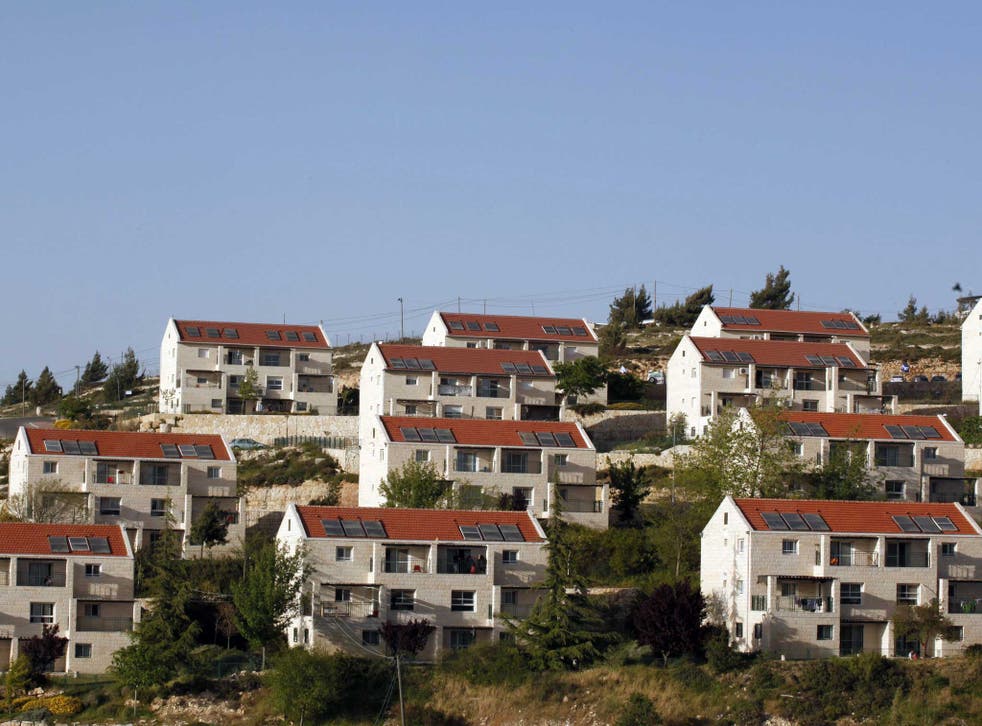 Hope earlier in the week that a decision to freeze the construction of new Israeli settler homes in the occupied West Bank could renew the moribund peace process were dealt a blow earlier today when it transpired that permission had been granted to build nearly 300 new houses close to the Palestinian administrative capital, Ramallah.
The announcement will disappoint Americans – especially the Secretary of State, John Kerry - who have spent two months attempting to broker a new deal between the Israeli and Palestinian leaderships.
The Palestinians maintain a long held position that new talks are only possible with a new moratorium of settlement building. The Americans and Israelis say new talks should go ahead without pre-conditions. Settlements are considered illegal under international law.
Israel's civil administration yesterday approved a plan to build 296 new houses in the settlement of Beit El. The scheme – which is the first settlement plan to be approved by Israel's new government since it was sworn in in March - has already won approval from the Defence Minister, Moshe Ya'alon.
The move comes two days after the Israeli Prime Minister Benjamin Netanyahu instructed the country's Housing Minister, Uri Ariel, not to press ahead with government tenders for as many as 3,000 new homes in what the Palestinians have earmarked as part of their future state.
Mr Netanyahu made a similar move in 2010 before the last round of peace talks with the Palestinians that ultimately proved to be fruitless.
The Palestinian chief negotiator Saeb Erakat said the latest move sent a clear message: that Israel was not interested in resuming direct talks. "We condemn this new decision which is proof that the Israeli government wants to sabotage and ruin the US administration's efforts to revive the peace process," he told the AFP news agency.
"This is a message to the American administration and a blow to the peace process."
Tzipi Livni, the Israeli Justice Minister, who also has responsibility for overseeing peace initiatives with the Palestinians, has been in Rome meeting with Mr Kerry ahead of his next trip to Jerusalem and Ramallah later this month. She attempted to quell the Palestinian outrage at the announcement.
"There is no need for this to become a pretext for drama or anger," she told Israeli Army Radio, adding that the Americans were aware of the latest housing plan. "They listened and they understood, and for the moment, there is no reaction," she said.
Peace activists inside Israel argued that the green light for the new homes proved that the Israeli government is not serious about any new peace initiative.
Hagit Ofran, who runs the Settlement Watch offshoot of the Peace Now group, said: "It seems Netanyahu is deceiving the public by claiming to have restrained the construction in settlements. The reported pause in publication of new tenders is halting only a small part of the construction in settlements, while the construction on the ground continues, and the initiation of new plans, even in isolated settlements, continues."
Register for free to continue reading
Registration is a free and easy way to support our truly independent journalism
By registering, you will also enjoy limited access to Premium articles, exclusive newsletters, commenting, and virtual events with our leading journalists
Already have an account? sign in
Join our new commenting forum
Join thought-provoking conversations, follow other Independent readers and see their replies