Missile test fuels talk of Israeli plan to strike Iran's nuclear sites
Public opinion is divided on the merits of such an attack, but not along left-right lines
Donald Macintyre
Thursday 03 November 2011 01:00 Comments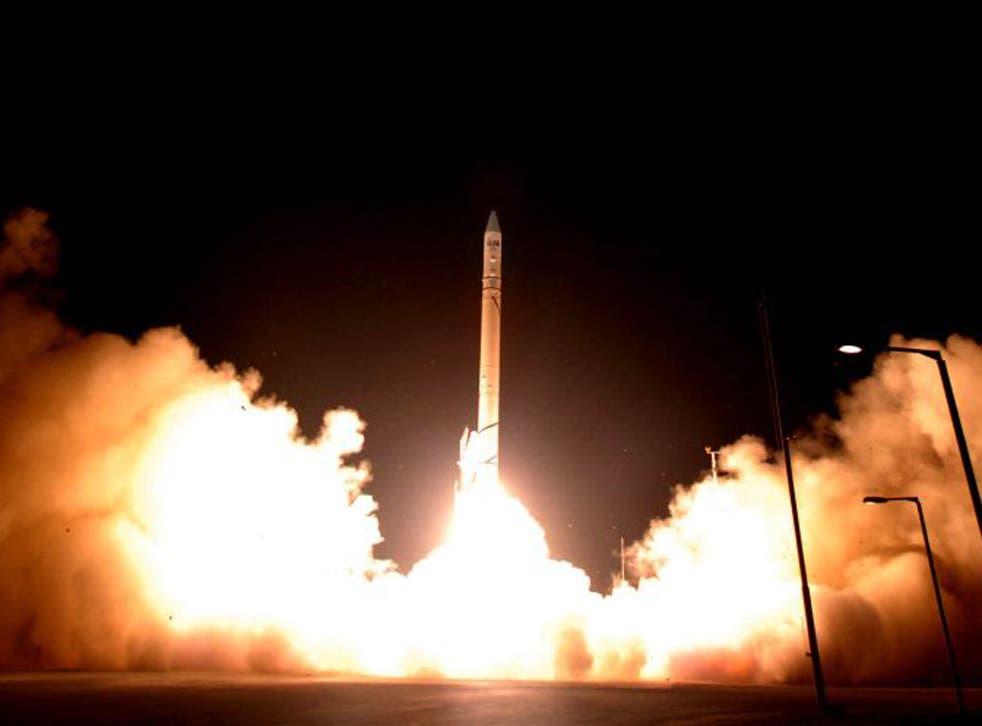 Israel yesterday test-fired a ballistic missile – believed to be long-range and capable of reaching Iran – amid a public debate triggered by reports that the country's Prime Minister is mustering support for a strike on Tehran's nuclear facilities.
Though said by officials to have been long planned, the missile launch from the Palmachim air base near Tel Aviv fed speculation about Israel's intentions after strong signs that there has been serious discussion within its Cabinet about the merits of a military option.
Defence officials gave few details of the launch but the Defence Minister Ehud Barak said it was "an impressive technological achievement." He added: "The successful experiment proves again that the engineers, technicians and staff of the Israeli defence industries are of the highest level."
The test coincided with persistent, if unconfirmed, media reports, which began anew last Friday with a front page column by Israel's most prominent commentator Nahum Barnea, that both Prime Minister Benjamin Netanyahu and Mr Barak are seeking to build ministerial support for a military strike designed to disrupt Iran's nuclear programme.
It also comes days before the expected publication next week of the latest report from the International Atomic Energy Authority, which Israeli experts are anticipating may help to vindicate the assessment that Iran could be two or three years away from a nuclear weapons capability once it decides to pursue it.
The degree of public comment - including by politicians taking part in supposedly secret discussions of strategy on Iran - yesterday prompted Deputy Prime Minister Dan Meridor to complain that it was "insane" and causing a "very serious situation" to be conducting open discussion about such a sensitive security issue.
Mr Meridor, who also has responsibility for intelligence affairs, declared in an interview with the Maariv newspaper that, "a public debate about this is nothing less than a scandal. I don't think we've ever had anything like it. We're talking about the country's basic ability to function. Not every issue is a matter for public debate." Though emphatic in his views on the threat posed by Iran, Mr Meridor has in the past stressed the importance of any move against it being led by the US.
However Mr Meridor's remarks coincided with another report yesterday, this time in Haaretz, that Mr Netanyahu and Mr Barak had converted a hitherto sceptical foreign minister Avigdor Lieberman, to a favourable view of a military attack on Iran. The report quoted an unnamed Israeli official saying that this still left a "small advantage" in the Cabinet for those currently opposing a military strike.
Mr Lieberman gave little clue about whether the report was true yesterday, beyond saying that in general "99 per cent of all the reports have no connection to reality." The foreign minister went on to stress the danger posed by Iran to the "world order" and to say that Israel expected the international community to step up efforts to stop it. He added: "The international community must prove its ability to make decisions and enforce tough sanctions on Iran's central bank as well as halt the purchasing of oil."
Divisions on the issue do not appear to follow familiar right-left lines with Moshe Yaalon, a normally hawkish former chief of staff who is the country's strategic affairs minister, saying that he would prefer an American strike to an Israeli one and arguing that "a military move is the last resort." Other former intelligence officials and military chiefs - with Meir Dagan, the immediate past head of Mossad, publicly urging caution - have also emerged as sceptics.
Yossi Alpher, an eminent Israeli analyst and a former senior Mossad official, said yesterday that Iran posed an undoubted "existential threat" to Israel and that statements by ministers made it clear that there was serious discussion going on in government.
But it was uncertain whether its leadership was increasingly contemplating a military strike or whether it was at this stage simply seeking to persuade the international community to tighten sanctions which had been "rather effective." Mr Alpher said he agreed with Mr Dagan that Israel should consider a military option of its own only if "the sword was its throat."
Officials in Mr Netanyahu's office remained tight-lipped on the issue yesterday. But the Prime Minister used his speech opening the Knesset session this week to declare: "A nuclear Iran would pose a dire threat on the Middle East and on the entire world. And of course, it poses a grave, direct threat on us too." In a later passage, though in the context of rockets from Gaza, he added: "A security philosophy cannot rely on defence alone. It must also include offensive capabilities, which is the very foundation of deterrence."
The Iranian news agency ISNA yesterday quoted the chairman of the Iranian joint chiefs of staff Hassan Firouzabadi, responding to the Israeli reports by saying: "The US officials know that the Zionist regime's military attack against Iran will inflict heavy damages to the US seriously as well as the Zionist regime."
Nuclear issue: Where ministers stand
Benjamin Netanyahu, Prime Minister
Long-term hawk on Iran who has frequently compared the threat posed by the current regime in Tehran to that posed to the Jews by Hitler in 1939. Reportedly in favour of a military strike.
Ehud Barak, Defence Minister
Thought to be backing Mr Netanyahu on the Iranian issue, and though has stressed the importance of international action publicly wants "no action taken off the table".
Moshe Yaalon, Strategic Affairs Minister
Regarded as a leading sceptic on an Israeli military strike saying it should be a "last resort" and preferring a US military move to an Israeli one.
Dan Meridor, Deputy Prime Minister
Infuriated by public discussion of such a sensitive security issue. Is on record as saying he would like a US move against the "grave danger" of Iran moving to nuclear weapons.
Avigdor Lieberman, Foreign Minister
The ultranationalist has hitherto been thought to be sceptical about an Israeli strike. Did not confirm a report yesterday that he now supports military action.
Register for free to continue reading
Registration is a free and easy way to support our truly independent journalism
By registering, you will also enjoy limited access to Premium articles, exclusive newsletters, commenting, and virtual events with our leading journalists
Already have an account? sign in
Join our new commenting forum
Join thought-provoking conversations, follow other Independent readers and see their replies