Mohammed Abu Khdeir murder: Mother speaks out after Israeli men arrested for 'nationalistic' killing
Six men have been arrested on suspicion of killing an Arab teenager who was abducted last week – and Israeli police say that they now believe it was carried out for 'nationalistic reasons'. Daniel Estrin reports from Jerusalem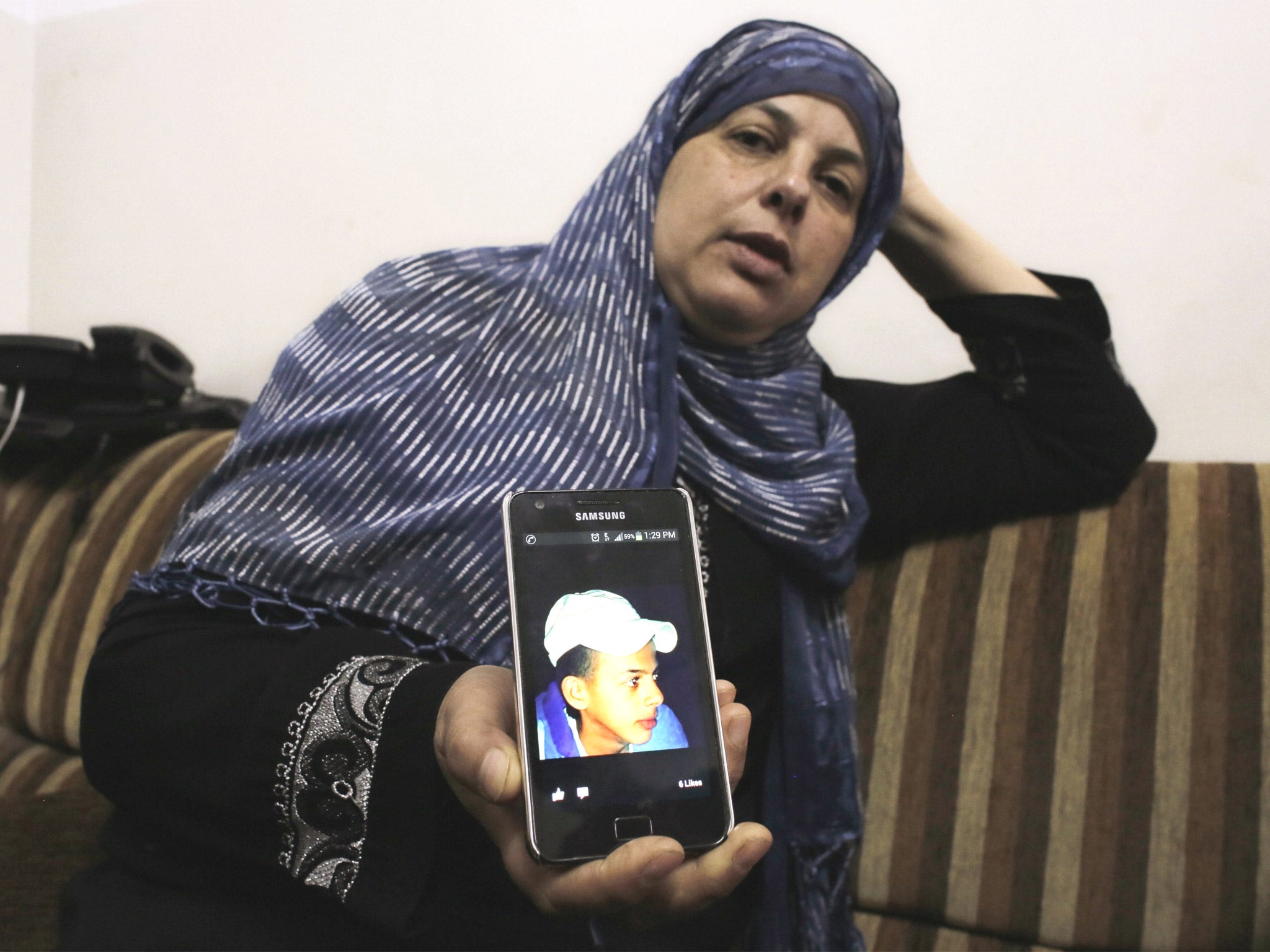 Israeli police arrested six men on Sunday on suspicion of the murder of a Palestinian teenager who was abducted as he walked to a mosque for dawn prayers.
The men are Jewish and were arrested in their homes in Beit Shemesh, Jerusalem and the settlement of Adam, a short drive from the site of the abduction.
Mohammed Abu Khdeir, 16, was abducted last Wednesday and his charred body found a short while later in a Jerusalem forest in what Palestinians say was a revenge killing for the earlier deaths of three Israeli teenagers. Palestinian forensic scientists suggested that he was still alive when he was set alight.
Israeli police have said that they now believe the murder was carried out for "nationalistic" reasons. Last week police said they were investigating whether Abu Khdeir could have been killed by Palestinians for criminal or moralistic reasons.
In east Jerusalem, home to the most-violent protests over the teenager's death, Abu Khdeir's family said news of the arrests brought them little joy.
In pictures: Israeli/Palestinian clashes
Show all 10
"I don't have any peace in my heart, even if they captured who they say killed my son," said his mother, Suha.
"They're only going to ask them questions and then release them. What's the point?"
"They need to treat them the way they treat us," she added.
"They need to demolish their homes and round them up, the way they do it to our children."
His father, Hussein, said the family still had not been officially informed of any arrests.
"Even if they rounded up all of Israel, they will not bring my son back," he said.
On the day the Israeli teenagers were buried, hundreds of young, right-wing Israelis marched through Jerusalem, screaming for revenge and chanting "death to Arabs". Hours later, Abu Khdeir was abducted near his home and his body was found shortly afterward. Palestinians immediately accused Jewish extremists of killing the youth.
Israeli hard-liners, often motivated by religious zeal, are widely believed to be behind vandalism attacks in Israel and the West Bank on mosques, churches, Palestinian farmland and even Israeli military property.
Murky groups refer to these attacks as the "price tag" for what they consider to be government policies that unfairly favour Palestinians.
In 1994, Baruch Goldstein, an American-born settler, entered a Muslim prayer hall in the West Bank city of Hebron and gunned down 29 worshippers before being killed by survivors of the massacre. The following year, a Jewish ultranationalist assassinated then-Prime Minister Yitzhak Rabin to derail his peace efforts with the Palestinians.
President Shimon Peres said on Sunday that Israel would get to the bottom of Abu Khdeir's killing and bring whoever is responsible to justice.
"If Jews are becoming killers, they will be put to court like any killer," he told a gathering of foreign journalists in the southern town, Sderot, where he was meeting with local residents enduring the rocket barrages from neighboring Gaza.
"Whoever was killed for us was murdered, for us is a victim," he added.
Israeli media speculated that the arrested men were already well known to the police and were linked to hooligans who support Beitar Jerusalem football club. Some Beitar fans are renowned for their hatred of Palestinians and have forced the club to reject the signing of Muslim players.
Last year, Evyatar Yosef, 21, a member of La Familia, the team's hardcore fan club known for its racist chants and extreme right-wing views, was sentenced to 22 months in prison for setting light to the club's offices in protest at Beitar signing two Muslim players from Chechnya. The contracts of Zaur Sadayev and Gabriel Kadiev's were not extended at the end of last season.
The Jerusalem District Court also handed a 10-month suspended sentence to Matan Navon, 23, another fan involved in the arson.
Protests spread over the weekend from Jerusalem to Arab towns in northern Israel, with hundreds of people throwing rocks and fire bombs at officers who responded with tear gas and stun grenades.
Police said that 22 Israeli Arabs were arrested in clashes on Saturday.
Israeli Arabs, unlike Palestinians in the West Bank and Gaza Strip, hold citizenship rights. But they often face discrimination and many identify with the Palestinians.
Clashes had mostly subsided by Sunday, but the situation remained tense. Police said a Jewish woman was attacked and lightly wounded yesterday by a group of Palestinians in Jerusalem's Old City. Her husband fired his weapon and the attackers fled. Police were searching for them.
Also yesterday, the cousin of Abu Khdeir was released from jail and placed under house arrest. Tariq Abu Khdeir, a 15-year-old American of Palestinian descent was filmed as he was beaten up by Israeli police. He was crying as he returned to his family and appeared badly bruised, with both eyes and his mouth swollen.
"I feel better, I am excited to be back home," he said.
The US State Department said it was "profoundly troubled" by reports of his beating and demanded an investigation, which Israel's Justice Ministry quickly launched.