US-Palestinian teenager filmed 'being beaten by Israeli police' in house arrest
Tariq Abu Khdeir is a US citizen and cousin of Mohammed Abu Khadir who was kidnapped and killed this week in alleged 'revenge killing'
Loulla-Mae Eleftheriou-Smith
Sunday 06 July 2014 20:31 Comments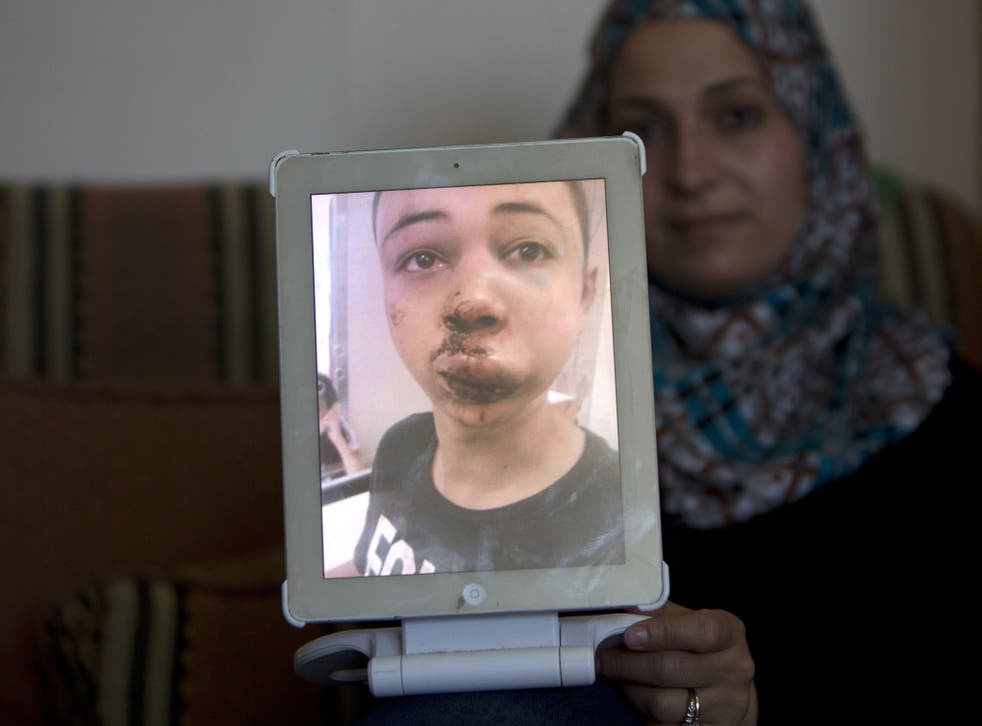 The US has said it is "profoundly troubled" by footage that allegedly shows a US teenager being brutally beaten by Israeli police.
Tariq Abu Khdeir, a 15-year-old American citizen from Florida, was detained by Israeli authorities in Jerusalem following violent protests over the killing of the 16-year-old Mohammed Abu Khdeir, the cousin of Tariq.
Khdeir is thought to be shown being repeatedly punched and kicked by police in the video filmed by a witness at the scene in East Jerusalem and posted online by Tel Aviv news site +972, while images have been released by Khdeir's family showing his swollen and bloodied face.
The teenager's mother told Sky News that she was "in a state of shock" and described the alleged attack on her son as an "act of attempted murder".
The US state department confirmed that Khdeir is being held by Israeli authorities, and said: "We are profoundly troubled by reports that he was severely beaten while in police custody and strongly condemn any excessive use of force." The US has called for an investigation into the incident.
On Sunday Khdeir was brought before a Jerusalem district court, where police requested to extend his detention.
He has been freed on bail pending an investigation. His bail conditions include 10 days house arrest, a $2,857 fine and a ban on him entering Shuafat, a Palestinian Arab Neighbourhood in East Jerusalem, according to Al Jazeera.
Police say the US teen was one of six masked rioters caught and detained at the protests, three of whom were found to be carrying knives. Police spokesman Micky Rosenfeld said the video allegedly showing Khdeir being beaten is "biased", claiming that the teen resisted arrest, attacked officers, and was carrying a slingshot for lobbing stones when he was seized.
The incident happened days after Mohammed Abu Khdeir's charred body was found dumped in woodland, hours after he was kidnapped from his neighbourhood in East Jerusalem. Initial autopsy findings have indicated that he was "burnt alive".
New video footage has emerged that is thought to show the faces of Khdeir's two alleged abductors.
The video, which was posted online by Electronic Intifada, a news site that covers Palestinian issues, shows two men pointing and walking towards a specific spot while on a pavement, in front of a car.
The video is claimed to show the same footage of Khdeir's kidnap that was caught on CCTV cameras and obtained by the Guardian, but from a different angle.
Many have said Khdeir's death was a revenge killing made after the three young Israelis were abducted on 12 June, and whose bodies were found discarded in the occupied West Bank on Monday.
Additional reporting by Press Association.
Register for free to continue reading
Registration is a free and easy way to support our truly independent journalism
By registering, you will also enjoy limited access to Premium articles, exclusive newsletters, commenting, and virtual events with our leading journalists
Already have an account? sign in
Join our new commenting forum
Join thought-provoking conversations, follow other Independent readers and see their replies