Mosul offensive: 10,000 civilians displaced as UN prepares for possible chemical attacks by Isis
Militant group is known to have crude chemical weapons capabilities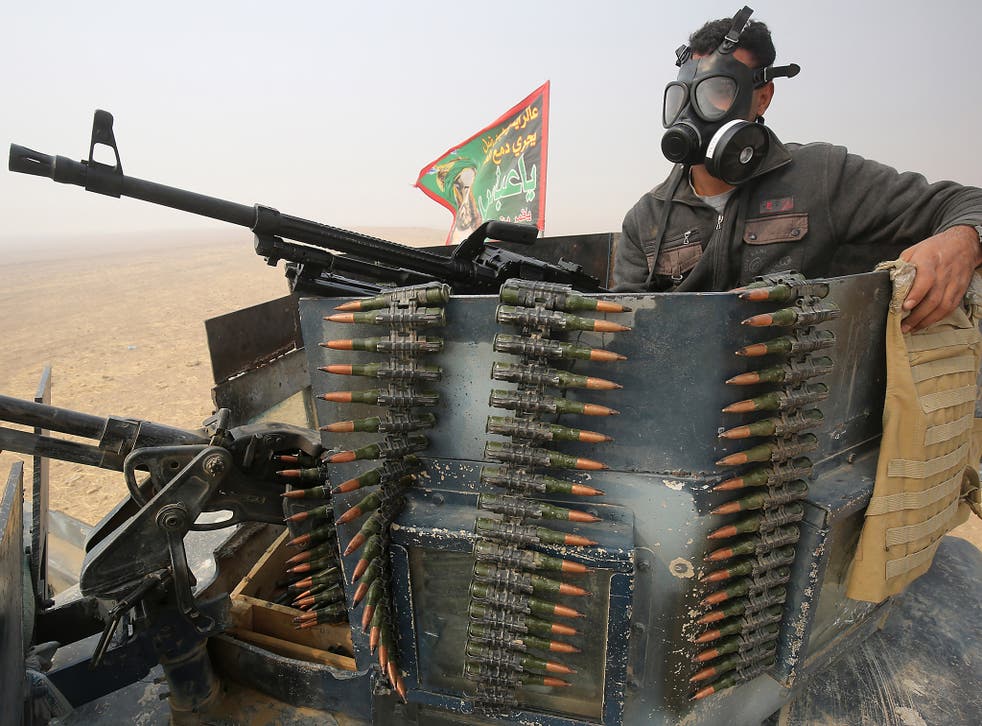 Iraqi medics have been trained in 'mass casualty management' in the event of the use of chemical weapons by Isis, the World Health Organisation (WHO) has said.
Around 90 medical professionals were given the training with a focus on procedure during a chemical attack as US-backed Iraqi forces edge ever closer to the Isis-held city of Mosul, the UN body said on Thursday.
The group has long been suspected by intelligence services of attempting to make crude chemical weapons across its territory in Iraq and Syria. US-led coalition air strikes in the run up to the Mosul offensive targeted several locations thought to be used as mustard gas production sites.
Iraqi troops were issued with gas masks in case of chemical attacks before the operation began in earnest last Monday.
They have already come in useful - Isis set oil fields and a sulphur plant south of Mosul alight last week, sending toxic fumes into the atmosphere which left thousands of civilians in need of medical attention.
In September, Isis fired a shell at a US military base in Qayyarah, near Mosul, which tested positive for trace amounts of mustard gas - a powerful irritant that targets the skin, eyes and airways and can kill in large enough or highly concentrated amounts.
No one was hurt in the attack, but Maj Gen Joseph Dunford said at the time that although Isis' chemical weapon capabilities were "rudimentary," the incident was a "concerning development".
In other news in the offensive, more than 10,000 people are now believed to have fled their homes because of the fighting, the WHO and the International Organisation for Migration (IOM) said on Wednesday.
Between 200,000 - 700,000 people in total are expected to be displaced when operation finally reaches Mosul itself, with worst case scenarios predicting 1.5million could be in need of humanitarian assistance.
In pictures: Mosul offensive

Show all 40
The UN and aid groups on the ground have warned for months that they are underfunded and underprepared to deal with a crisis of that magnitude.
Shipments containing thousands of UN refugee agency tents, blankets and other aid left Dubai on Thursday destined for northern Iraq, with hopes it can reach those in need as soon as Friday.
Fighting for control of Mosul - captured by Isis in 2014 - is expected to last weeks, if not months.
Dramatic footage shows Elite Iraq forces battle on road to Bartella in fight for Mosul
Allied Kurdish Peshmerga forces and Iraqi army troops have made steady progress on three different fronts of the city in the 11-day-old offensive, freeing more than 80 villages under Isis control. In some places US-backed troops are just three miles (five kilometres) away from the city limits, and the sounds of fighting can now be heard inside, residents report.
Isis have put up a fierce fight for their last stronghold in Iraq, unleashing vicious counterattacks in other cities and slowing the US-backed coalition down with indiscrimate use of suicide bombers and landmines.
Register for free to continue reading
Registration is a free and easy way to support our truly independent journalism
By registering, you will also enjoy limited access to Premium articles, exclusive newsletters, commenting, and virtual events with our leading journalists
Already have an account? sign in
Register for free to continue reading
Registration is a free and easy way to support our truly independent journalism
By registering, you will also enjoy limited access to Premium articles, exclusive newsletters, commenting, and virtual events with our leading journalists
Already have an account? sign in
Join our new commenting forum
Join thought-provoking conversations, follow other Independent readers and see their replies