Up to 80 civilians 'killed in US air strike' in Mosul, UN confirms
Human rights groups warn indiscriminate bombing of densely populated areas and use of heavy ordinance could amount to war crimes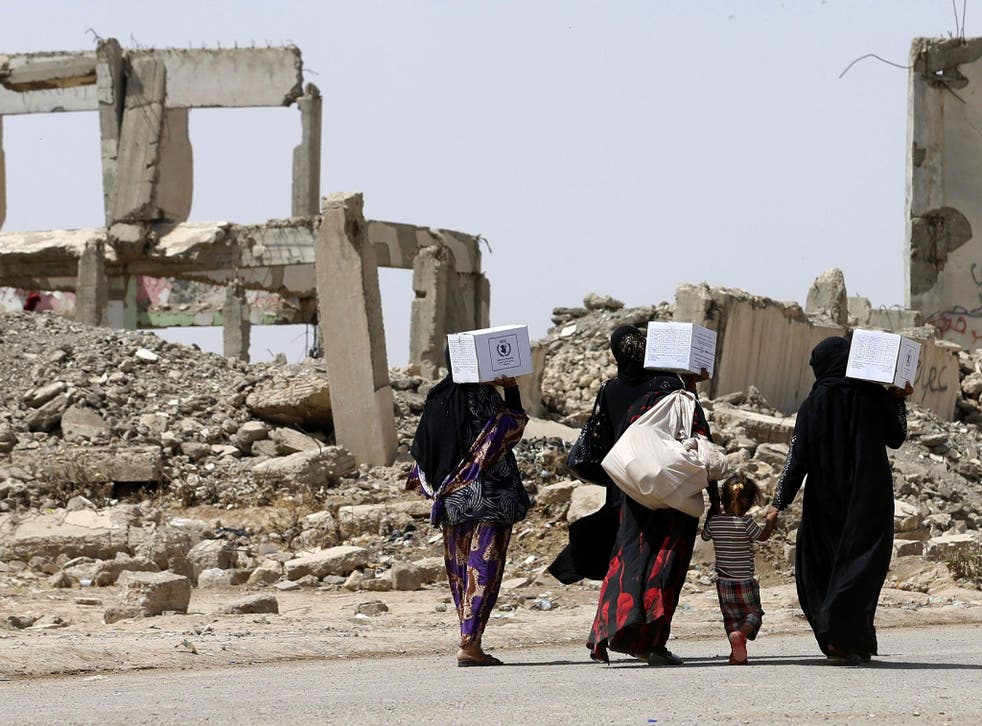 The UN's human rights office has said that an initial investigation has confirmed that between 50 - 80 Iraqi civilians were killed in a recent US-led coalition bombing of Mosul, while hundreds more died at the hands of Isis militants.
Strikes on 31 May were reported to have caused civilians deaths, but the death toll was not clear. Around 231 more people are thought to have died from Isis shelling, snipers and improvised explosive devices (IEDs) fleeing the west of the city at around the same time.
The UN is still seeking additional information, a statement said on Thursday.
News of the investigation emerges at the same time rights groups are stepping up calls for the coalition to do more to protect civilians in the fight to eliminate Isis from the last neighbourhoods of their Iraqi stronghold.
Children of Mosul describe life under Islamic State
Heavy ordnance, such as 500 pound (227 kilogramme) air-delivered bombs, are causing excessive and disproportionate damage to civilian life and property, organisations including Human Rights Watch, Amnesty International and the Centre for Civilians in Conflict warned in a report published Thursday.
The groups said the use of such weaponry - and the bombing of densely populated areas where civilians are used as human shields - could amount to war crimes.
US Central Command (CentCom) insists it "takes extraordinary efforts to strike military targets in a manner that minimises the risk of civilian casualties," although "In some incidents casualties are unavoidable."
The US-led coalition has admitted killing at least 484 civilians in air strikes in Syria and Iraq since the bombing campaign began in 2014.
Independent monitors say the death toll actually runs into the thousands, with transparency project Airwars claiming at least 3,800 civilians have been killed.
In pictures: Mosul offensive

Show all 40
According to Airwars data there has been a 400 per cent increase in civilian casualties caused by US-led bombing since the twin assaults on Mosul and Raqqa in neighbouring Syria got underway last autumn.
US President Donald Trump promised on the election campaign trail to to focus his foreign policy on eliminating the group, and his administration has given the Pentagon greater executive control over anti-Isis military operations.
Defence Secretary James Mattis said last week that the US is "accelerating the tempo" of the fight against Isis and the battle has shifted from attrition to "annihilation tactics".
Rights groups fear that this amounts to the lifting of some protections for civilian life.
Around 200,000 people are still trapped by jihadists in Mosul's old city, running out of food and water and with scarce access to medical help.
Over the border in Syria, the battle for Isis' de facto capital of Raqqa began in earnest this week.
At least 21 civilians died as families trying to escape the all-out attack were hit by US-led bombing and artillery fire on boats on the Euphrates River, both Syrian state media and opposition war monitor the Syrian Observatory for Human Rights said. Women and children were reportedly among the dead.
Around half of the city's 220,000 population is expected to try and flee the coming fighting.
Register for free to continue reading
Registration is a free and easy way to support our truly independent journalism
By registering, you will also enjoy limited access to Premium articles, exclusive newsletters, commenting, and virtual events with our leading journalists
Already have an account? sign in
Register for free to continue reading
Registration is a free and easy way to support our truly independent journalism
By registering, you will also enjoy limited access to Premium articles, exclusive newsletters, commenting, and virtual events with our leading journalists
Already have an account? sign in
Join our new commenting forum
Join thought-provoking conversations, follow other Independent readers and see their replies