Mother of Palestinian toddler burned to death in West Bank arson attack dies from injuries
Riham's 18-month-old son and husband also died after the July arson attack on their family home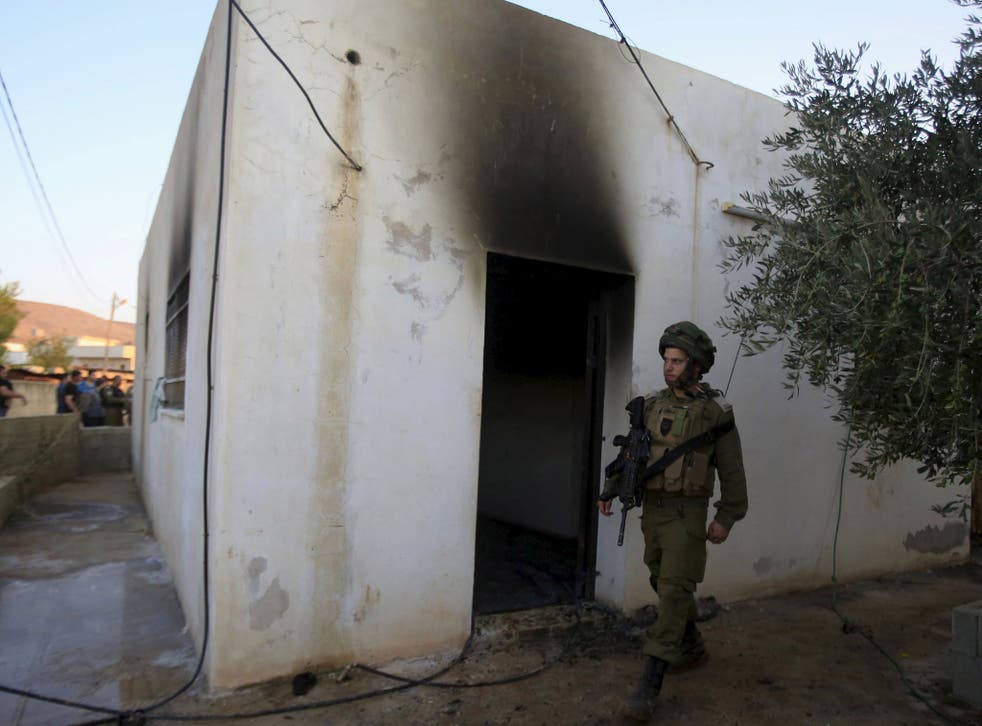 The mother of a Palestinian toddler killed in an arson attack has died of her injuries.
The Dawabsheh family home in the West Bank burned down after a petrol bomb was thrown at it, burning 18-month-old Ali Saad to death.
His father Saad and mother Riham initially survived but suffered from severe burns and both have now died. A second son, aged four, is still in hospital receiving treatment.
A spokesperson for the hospital treating the family confirmed Riham had succumbed to her injuries, saying: "To my regret, she passed away after midnight."
The attack was reportedly by masked Jewish extremists who targeted the house with graffiti before throwing firebombs into the home in the early hours of 31 July while the family were asleep.
The men sprayed "revenge" and "long live the Messiah" on the walls in Hebrew.
Saeb Erekat, secretary-general of Palestine Liberation Organisation, said: "Over a month has passed and the Israeli government hasn't yet brought the terrorists to justice. If Israel is not stopped and held accountable, then Riham will not be the last victim of Israeli terror."
Israeli Prime Minister Bejamin Netanyahu condemned the incident, calling it a "terrible criminal act."
"This is a terror attack," he said.
"Israel deals harshly with terrorism, no matter who the perpetrators are."
Lieutenant Colonel Peter Lerner of the Israeli Defence Force said the attack was "nothing short of a barbaric act of terrorism".
With additional reporting by Reuters
Join our new commenting forum
Join thought-provoking conversations, follow other Independent readers and see their replies