Muhammad al-Kasbeh: Palestinian teen killed by Israeli army was 'fleeing' when he was shot, reports suggest
Senior Israeli politicians have stirred controversy by supported the shooting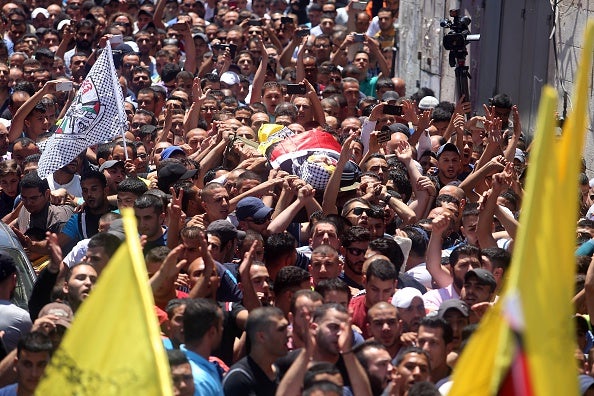 The Palestinian teenager who was shot in the back and killed by Israeli forces was fleeing from them, according to new medical evidence and eyewitness reports.
17-year-old Muhammad al-Kasbeh was at the Qalandiya checkpoint between Jerusalem and Ramallah when it is said he began throwing stones at a military vehicle, breaking the windscreen with a rock.
An officer then exited the jeep and shot the teen several times in his upper body. He is also alleged to have kicked Muhammad as he lay on the ground dying before walking away.
The incident has taken the Israeli media by storm because of the seniority of the officer involved, commander of the Binyamin Brigade, Col. Yisrael Shomer, and because senior Israeli politicians took to Facebook to support the shooting with the education minister, Naftali Bennett, writing: "If a man comes to kill you, kill him first.
"I fully back the Binyamin Brigade Commander who acted against a terrorist to protect himself and the lives of his soldiers. This is the conduct that we expect from IDF commanders.
"The nation of Israel stands behind you."
The press has reflected on how two of Muhammad's brothers also died at the hands of the Israeli military under similar circumstances: Yasser al-Kasbeh was just 11 when he was killed in December 2001 and Samer al-Kasbeh was 15 when he was shot just a month later in January 2002.
After last week's incident, however, several Palestinian eyewitnesses have now come forward to say the Israeli jeep pulled-up at the side of the road and several soldiers got out, chased the group of teens for a few metres before Col. Shomer stopped, took aim and shot a fleeing Muhammad several times as he ran away.
The Guardian reports how it has obtained a copy of the medical report and, along with an interview with the examiner who carried out tests on Muhammad's body, it claims the eyewitness reports stand in-line with the shots fired into the teen's body.
A close friend and neighbour of the al-Kasbeh family, Houriyeh, told The Electronic Intifada Muhammad was heroic and added his family is not shy or ashamed of his actions leading up to the shooting. "Our son died while resisting the occupation," she said.
The Israeli Defence Forces have declined to answer any specific questions in relation to the incident, however, issued a general statement in which it said the officer's actions were standard procedure after he feared a lynch which could have placed him and his colleagues in mortal danger.
Join our commenting forum
Join thought-provoking conversations, follow other Independent readers and see their replies