Thousands attend funeral in Beirut of top Hezbollah commander killed in Damascus explosion
Mustafa Amine Badreddine was supervising the militia group's involvement in the Syrian civil war
Kim Sengupta
Defence Editor
Wednesday 25 May 2016 09:14 Comments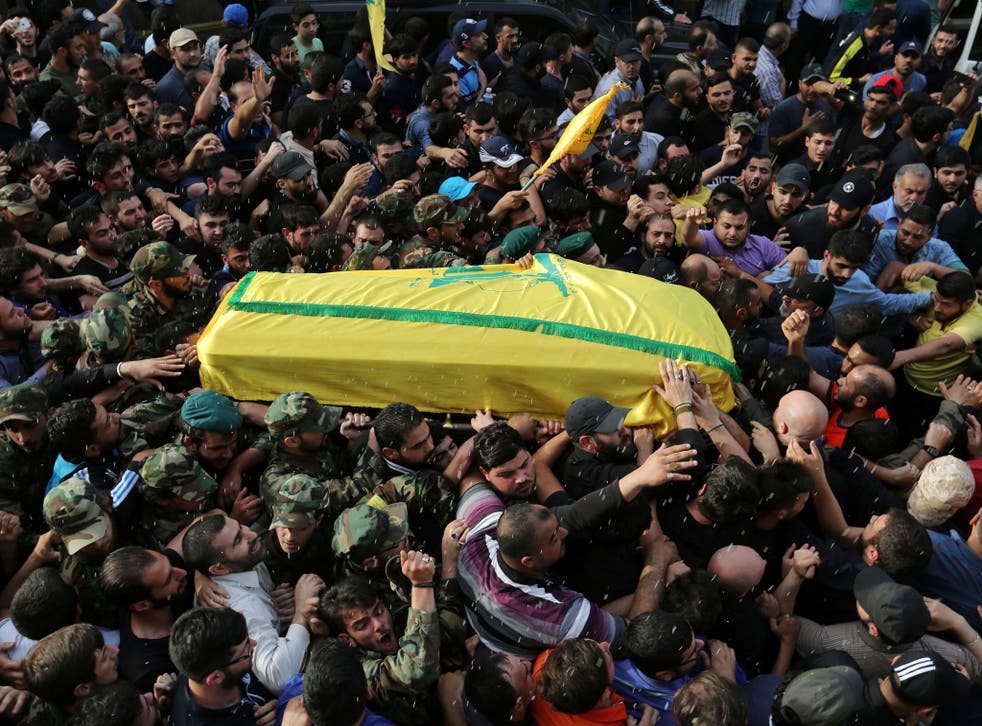 Thousands of people have attended the funeral in Beirut of a Hezbollah commander killed while leading the militia's forces in Syria's civil war. It remains unclear who was responsible for Mustafa Amine Badreddine death. But it brings to an end a long manhunt by Israeli and Western intelligence services for a guerrilla leader who has managed to remain in the shadows while taking part in assassinations and military operations.
Hezbollah reported from its Lebanese headquarters that 55-year-old Badreddine was blown up in an explosion near Damascus airport. Jabhat al-Nusra, the al-Qaeda-affiliated Syrian rebel group claimed, however, that he had died in a battle in Khan Tuman, south of Aleppo.
The funeral took place on Friday afternoon, with flowers being strewn over the coffin. Some mourners blamed Israel for the killing, with one mourner commenting, "Hezbollah has many spies." Another held that without Badreddine's leadership "Daesh (Isis) would be here now".
In the initial announcement of the death, on Lebanon's Al Mayadeen TV channel, Hezbollah had said that an Israeli air strike was responsible. But this was withdrawn from a later statement, which did not mention Israel, saying instead, that the group was seeking to determine whether the blast was due to an air or artillery strike and the conclusions would be announced soon.
Hezbollah deputy leader Sheikh Naim Qassem said the group would announce the outcome of its investigation into the death by Saturday. There was no immediate claim of responsibility. Speaking at the funeral, Qassem also vowed that the group would continue on the "path" of Badreddine.
Top Hezbollah commander Mustafa Badreddine killed in Syria – group confirms
Badreddine, who adopted the nom de guerre of Zulfiqar, the name of the sword of Imam Ali, the Prophet Mohammed's son-in-law, had been in charge of Hezbollah fighters in Syria for the last five years. The militia statement said: "He said months ago that he would not return from Syria except as a martyr or carrying the flag of victory. He is the great jihadi leader Mustafa Badreddine, and he has returned today a martyr.
"The information gleaned from the initial investigation is that a major explosion targeted one of our centres near Damascus international airport, which led to the martyrdom of Sayyid Zul Fikar [his nom de guerre] and the injuries of others."
The Israeli government refused to comment on whether it played a part in Badreddine's death. Yaakov Amidor, a former national security adviser to Israeli prime minister Benjamin Netanyahu said, "We don't know if Israel is responsible for this. But remember that those operating in Syria today have a lot of haters even without Israel."
Badreddine had been accused of being involved in the assassination of the Lebanese Prime Minister Rafeq Hariri in Beirut in 2005, and in the October 1983 bombing of the US Marine Corps barracks in Beirut that killed 241 people. He was sentenced to death in Kuwait over a plot to blow up the American and French embassies there during the Iran-Iraq war, but was freed by Iraqi troops after Saddam Hussein invaded Kuwait.
Badreddine was tried in absentia by the ongoing Special Tribunal for Lebanon, in The Hague, over the killing of Mr Hariri. He was indicted on four charges and was accused of being "the overall controller of the operation" which led to the Prime Minister's death in an explosion on Beirut's waterfront.
The Syrian regime was suspected of commissioning the assassination, and President Bashar al-Assad withdrew his forces from Lebanon in the furore which followed with anti-Syrian feeling running high in Lebanon.
Badreddine was the most senior Hezbollah commander killed since his predecessor and brother-in-law Imad Mughniyeh was assassinated in a Mossad and CIA operation in Damascus in 2008. Mughnieyh's son, Jihad Mughniyeh was killed in an Israeli air strike last year. Badreddine was last seen in public at the wake.
Register for free to continue reading
Registration is a free and easy way to support our truly independent journalism
By registering, you will also enjoy limited access to Premium articles, exclusive newsletters, commenting, and virtual events with our leading journalists
Already have an account? sign in
Register for free to continue reading
Registration is a free and easy way to support our truly independent journalism
By registering, you will also enjoy limited access to Premium articles, exclusive newsletters, commenting, and virtual events with our leading journalists
Already have an account? sign in
Join our new commenting forum
Join thought-provoking conversations, follow other Independent readers and see their replies