My Stealthy Freedom: Women in Iran step up hijab campaign by filming themselves walking in public with their heads uncovered
The videos undermines state warnings by showing men responding positively to unveiled women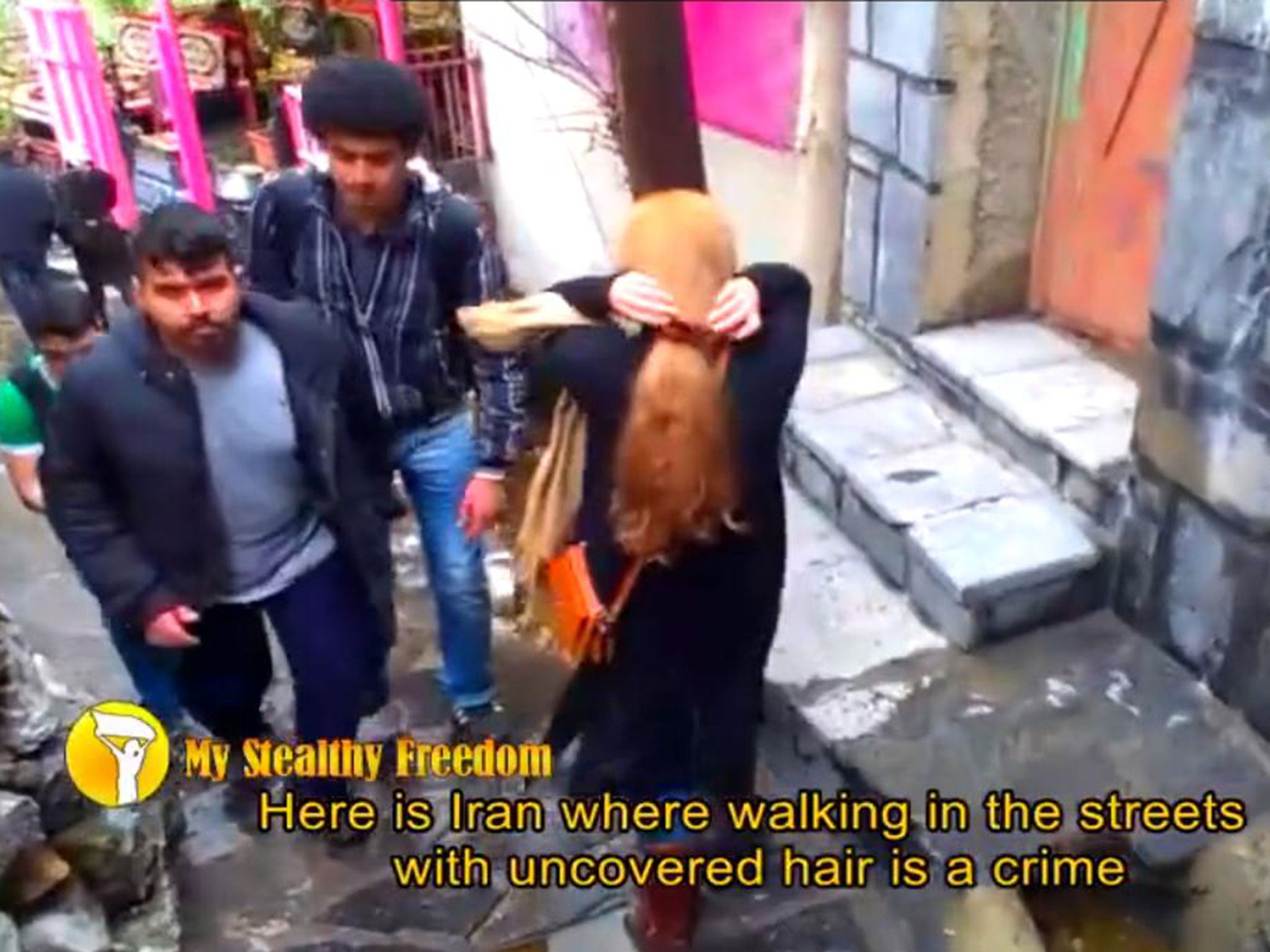 Journalist Masih Alinejad's ground-breaking Facebook page My Stealthy Freedom (MSF) has encouraged Iranian women to discard their hijabs in public and enjoy a brief moment of freedom in an ultra-conservative country. Now, her page is showcasing women who are going one step further in their acts of dissent by uploading videos of themselves walking through populated areas with their heads uncovered.
These videos capture more than just women fighting back against oppression; they also gauge the reaction of men, who are shown responding positively to such a rare - and illegal - sight. Some say nothing at all, but crucially, the women are not abused or insulted, contradicting the narrative pushed by the Iranian Government, who Ms Alinejad says warn unveiled women open themselves up to violent attacks by spurring male urges.
The most recent videos, which show women walking down a street and walking past groups of men, were filmed in Tehran. One woman described her experience to Ms Alinejad as affirmative, telling her: "Don't be scared of men. They didn't attack me or insult me. They smiled at me to show they support me. They stand with us'."
Ms Alinejad's Facebook page has caught the attention of hundreds of thousands of people globally, ensuring it soon entered the Government's radar, too. As it grew rapidly, (the page amassed over 140,000 followers in the first week) she found herself at the centre of Iran's powerful propaganda machine, which used her to do quite the opposite of what MSF set out to achieve.
"Iranian state released a fake news story about me, saying that I had been raped in London by three men, in front of my teenage son, after I took my hijab off," she said. The report even referenced Western outlets such as the BBC and claimed she was on "mind-altering drugs" at the time. It was completely untrue.
However, Ms Alinejad believes the recent videos on the MSF Facebook page undermine the Iranian Government's ability to used fear as a tool to control women.
"One Conservative analyst went on a website to suggest that if a women does not wear the hijab then if a men has sex with her against her will she cannot call it rape," she said.
In pictures: Iranian women remove their hijabs
Show all 10
"But in these videos of women on my website walking past men without their hijab, men were smiling. Men in Iran are educated and cultured. They are reacting positively because they support women having the freedom to choose. It is only the government who claims a woman who does not cover her head is bad.
"The younger generation of men are very supportive but also the older generation have daughters and children and they want them to have freedom of choice. We should be following the examples set by Turkey and Lebanon, where the older and younger generations are so different, yet stand side by side."
Ms Alinejad left Iran in 2009 and says she has been subject to an aggressive smear campaign from her native country since launching MSF. Aside from the fabricated rape, prominent commentators have branded her a "whore" and accused her of betraying Iran. "The Government says anyone who challenges them is against Iran. They say 'Masih is against her country' because I speak out. But this is not true. I love my country very much and I hope one day that I can return."
She said MSF is an important vehicle for counteracting the Iranian propaganda machine by providing women with a space to share their experiences. "These videos on MSF give women a mirror to look in and see that they are not isolated in doing this, it allows them to talk to others who support them and want to end this discrimination."
The issue is all the more current after the Iranian parliament passed a bill in October giving the country's morality police more power to enforce strict laws. The particular bill effectively means they now have more authority to make women dress conservatively and punish 'bad hijab'. Even more worryingly, experts say it allows the morality police to act as aggressively as they please, without fear of reprisal.
Ms Alinejad is heavily critical of female Western politicians such as Catherine Ashton, who have come to Iran and worn a hijab. "When I challenge them about following this discriminatory law, they said they wore a hijab 'because it is law'," she said. "Instead, we need to them to use their platform and position to challenge the government on this. If they don't then they allow the Government to put more pressure on women and scare them.
She is now looking to expand MSF's aim by turning its focus outwards to politicians in the Western world who can command the attention of Iranian authorities.
"My second MSF campaign will be to ask female politicians to use their platform in Iran to address women's rights issues. Women cannot study or travel abroad without their husband's permission, they are only titled to half of any inheritance, they cannot go outside without their head covered. Iran is for all Iranians which means it should be for women as well.
"We only have Facebook, social media and our words to each other while the Government has guns, bullets and power. This is not a fair war."
Join our commenting forum
Join thought-provoking conversations, follow other Independent readers and see their replies