Mysterious brigade of all-female jihadists demanding equality with men emerges in Syria
This brigade insists that a woman's role is equal to a man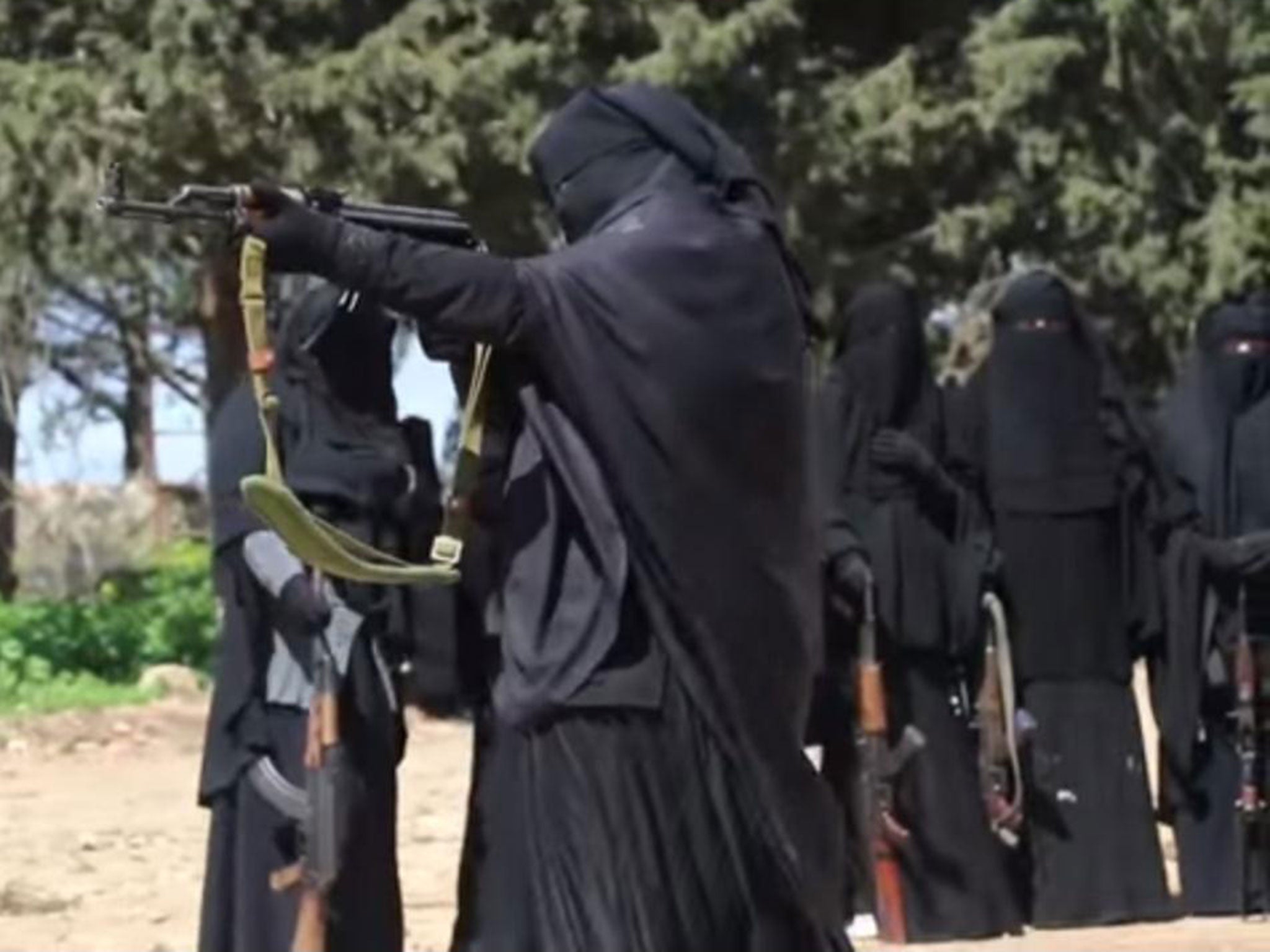 A video has emerged of a seemingly independent, all-female jihadist brigade training with Kalashnikov guns – who insist that a woman's role is equal to a man's.
The five-minute film is shot outside the Church of Saint Simeon in northern Syria and shows the 'camp for women for victory and empowerment' conducting drills and shooting AK47s.
In the first part of the video, women dressed in full body veils, known as niqabs, are seen walking through the Syrian countryside and shouting "Allahu Akhbar" (God is great) while brandishing Kalashnikovs.
Shots of training and target practice are dispersed with clips of women speaking in Arabic to the camera. While the format of the video feels somewhat familiar to the propaganda produced by militant groups such as Isis, there is no overt or explicit association with other jihadist groups. Nor does the video contain any hallmarks of an Isis or Jabhat al-Nusra production.
Additionally, the Church of Saint Simeon is located north-west of Aleppo in an area that is not currently controlled by Isis.
The women explain the aims of their brigade as primarily defensive and say they have left their homes to defend their land and their people. Speaking to the camera, one of them states: "We are 45 women from al-Sham. We have gone out to defend our land. We are trained in the art of shooting and preparations of weapon, as well as Sharia and theological studies."
Even more unusually, they denounce the supporting role groups such as Isis would expect women to play, saying: "The role of a woman is no less important than that of a man."
Charlie Winter, a researcher at the anti-extremism think-tank Quilliam, said the brigade is clearly not aligned with other jihadists organisations. Mr Winter said: "They do talk about implementing the words of Allah, but there is ambiguity about their motivations.
"They say they have come together to train and to defend their people and land. But, while 'jihadist' is probably the most appropriate term to describe them, they are clearly not aligned with groups such as Isis.
"There is no overt mention of any affiliation with any group and no Jabhat al-Nusra or Isis hallmarks, such as flags, in the video."
He said their explicit comment about the role of a woman equalling that of a man is particularly significant. Isis has made it clear that a woman's role is devoted solely to their domestic duties as mothers and wives of fighters in a 10,000 word manifesto translated by Mr Winter.
Western recruitment propaganda often glamorises the role of women by presenting them with guns, but Arabic guides such as this manifesto reveal what Isis really expects. Mr Winter said this video was clearly not intended for Western audiences.
"It shows they position themselves as a female fighting unit and are decrying the supporting role women are expected to take," he said. "They want to defend their land through what is clearly a military role.
"They say they are leaving their towns and villages to defend themselves. There is no mention of broader aims, but certainly they are referring to the importance of jihad. However, it is important to note that jihad can be a very different conception to what Isis is trying to achieve; they could just be talking about a uniquely defensive jihad, for example, one that is limited solely to waging war against the Syrian regime."
Join our commenting forum
Join thought-provoking conversations, follow other Independent readers and see their replies