Nahid Almanea murder: Hundreds attend Saudi Arabian funeral of stabbed student
The University of Essex PhD student was stabbed 16 times on Tuesday, her body repatriated to Saudi Arabia on Saturday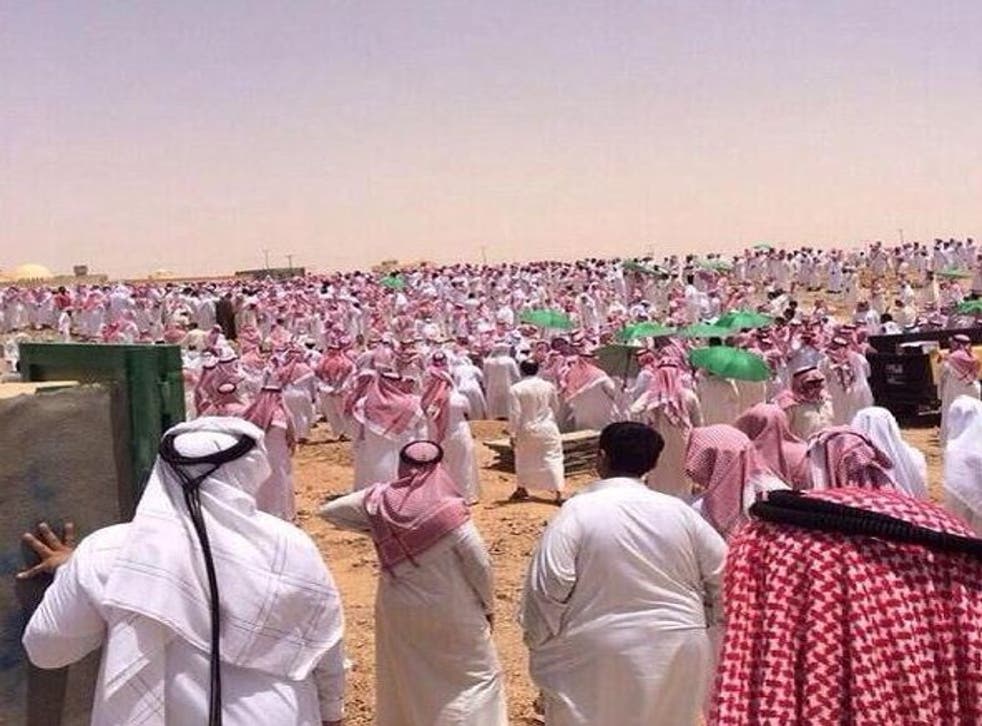 Remarkable pictures from the Saudi Arabian funeral of a student murdered in the UK have emerged on social media, showing hundreds of grief-stricken mourners.
University of Essex PhD student, Nahid Almanea, 31, was stabbed 16 times on Tuesday as she walked to campus.
The Saudi Arabian national was found that morning on a footpath near a nature reserve, her body garbed in an abaya and hijab.
Essex Police confirmed to The Independent that Almanea's body was repatriated, while the funeral appears to have to have taken place on Saturday.
Images circulated on Twitter and on local news sites show a substantial gathering mourning the loss of the English Language student, as well as a casket within a hearse.
Messages of support, written in Arabic and posted online read: "Goodbye... she was killed due to the hijab - and through purity she faced the sword of this reason - Goodbye... by God we are healed - and from our silence, without any shame."
In another tweet, a picture of an elderly male has text edited over the top describing pain falling from the eye of her father and about the Lord's duty breaking and binding his heart.
A photograph supposedly from a demonstration in the British capital has the following caption: "A protest occurred from the Muslim community - in London, on the death of the Saudi Arabian scholar Nahid" – however, the Met Police could not confirm this claim.
Arab News, a Saudi Arabian newspaper, said that Almanea's body arrived at Al-Jouf airport to a "large crowd" before being moved to the Khadem Al Harmain Mosque for a prayer and then laid to rest at Al-Laquait cemetery.
Another tweet by a funeral attendee reads: "The airport is packed. [There is] sadness in this world, and happiness, and so my sister, God willing, to the afterlife."
Officers from Essex, Suffolk, London and Kent are working alongside the National Crime Agency in the investigation into Almanea's death.
Police said they are keeping an open mind about a motive but are also looking into the possibility that she was targeted due to her Muslim dress.
On Sunday, forensic teams drained a pond in search for a murder weapon, while two other fishing lakes are expected to be combed later this week.
Detectives are appealing for two men seen near the scene – one of whom was wearing a distinctive beige jacket and in his "late teens to 30, of average build, tanned and with thick, black hair."
They are also appealing for a runner seen on Hewes Close at 10.56am, shortly after the student was believed to have been killed, as well as two cyclists - a man and a woman - seen riding on the Salary Brook Trail near to where Almanea was found.
Police are also looking into the similarities between Almanea's murder with that of James Attfield who died in Colchester two months ago.
Attfield, 33, was stabbed 102 times across his whole body in what police said was a "senseless and frenzied" attack.
Detective Chief Superintendent Steve Worron said: "I would appeal for these witnesses to come forward and help us with the investigation into Nahid's murder.
"They may have seen Nahid before she was attacked and they may have even seen her killer.
"I would also urge anyone who may know who these people are to contact us and tell us who they are."
Saudi ambassador to the UK, Prince Mohammed bin Nawaf Al-Saud has spoken with the family, the embassy confirmed.
Register for free to continue reading
Registration is a free and easy way to support our truly independent journalism
By registering, you will also enjoy limited access to Premium articles, exclusive newsletters, commenting, and virtual events with our leading journalists
Already have an account? sign in
Register for free to continue reading
Registration is a free and easy way to support our truly independent journalism
By registering, you will also enjoy limited access to Premium articles, exclusive newsletters, commenting, and virtual events with our leading journalists
Already have an account? sign in
Join our new commenting forum
Join thought-provoking conversations, follow other Independent readers and see their replies