Netanyahu asked to form new Israeli government
Support of hard-right nationalist Lieberman is crucial to Likud leader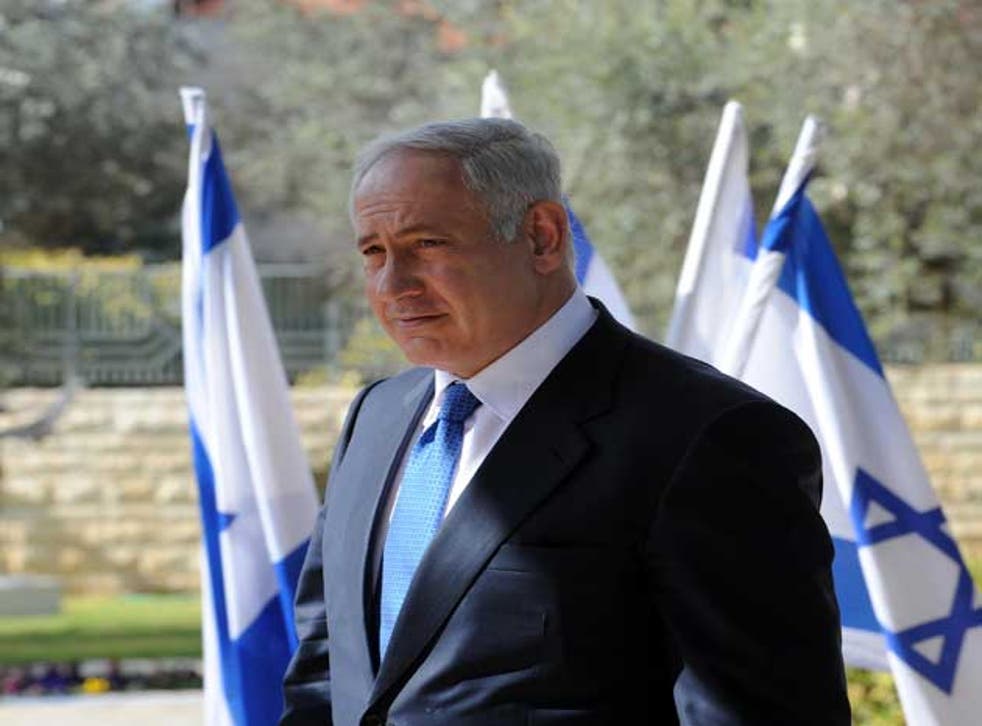 Benjamin Netanyahu, the hawkish leader of Israel's biggest right-wing party, Likud, was yesterday given six weeks to form a coalition government as he appealed for a "new approach" of unity to deal with the "great challenges" from Iran's nuclear programme and the global recession.
Mr Netanyahu will tomorrow begin what may be a lengthy process after Israel's President, Shimon Peres, formally invited him to form the country's next government.
Mr Netanyahu sought to show a commitment to forming a broad "unity" government by saying that he wanted to open the talks by meeting his main electoral rival, Tzipi Livni, the Kadima leader, and Ehud Barak, the Labour leader, before other parties.
Tomorrow, he will meet Ms Livni, who scored a personal victory in the elections when her party won 28 seats compared with Likud's 27.
Mr Netanyahu secured the invitation to form a government after the hard-right nationalist Avigdor Lieberman, whose Yisrael Beiteinu party beat Labour into fourth place in the elections, decided to recommend Mr Netanyahu as the next prime minister.
Mr Netanyahu has the support of a nationalist majority of the 120 Knesset members but he is anxious to avoid forming an ideologically narrow right-wing government which might hasten a collision with the administration of the US President, Barack Obama.
To both Ms Livni and Mr Barak, he said his message was: "Let's unite to secure the future of the State of Israel. I ask to meet with you first to discuss with you a broad national unity government for the good of the people and the state … I call on the members of all the factions ... to set politics aside and put the good of the nation at the centre."
Before the election, Mr Netanyahu indicated that he would like to keep Mr Barak in his post as Defence Minister
He said yesterday that he felt a great responsibility to provide Israel with security and peace, that Iran posed the biggest threat to Israel since the War of Independence six decades ago and that a tough economic period lay ahead.
The formation of a broader based coalition is likely to face serious obstacles. Ms Livni was still saying yesterday that her party was ready to go into opposition "if necessary". She hinted that a minimum condition might be Mr Netanyahu backing down on his resistance to negotiations on a two-state solution with the moderate Palestinian leadership in the West Bank.
Ms Livni declared: "I will not be able to serve as a cover for a lack of direction. I want to lead Israel in a way I believe in, to advance a peace process based on two states for two peoples. A broad coalition has no value if it does not lead the way"
Mr Barak has so far indicated that he expects Labour to be in opposition. He could face considerable internal opposition to joining a Netanyahu-led government, particularly if it includes Mr Lieberman's party.
Mr Netanyahu last served as Prime Minister from 1996 to 1999. After formally asking Mr Netanyahu to form a coalition, Mr Peres said: "I believe that it is in the national interest to establish a government as quickly as possible."
Ms Livni said on Thursday that she would not want to join a coalition which Mr Netanyahu "would first establish" with the right-wing, ultra-orthodox party Shas, "which demanded that I stop negotiating with the Palestinians", as well as with the National Union, which wants Israeli sovereignty across the West Bank, and with Mr Netanyahu himself, "who meanwhile refuses to talk about a two-state solution." But Ms Livni did indicate that she might be prepared – under the right conditions – to take her Kadima party into a coalition with Likud and Mr Lieberman's party.
Ms Livni upset several figures on the left by her earlier, unsuccessful wooing of Mr Lieberman, who has been calling for a "loyalty" test of Israeli Arabs who want to retain their voting rights.
Register for free to continue reading
Registration is a free and easy way to support our truly independent journalism
By registering, you will also enjoy limited access to Premium articles, exclusive newsletters, commenting, and virtual events with our leading journalists
Already have an account? sign in
Register for free to continue reading
Registration is a free and easy way to support our truly independent journalism
By registering, you will also enjoy limited access to Premium articles, exclusive newsletters, commenting, and virtual events with our leading journalists
Already have an account? sign in
Join our new commenting forum
Join thought-provoking conversations, follow other Independent readers and see their replies