Netanyahu dismisses corruption charges against him as leftist 'witch hunt'
Embattled leader vows to stay in power for 'many more years' despite plans by Israel's attorney-general to indict him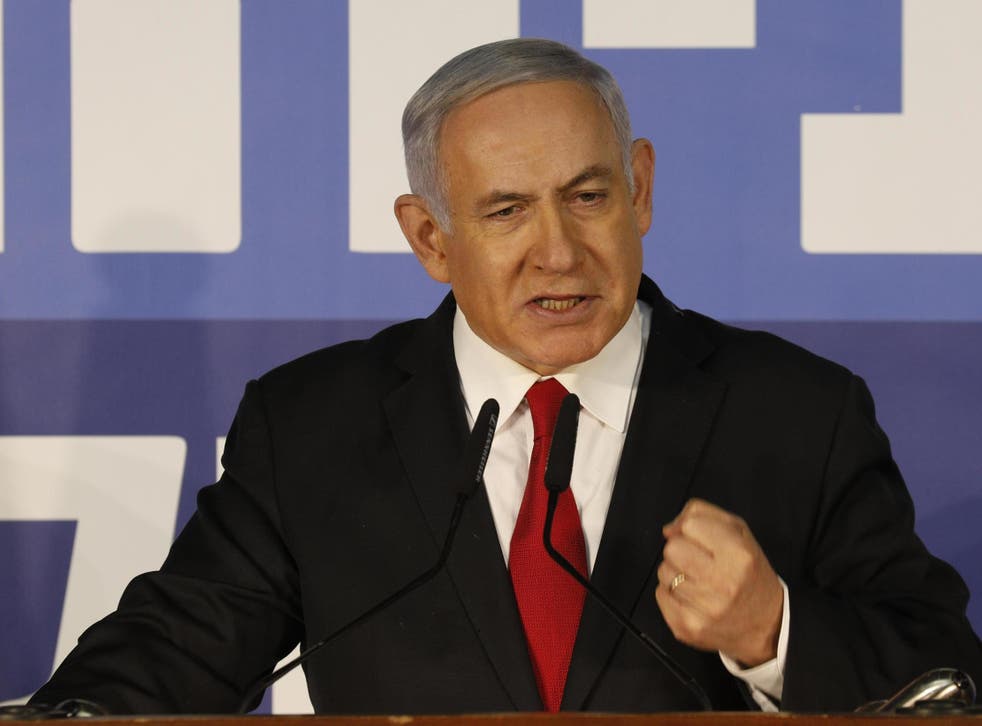 Benjamin Netanyahu has lashed out at graft allegations against him calling them a politically motivated "witch hunt", after Israel's attorney general said he planned to indict him in three corruption cases.
In an impassioned speech, the right-wing prime minister dismissed the charges as a "ridiculous plot" saying it was an attempt by the left to force out his right-wing administration ahead of elections due on 9 April.
Avichai Mandelblit, Israel's top prosecutor, said on Thursday he planned to charge the embattled leader pending a hearing, which would mark the first time in Israeli history that a serving prime minister has been indicted.
The long-awaited announcement dealt a devastating blow to Mr Netanyahu, and will likely damage his chances in the elections he had hoped would lead him to a fourth consecutive term in office.
"The left knows it cannot beat us at the polling booth, so for the past three years they have been carrying out an unprecedented witch hunt which has one aim, to topple the right-wing government which I lead," Mr Netanyahu said in a televised speech.
"Every citizen understands that. This is scandalous and is meant to topple the right and bring the left to power. There is no other explanation," he added.
World news in pictures

Show all 50
He called on people to not be "confused" by what he called a witch hunt and said he would continue to serve the country as prime minister for "many more years to come".
Shortly after the speech Mr Netanyahu's chief election rival, Benny Gantz, the country's ex-army chief, called for him to resign.
Lt General Gantz, who last week formed the Blue and White Party with opposition leader Yair Lapid, called Mr Netanyahu a "half-time prime minister" and the announcement of the possible inducement against the prime minister a "sad day" for Israel.
"I won't sit [in a government] with Benjamin Netanyahu. Benjamin Netanyahu, I appeal to you from here tonight – show national responsibility and resign from your position. If and when you can prove your innocence, you can return to public service with your head held high," he said from Tel Aviv.
Mr Netanyahu could face up to 10 years in prison if convicted of bribery and a maximum three-year term for fraud and breach of trust, if found guilty.
He still has to face a pre-trial hearing where he is able to defend his case in front of attorney-general who will then issue his final decision on the three cases.
In his statement on Thursday, the prime minister touted what he has achieved for the country including a strong economy and ties with world powers.
He was hoping to secure a fourth consecutive term in office, making him the longest-serving prime minister in Israeli's history. His Likud Party dismissed Thursday's announcement as "political persecution", after submitting a last-minute petition to the High Court that morning to delay the decision.
There are no legal ramifications if Mr Netanyahu runs in the election with an indictment over him, but several coalition partners have balked at the idea of forming a coalition under those circumstances.
He is facing trial in three cases.
In case 4000, police have alleged that Mr Netanyahu granted regulatory favours to Israel's leading telecommunications company, Bezeq, in return for more positive coverage on Walla, a news website belonging to the firm's owner.
Support free-thinking journalism and attend Independent events
Case 2000 focuses on suspicions Mr Netanyahu negotiated a deal with the Yedioth Ahronoth newspaper for better coverage in return for promises to limit the circulation of a rival. In the third investigation, case 1000, police argue that he received expensive gifts from wealthy friends.
Mr Netanyahu has denied wrong-doing.
Register for free to continue reading
Registration is a free and easy way to support our truly independent journalism
By registering, you will also enjoy limited access to Premium articles, exclusive newsletters, commenting, and virtual events with our leading journalists
Already have an account? sign in
Join our new commenting forum
Join thought-provoking conversations, follow other Independent readers and see their replies