O little town with big ideas: Welcome to Bethlehem
Come all ye tourists: that's the message from Bethlehem, which is having some success in overcoming high unemployment and the Israeli blockade, writes Matthew Kalman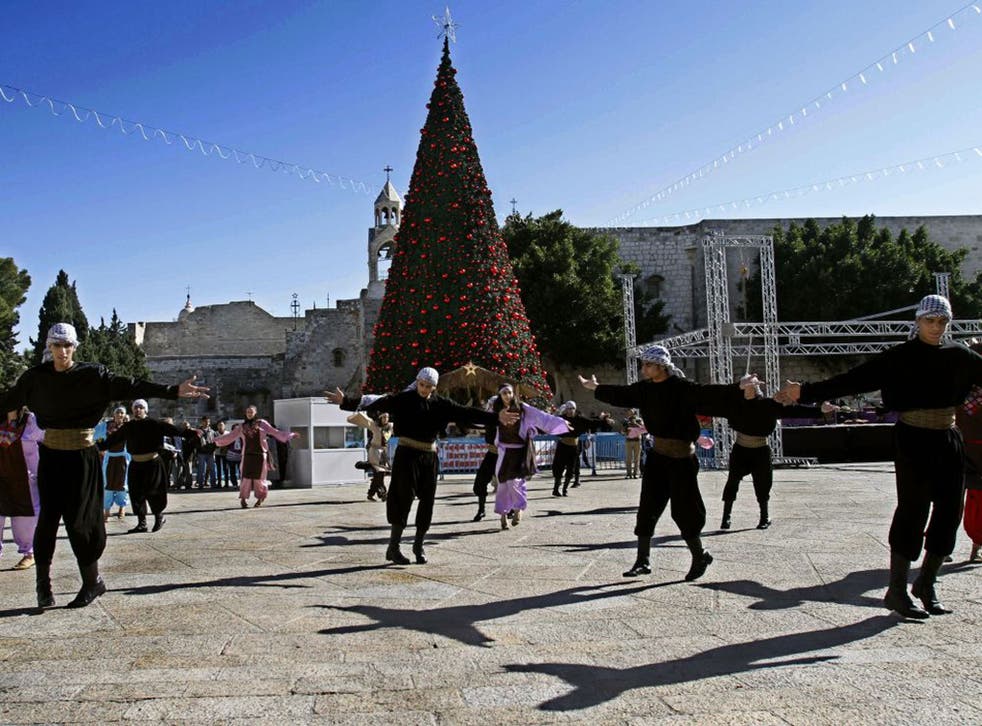 After years of financial depression amid violent confrontation with Israel, the West Bank city of Bethlehem is celebrating the beginnings of an economic revival.
The ancient city, built around the Church of the Nativity on Manger Square that marks the grotto where Jesus is believed to have been born, has recently been re-energised by a combination of overseas investment, micro-finance initiatives and a record-breaking tourism rush.
Despite its location just a few miles from Jerusalem, Bethlehem has been cut off from the city since 2003, when Israel hastily erected a security wall during the violence of the four-year-long second Intifada, or mass uprising, citing the need to protect Israeli citizens from Palestinian terror attacks.
Since then, tourism has ebbed during times of conflict and increased – if not exactly flowed – during times of relative peace.
For Bethlehem, the Christmas season has long been regarded as the backbone of the city's economy – a time when increased numbers of tourists bring work and money to the West Bank town – but local businesspeople are now heralding signs that its popularity may begin to stretch further across the year.
Changes in local banking practices initiated by the Palestinian Monetary Authority in 2010 are now bearing fruit, allowing young Palestinian entrepreneurs to take advantage of hundreds of millions of pounds in small-business loans to open new manufacturing and services companies.
Jevara Kharoufeh, who left the family business of carving crucifixes and other religious mementos from local olive wood, successfully launched DejaVu – the city's first bowling alley with a 300-seat restaurant, bar and conference centre – in August with the help of a series of loans.
Mr Kharoufeh was keen for his enterprise to create a new experience for the town's youth.
"We cannot get easily to Jerusalem or Ramallah, so we need to create our own nightlife here in Bethlehem," he said. But it was also intended to give Bethlehem residents new hope of overcoming the high level of unemployment, which many blame on the ban on most Palestinians crossing into Israel to work. DejaVu employs 40 local people, rising to 70 during Ramadan.
The town's new mayor, Vera Baboun – the first woman to hold the post– told The Independent: "In Bethlehem we have the highest rate of unemployment in the West Bank – 18 per cent. We hope that with the change in city council we can look to a better situation."
The Chamber of Commerce, together with the Franciscan Custody of the Holy Land and the Italian Consulate, have awarded more than 20 micro-finance loans of up to €7m (£5.7m), interest-free, to small business owners such as Abeer Karam.
The Catholic Church has been one of the main organisations to encourage investment, hoping to stem Christian migration from the area and to help Bethlehem's residents overcome the economic crisis.
Ms Karam was born to a Palestinian family in Kuwait and was expelled when Saddam Hussein invaded the Gulf state in 1991. On arriving in Bethlehem she opened a dressmaking and repair business that employed one full-time assistant plus three seamstresses working from their homes.
After receiving a San Miniato micro-loan, she has doubled the space she rents in the El Khoudri Tijari Centre in Bethlehem's Old City, bought a steam press and replaced her old sewing machine with four new ones. She now employs three full-time assistants and 25 homeworkers. Her wedding dresses, combining traditional Palestinian and Bedouin needlework with modern fabrics, sell for up to £800 each to customers from around the world.
The financial incentives have also given rise to social enterprises. Nancy and Susan Atallah used their San Miniato loan to open Diva, a coffee shop where single young women, who mostly stay at home after dark, in accordance with Bethlehem's strict traditional social codes, can spend an evening in safe surroundings without igniting harmful gossip.
New additions to the town's fledgling entertainment industry only boosts tourism, and vice versa. Foreign tourists must pass through Israel or the Israeli-controlled border crossing from Jordan, to visit Bethlehem. Shopkeepers and café owners have long lamented that organised day tours to Bethlehem from Israel – the most common way for tourists to visit – were costing their businesses dearly.
Now, as foreign tourism to Israel has increased to record levels, so have visitors to Bethlehem, pushing up demand for trips that last longer than one day, and so lifting income.
Samir Hazboun, the chairman of the Bethlehem Chamber of Commerce, says 13 new hotels in the past five years – with two more opening in 2013 – have increased the number of rooms from 1,000 to 5,000. The increase in hotel rooms has resulted in a record 1.8 million overnight tourism stays this year – a 25 per cent increase on 2011.
"There is a very high trend in opening new restaurants, coffee shops and hotels," Dr Hazboun said. "It's a chain. If you open a new hotel it helps the baker, the butcher, the dry-cleaner and everyone who provides services."
However, despite the excitement of new projects and cash injections, Bethlehem's economy remains fragile, and is sensitive to political upheaval. During the week-long Israeli assault on Gaza in November, which killed more than 160 people, West Bank hotels closed and laid-off workers and hundreds of Christmas reservations were cancelled.
On Star Street, the traditional gateway to the old city, 87 of the 102 shops have been closed since the Intifada began in 2000. Restrictions on movement resulting from the Israeli security barrier have cut off hundreds of families from thousands of acres of land, reducing their income and contributing to poverty and unemployment. The failure of the Palestinian Authority to pay government salaries – because of Israel's refusal to transfer tax funds – also reduces local spending power.
On Manger Square, 27-year-old Nabil Giacaman works at Christmas House, the olive-wood factory outlet founded by his grandfather Elias in 1925. Mr Giacaman's family arrived from Italy with the crusaders in the 14th Century. While he acknowledges the improving economic conditions in recent years, the isolation from Jerusalem and the uncertain future of relations with Israel still loom large.
"I have the right to live in freedom without walls and without checkpoints," Mr Giacaman said. "They took ten acres of our olive groves when they built the wall. I have a permit to go through but I can't haul the harvest back without workers, and who knows when the soldiers might open fire? I don't want to die for olives."
Nor does he expect any great improvement after the Israeli elections in January, the results of which are unlikely to change the blockades and the financial penalties imposed by Israel on the West Bank.
"I'm 100 per cent for peace, but I don't hold out much hope," he said. "I don't expect the elections will have any effect on Israeli policies. History says there has been war here since the time of Jesus. We have a saying here: The land of Jesus will always cry."
Join our new commenting forum
Join thought-provoking conversations, follow other Independent readers and see their replies