Obama and Putin clash at UN over how to tackle the Syria crisis
The two starkly divergent approaches were outlined to world leaders gathered in New York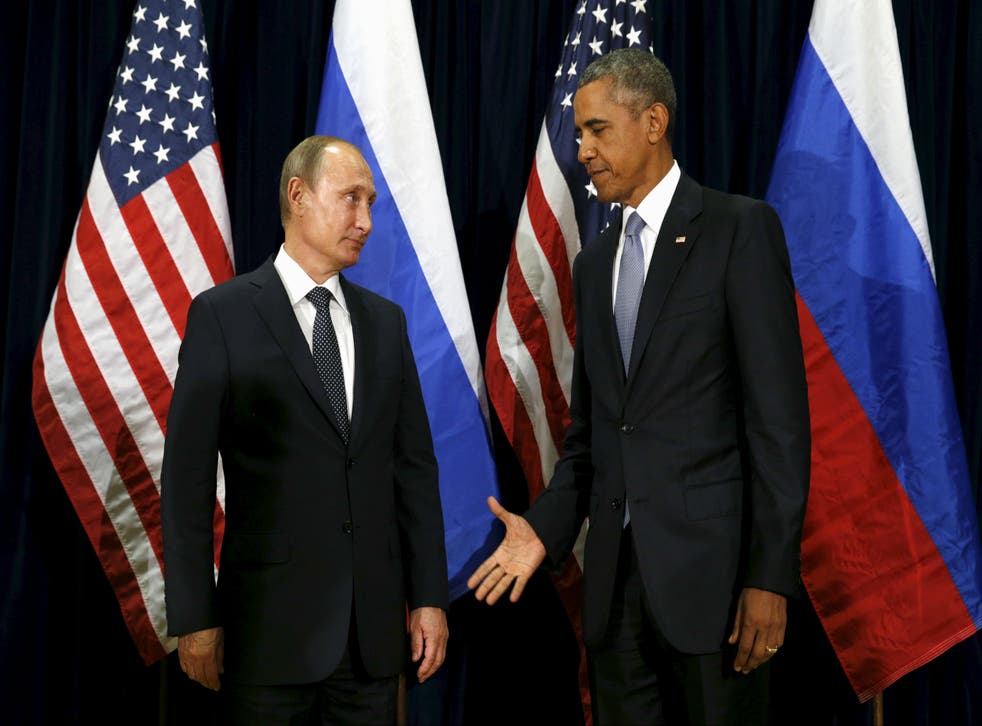 An assertive Russian President, Vladimir Putin, tore into the United States and its Western allies on Monday for their impotence in ending war in Syria - calling the isolation of Bashar Assad an "enormous mistake" and seeking to claim leadership of a new coalition to tackle Isis.
Mr Putin, delivering his first address at the United Nations in a decade, took direct and unabashed aim at America's record in Syria and elsewhere in the Middle East and Libya and vowed to seek a Security Council resolution to forge an anti-terror coalition that he likened to the forces that joined to fight Hitler.
Sparring speeches from Mr Putin and from President Barack Obama, who addressed world leaders here one hour earlier, offered scant hope of the two men coming together on Syria, or on much else, even though Mr Obama indicated some flexibility on when exactly Assad should be removed from power.
"We think it is an enormous mistake to refuse to cooperate with the Syrian government and its armed forces who are valiantly fighting terrorism face to face," Mr Putin declared at the UN's annual General Assembly. "We should finally acknowledge that no one but President Assad's armed forces and (Kurdish) militia are truly fighting the Islamic State and other terrorist organisations in Syria."
The contradicting visions of the two men and their opposing approaches on Syria were expected to carry over into face-to-face talks set to take place between them later last night on the fringes of the Assembly. It was to be their first substantive encounter in nearly two years, a period of escalating tensions, created in part by Russia's seizure of Crimea last year and wider meddling in Ukraine.
In his own address, Mr Obama offered a robust defense of his policies of emphasising diplomacy over military might, citing two cases he would like to be at the heart of his legacy, the nuclear deal with Iran and the rapprochement with Cuba. In passages clearly aimed in part at Russia, Iran and also Assad, Mr Obama insisted that countries that eschew democracy in favour of repression are doomed to fail.
And he was as aggressive as Mr Putin in assailing Assad. "Let's remember how this started," he said of the Syria conflict. "Assad reacted to peaceful protest by escalating repression and killing and in turn created the environment for the current strife."
He warned that "dangerous currents risk pulling us back into a darker, more dis-ordered world," noting that "major powers" have ignored international rules by imposing their will through military force, a reference in part to Crimea. "In accordance with this logic, we should support tyrants like Bashar al-Assad, who drops barrel bombs to massacre innocent civilians because the alternative is surely worse."
If Mr Putin's intent was to expose the inadequacies of western policy, he was in a sense pushing an open door. In TV interviews before his arrival he mocked the belated and entirely fruitless attempts by the US to train and arm moderate rebels in Syria to fight Assad, noting that many had been killed or captured and that military hardware provided to them by America had fallen into terrorist hands.
He sees an American president who instead of showing resolve has showed weakness ever since he drew a red line that Assad should not cross in using chemical weapons only then to ignore it. And one year after Mr Obama said he was forming his own coalition to "degrade and ultimately destroy" Isis, the self-declared caliphate in Syria and Iraq endures, continues to spread terror and attract recruits.
The US meanwhile was wrong-footed this week when it learned after the fact that Russia had concluded an intelligence sharing treaty with Iraq, a supposed ally of Washington, as well as Iran and Syria to help defeat Isis, further evidence of Russia seeking to seize the initiative from the US in the region.
Mr Putin availed himself likewise of the opportunity to lambast the US and its allies for its failed attempts to impose its vision of democracy in the Middle East and North Africa. While he didn't mention Iraq or Libya by name, he hardly needed to. "Rather than bringing about reforms, aggressive foreign interference has resulted in brazen destruction," he asserted.
Tensions between Russia and the Western world

Show all 8
Mr Obama acknowledged in his address that mistakes were made in removing Muammar Gaddafi from power in Libya four years ago. "Even as we helped the Libyan people bring an end to the reign of a tyrant, our coalition could have and should have done more to fill a vacuum left behind," he said.
Mr Putin's buoyancy was arguably startling given that the same world body only last year had formally censured him for his appropriation of Crimea, which led to the imposition of highly damaging economic sanctions on Moscow. Just as Mr Putin excoriated the sanctions Mr Obama defended them.
"We cannot stand by when the sovereignty and territorial integrity of a nation is flagrantly violated," Mr Obama told world leader. "If that happens without consequences in Ukraine, it could happen to any nation gathered here today". But the Russian leader reiterated Moscow's assertion that acted in Ukraine only after "outsiders" fomented unrest in the country, meaning the EU and America.
Offering at least a hint of accommodation on Syria, Mr Obama said he was ready to work with Russia to end the conflict so long as the goal was a "managed transition" that would end with President Bashar Assad removed from power. "We must recognise there cannot be a return to the status quo," he said.
It a shift the earlier position that Assad should go immediately but not one likely to satisfy Mr Putin. "Realism dictates that compromise will be required,"Mr Obama said. But he added: "Realism also requires a managed transition away from Assad and to a new leader."
Ban Ki-Moon, the Secretary-General, included Russia and Iran among five countries that "hold the key" to returning peace to Syria. The others, he said, are Turkey, the United States and Saudi Arabia. But, he added, "as long as one side will not compromise with the other it is futile to expect change on the ground," which, he added, is being "driven by regional powers and rivalries."
Saying there can be no impunity for the "atrocious" crime being committed in Syria including the continued use of barrel bombs, Mr Ban called for the first time for the situation in the country to be referred to the International Criminal Court.
Mr Ban, in an annual state of the world, speech said the UN needed more money to provide aid to war-torn countries. "The global humanitarian system is not broken; it is broke," he said. The UN barely has half what it needs to help people in Iraq, South Sudan and Yemen, and one third of what's needed for Syria.
Join our new commenting forum
Join thought-provoking conversations, follow other Independent readers and see their replies