Olmert indicted as deputy is accused of war crimes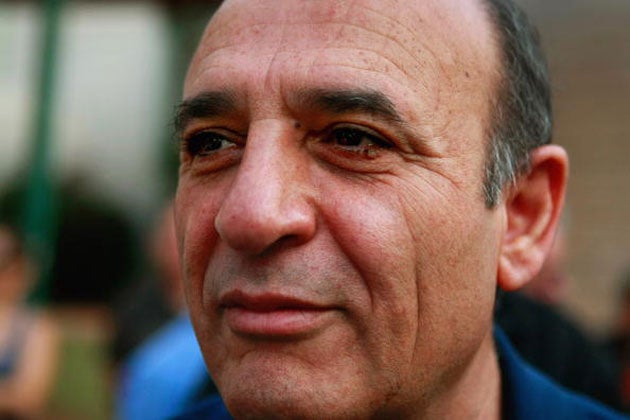 The Israeli Attorney General has been urged to launch a criminal investigation into whether Shaul Mofaz, a leading prime ministerial candidate, ordered "war crimes" to be committed when he was the military's chief of staff.
A leading Israeli law professor has written to justice officials, calling for the investigation into claims – highlighted by The Independent last month – that during a briefing to army officers in May 2001, after the start of the second Palestinian uprising, Mr Mofaz ordered a daily "quota" of Palestinian deaths.
Last night, Israeli police recommended to prosecutors that the Prime Minister, Ehud Olmert, be indicted in a corruption investigation. With Mr Olmert committed to resigning after his Kadima party holds a leadership vote a week today, the recommendation will have no immediate impact on his tenure and does not guarantee an indictment by the Attorney General.
The Foreign Minister, Tzipi Livni, is the front-runner in the contest for the leadership of Kadima. Mr Mofaz, the Deputy Prime Minister, is his main rival.
David Kretzmer, emeritus professor of international law at the Hebrew University of Jerusalem, says that accounts of the briefing by Mr Mofaz give rise "to a grave suspicion" that he "committed serious offences, some of which at least, fall into the category of war crimes".
The letter to the Attorney General, Menachem Mazuz, refers to a book by two Israeli journalists, Raviv Drucker and Ofer Shelah, which says that Mr Mofaz, after ensuring he was not being officially recorded, called for a Palestinian death toll of 70 per day.
Professor Kretzmer tells Mr Mazuz that one lesson of the corruption inquiry into Mr Olmert is that it is best to investigate candidates for high office before they reach it. "Otherwise the public is liable to be exposed once more to the disgrace of having police officers arrive at the Prime Minister's official residence in order to interrogate him."
Police have urged Mr Mazuz to indict Mr Olmert on two counts – that he funded personal trips abroad for himself and his family with money secured by the multiple billing of public organisations, and another arising out of claims by a US businessman, Morris Talansky, that he illegally used political donations for personal expenditure. It is up to Mr Mazuz to decide if Mr Olmert should be indicted.
The Shelah/Drucker book, Boomerang: The Failure Of Leadership In The Second Intifada, says that while Mr Mofaz's alleged instruction caused disquiet among some senior officers, a Hebron district commander said that the subsequent fatal shooting of a Palestinian policeman was in accordance with the briefing.
Professor Kretzmer, who also holds a senior academic post at the University of Ulster, says that an order to kill people "by quota" is "not consistent with the norms of humanitarian law", and that the test of proportionality is especially relevant in cases of military occupation, in which even the actions of armed groups do not "relieve the Army of its obligations to residents of the territory".
The letter cites reports in the Israeli newspaper Haaretz in 2001 and 2002 which, he says, raise suspicions that Mr Mofaz ordered officers to shoot at every armed Palestinian regardless of the threat posed to Israeli forces.
It points out that at the start of hostilities in 2000, Palestinian police in particular were armed by agreement with the Israeli government, that the military had insisted the conflict was with armed groups and not against the Palestinian Authority or people, and that the Geneva Conventions prohibited killing people not taking part in hostilities.
Noting that countries are obliged to investigate grave breaches of the conventions, he warns that if the Israeli authorities do not do so, "there is a fear that it may be carried out by the authorities of another country".
Professor Kretzmer has been told his letter has been passed to "relevant persons" in the justice ministry who will read it. A ministry spokesman said this did not mean that it accepted there was a case against Mr Mofaz, or that an investigation would be launched, and it was normal that "any complaint or letter" was studied before a reply was drafted. There was no response from Mr Mofaz's office.
In 2002, while Mr Mofaz was visiting Britain, the British lawyer Imran Khan, representing a group of Palestinians, presented the Director of Public Prosecutions with claims of other war crimes by Mr Mofaz, including targeted assassinations and the demolition of Palestinian homes. While Mr Khan claimed the DPP had passed the file to Scotland Yard's "crimes against humanity" section, no action was taken before Mr Mofaz departed.
Join our commenting forum
Join thought-provoking conversations, follow other Independent readers and see their replies