Facebook campaign calls on Israelis to kill a Palestinian 'terrorist' every hour until missing teenagers found
Search for three Jewish boys continues after suspected kidnapping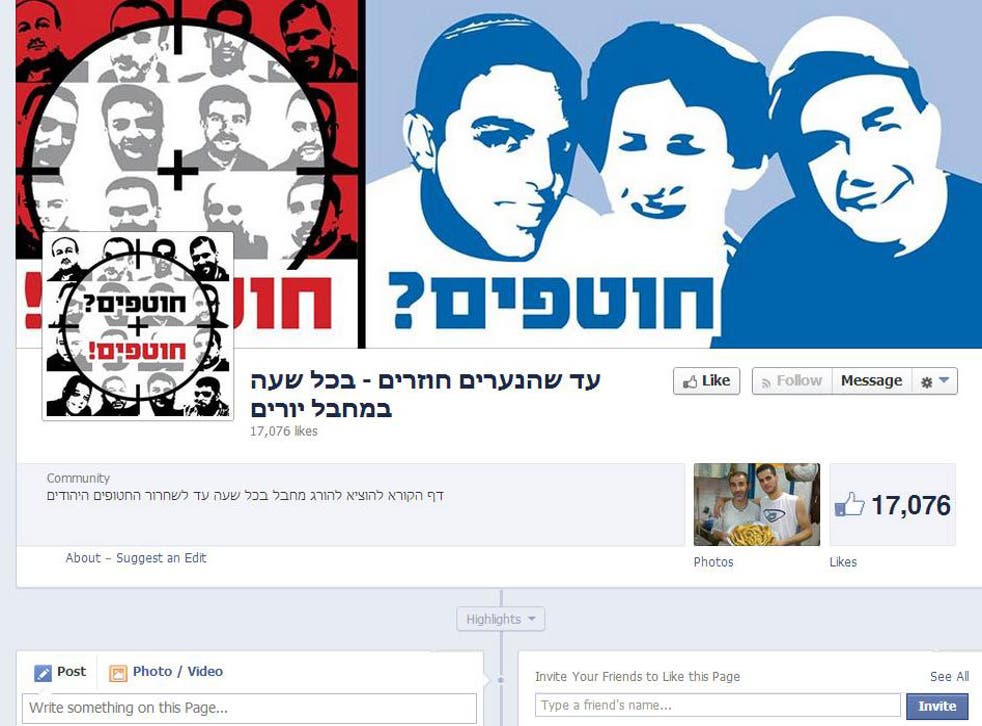 Fears of sectarian violence are growing in the occupied West Bank as a campaign calls for the murder of Palestinian "terrorists" in response to the suspected kidnapping of three Israeli students.
A Facebook group started the day after the teenagers disappeared is calling on people to "eliminate" anyone referred to as "terrorists" every hour until the teenagers are found.
With a picture of unidentified men's faces in crosshairs, it has more than 17,000 "likes" so far.
Eyal Yifrach, 19, Gilad Shaar, 16 and Naftali Frenkel, 16 disappeared on Thursday night in the West Bank where they students at a Jewish seminary.
They are believed to have been abducted when they hitchhiked close to the Alon Shvut settlement.
The disappearance and the Israeli Defence Force's subsequent arrest of more than 80 Palestinians in the West Bank has further increased tensions.
Israeli settlements in occupied territories are considered illegal under international law.
Benjamin Netanyahu, the Israeli Prime Minister, has accused Islamist militant group Hamas of abducting the boys but a spokesman for the organisation denied any involvement, claiming the boys went missing on Israeli-controlled land.
Some politicians hold the Palestinian Authority responsible for their fate because the unity government has Hamas' backing.
Mahmoud Abbas, the Palestinian President, condemned both the kidnappings and the subsequent Israeli crackdown.
A statement said: "The Palestinian leadership condemns the series of events ... beginning with the kidnapping of the three Israeli teens and ending with a series of Israeli violations".
Join our new commenting forum
Join thought-provoking conversations, follow other Independent readers and see their replies