Palestinian man 'disguised as journalist' shot dead after stabbing Israeli soldier
The attack happened at an Israeli settlement in the bitterly divided West Bank city of Hebron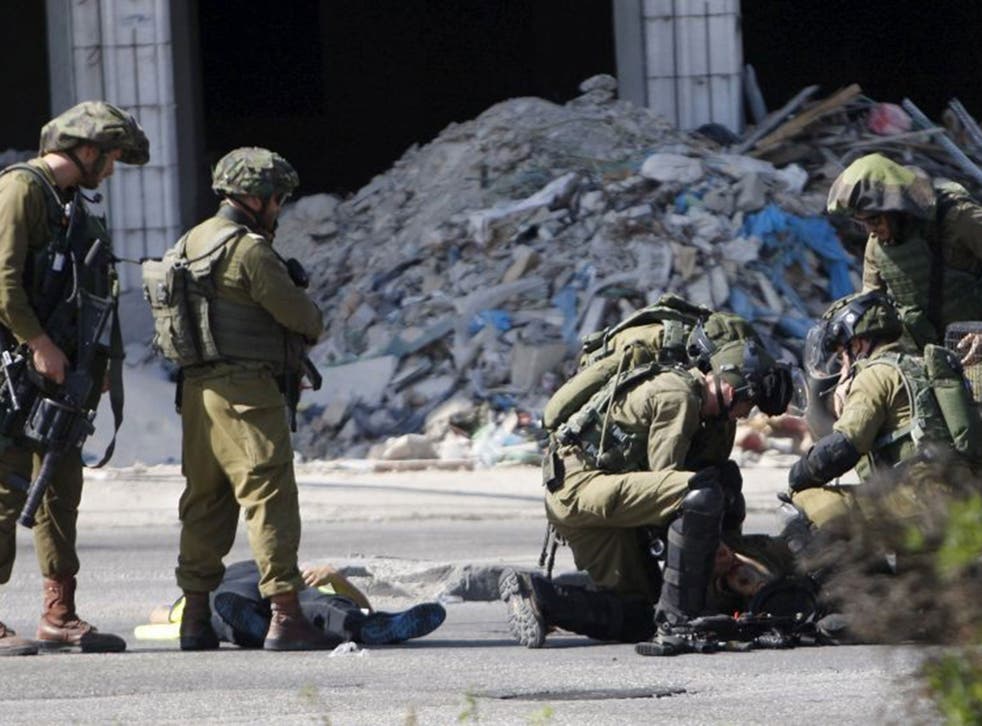 A Palestinian man who stabbed an Israeli soldier while appearing to be dressed as a journalist has been shot dead in the West Bank.
The Israeli military said that the assailant, who had "disguised himself as a news photographer", attacked the soldier on the outskirts of Hebron.
Footage broadcast by a Hamas-linked channel showed the man on the ground in the moments before he was shot, wearing a yellow high-visibility vest and a T-shirt with "press" written on it.
Lying on his back, he appeared to raise the knife towards a soldier trying to disarm him and was shot at close range.
Local media reports said the man died at the scene.
A spokesperson for the Israeli Defence Forces (IDF) said the soldier was moderately wounded and had been evacuated for emergency medical care.
The stabbing happened in Kiryat Arba, an Israeli settlement near the old city which is considered illegal under international law, although Israel disputes this.
The Foreign Press Association, which represents international media working in Israel and the Palestinian Territories, said it "utterly deplored the violation of press priviledge" and called on Palestinian news organisations to urgently check the credentials of all journalists.
The incident took place as Palestinian protesters clashed with security forces after noon prayers in Hebron.
The West Bank city, which is divided between Palestinian and Israeli control, houses the Cave of the Patriarchs – a religious site venerated by Jews, Christians and Muslims alike.
An 18-year-old Palestinian student was shot dead after pulling a knife on soldiers there last month and a police officer was stabbed in Kiryat Arba last week, while another Palestinian was shot the following day after being found "trying to infiltrate" a Jewish community.
Eight Israelis and 33 Palestinians, including 15 labelled as attackers by Israel, have been killed since the start of the month in a wave of violence that shows no sign of subsiding.
The Israeli–Palestinian conflict intensifies

Show all 10
Israel has launched a security crackdown in response to attacks, setting up military checkpoints in Arab neighbourhoods of Jerusalem, where men have reported being lined up ordered to lift their hands and shirts to show they were unarmed before being allowed through.
Israeli authorities have also imposed restrictions on Muslim worship at the al-Aqsa mosque – the third-holiest site in Islam.
Men under 40 were barred from the shrine and hundreds of young worshippers spread out prayer mats on streets leading to the Old City.
In Nablus, a city in the West Bank, Palestinians firebombed Joseph's Tomb overnight and clashes continued in Bethlehem today.
Additional reporting by AP
Register for free to continue reading
Registration is a free and easy way to support our truly independent journalism
By registering, you will also enjoy limited access to Premium articles, exclusive newsletters, commenting, and virtual events with our leading journalists
Already have an account? sign in