Pictures show young Palestinian girl biting Israeli soldier trying to detain boy during West Bank protests
The girl is thought to be Ahed Tamimi, the daughter of two Palestinian activists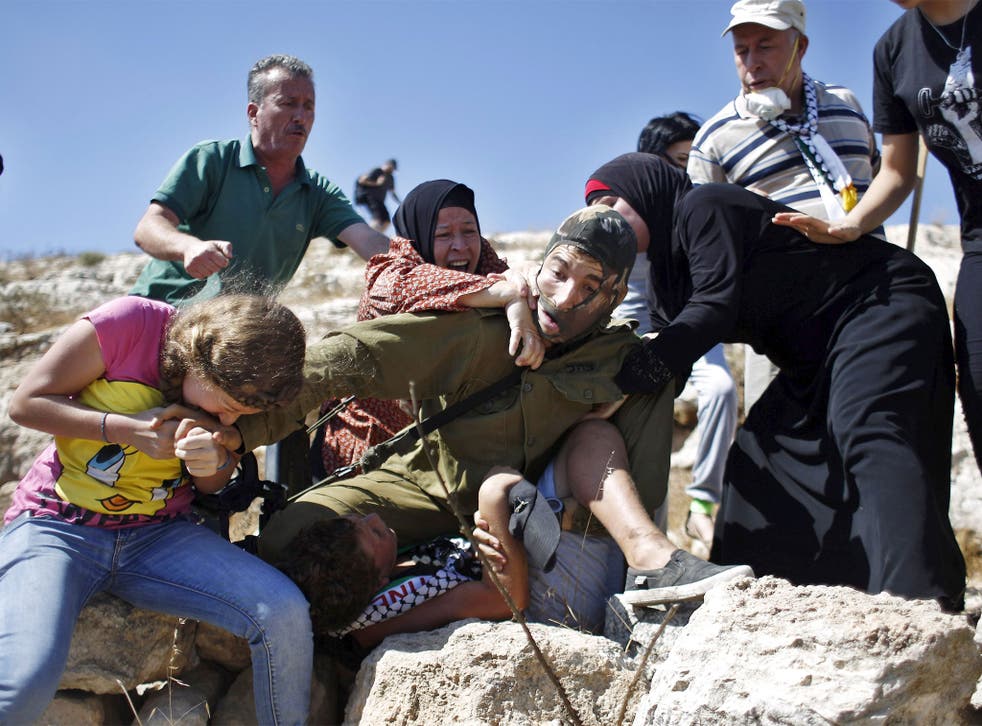 Photos have emerged that appear to show several Palestinian women and children fighting to stop an Israeli soldier from detaining a young boy.
The boy, whose arm is in a sling, is seen being pinned to the ground beneath an Israeli Defence Force (IDF) soldier's legs while two Palestinian women and children try to rescue him.
The soldier holds on to the boy as a young girl bites his hand.
Eventually, another IDF soldier comes to break up the melee.
The pictures were taken during a protest against Jewish settlements in the West Bank village of Nabi Saleh, near Ramallah.
The girl who appears in the images is thought to be Ahed Tamimi, daughter of Bassem and Nariman – also pictured – who are well known Palestinian activists.
She has previously appeared in similar videos where she challenges Israeli security forces and has been presented with the 'Handala Award for Courage' by Turkey's President Recep Tayyip Erdogan.
The army said the young boy was throwing stones at Israeli troops.
Haaretz reports an Israeli army statement said: "The youth who was photographed was identified by the lookout force as a stone-thrower, and because of this it was decided to detain him.
"At the time of the arrest, a violent provocation by a number of Palestinians developed, including women and children. "
"In light of the violent altercation, the commander decided to not to go ahead with the detention," it added
Join our new commenting forum
Join thought-provoking conversations, follow other Independent readers and see their replies