One of the longest hunger strikes in history has come to an end
'He should be in the emergency room. But his spirit is very high he is very happy and very satisfied'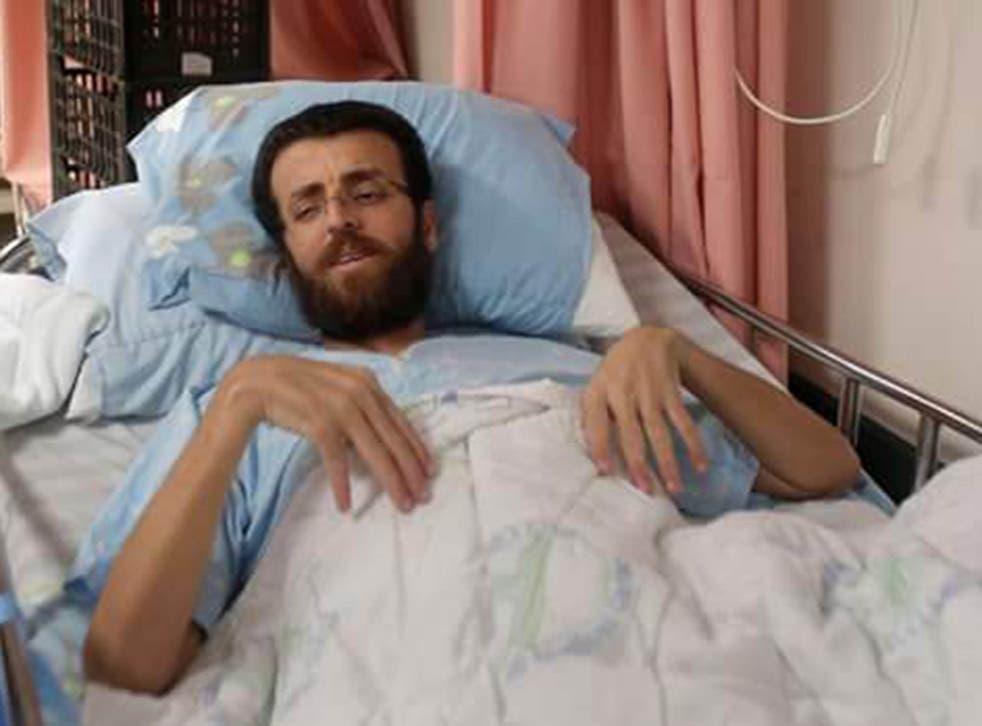 A Palestinian journalist has agreed to end his 94-day hunger strike after it was announced he would be released earlier than planned.
Israeli and Palestinian officials have agreed Mohammed al-Qiq, a 33-year-old journalist who is currently being detained without trial, will be released on 21 May instead of 21 June.
Mr al-Qiq was arrested at his home on 21 November for his alleged involvement in Islamist group Hamas.
The correspondent for Saudi Arabia's Almajd TV network has denied the allegation.
Having subsisted almost entirely on water for more than three months, Mr Qiq has carried out one of the longest hunger strikes in the world.
According to the Palestinian rights organisation Addameer, Mr Qiq began his fast on 25 November in protest at the "torture and ill treatment that he was subjected to during interrogation".
In this time his health has severely deteriorated, with the journalist previously reported to be facing "immediate death".
The head of the Palestinian Prisoner's Society, Qadura Fares, said that Mr Qiq was now allowing doctors to treat him.
Even though the hospital's ethics committee decided they would allow forced treatment on Mr Qiq last month, he and other Palestinian human rights groups vigorously opposed the treatment.
World news in pictures

Show all 50
Mr Qiq's supporters told Middle East Eye that he had been rushed straight to emergency rooms just hours after a compromise was reached.
"Just in case his body will respond in a panic, he should be in the emergency room. But his spirit is very high - he is very happy and very satisfied," Israeli lawyer and politician Osama Saadi told Middle East Eye from Afula hospital.
"It's a big achievement not just for our family, but for all of the Palestinian people," Mr Qiq's wife, Fayhaa Shalash, said.
Administrative detention allows suspects to be held without charge for six-month intervals and can be indefinitely renewed by a judge.
According to the Israeli Prison Service, there are currently 600 Palestinians held in administrative detention.
Join our new commenting forum
Join thought-provoking conversations, follow other Independent readers and see their replies