Palestinian officials warn of 'new intifada' against Israel if hunger striking prisoners die
Palestinian Authority blasts Israeli refusal to talk with inmates in unprecedentedly large strikes across eight prisons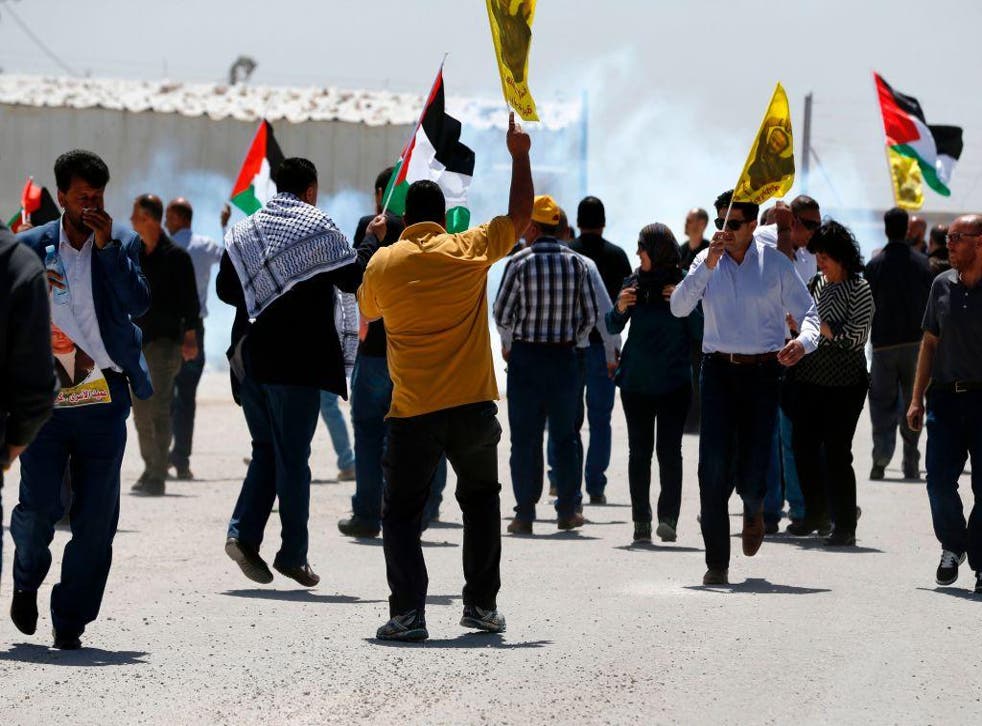 Leaders in the West Bank have criticised Israeli authorities for refusing to meet for talks with Palestinian prisoners who are hunger striking in protest at their conditions.
Issa Qaraqe, head of detainees' affairs for the Palestinian Authority (PA), warned on Wednesday the dispute could spark a "new intifada" if any of the striking inmates die.
Israel's prison service estimates that 1,187 Palestinian prisoners, held in eight jails around the country, began their protest on 17 April, Palestinian Prisoners' Day. Three days later the number had swelled to around 1,500, Mr Qaraqe said. The prison service did not confirm Mr Qarage's figure.
Netanyahu blames Palestinians for lack of peace in Israel
The 'Freedom and Dignity strike' is over a range of issues, from access to telephones and lawyers, to better medical care, to ending solitary detention.
"If their demands are not met, more prisoners will join the strike," he said in a statement which called on the UN and international community to intervene. Months of negotiations had failed, he added.
Palestinian leaders, including Prime Minister Rami Hamdallah and Palestinian Liberation Organisation Executive Committee Member Hanan Ashrawi, have also voiced their support.
Israeli Public Security Minister Gilad Erdan told public radio on Tuesday that the striking inmates were "terrorists and incarcerated murderers who are getting what they deserve," while Defence Minister Avigdor Lieberman said he wanted to take the approach of former British Prime Minister Margaret Thatcher.
Mrs Thatcher famously refused to negotiate with IRA hunger strikers in 1981 protests in which 10 people died.
Israel: From independence to intifada

Show all 7
Around 6,500 Palestinians are currently detained in Israeli prisons, most for terrorism convictions, although Palestinian leaders and prisoners' groups maintain that many have been unfairly tried or are political prisoners.
A further 500 are detained under what is known as Administrative Detention, which allows suspects to be held without charge for six month intervals.
There have been several hunger strikes mounted in the past, but never on so large a scale.
The current protest is being led by Marwan Barghouti, a Palestinian leader jailed by Israel for life for five murders. Mr Erdan said Barghouti was guilty of "instigating mutiny and leading the hunger strike and that is a severe violation of the rules of the prison".
Barghouti, who is popular in both Gaza and the West Bank and is sometimes touted as a future successor to incumbent Palestinian Authority President Mahmoud Abbas despite his multiple sentences, has been placed in solitary confinement for his role in the strike.
Many others have been separated into different cell blocks away from the rest of the prisons' populations.
Israel's prison service will set up a field hospital to treat hunger strikes if necessary, spokesperson Assaf Librati said.
A 2015 law made it legal for civilian hospitals to force-feed protesters, but they have to date refused to do so.
Join our new commenting forum
Join thought-provoking conversations, follow other Independent readers and see their replies