Palestinian officials block John Kerry Middle East peace talks
PLO executive committee had been expected to rubber stamp approval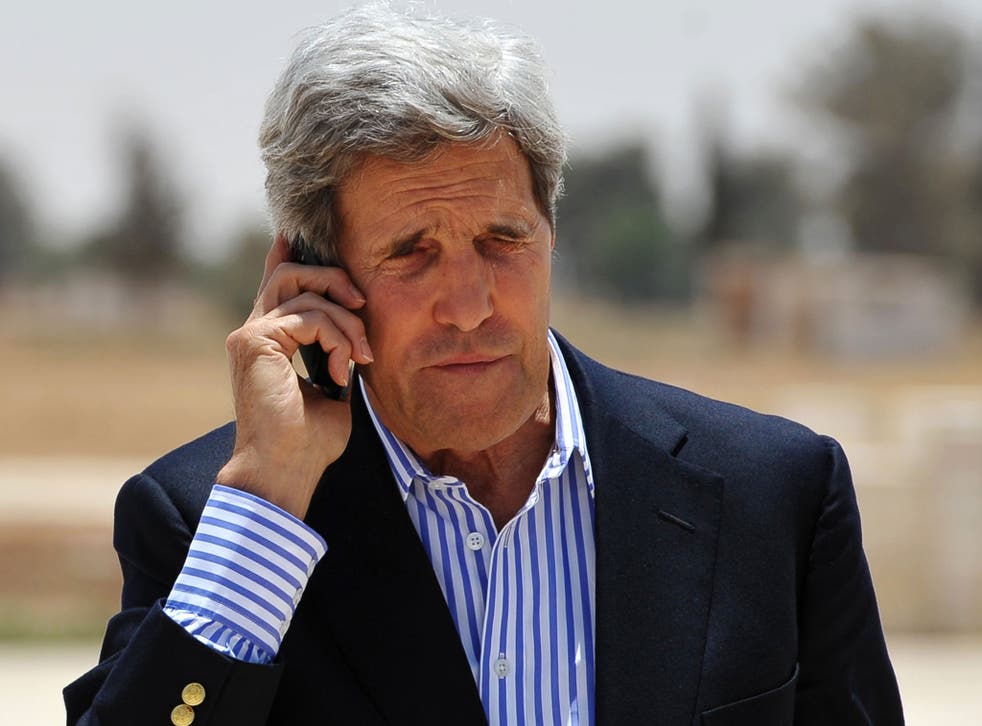 Hopes that Israeli and Palestinian leaders could imminently resume peace talks were dealt a blow tonight when Palestinian officials unexpectedly refused to back US Secretary of State John Kerry's latest initiative.
Expectations that the two sides could be about to hold direct talks for the first time since 2010 were raised earlier this week when Arab League representatives approved Mr Kerry's plan. A meeting of the PLO executive committee in Ramallah that had been expected to rubber stamp Palestinian approval instead broke up without any agreement. The committee is expected to reconvene tomorrow.
The sticking point for the Palestinians appears to be Israeli settlement building in the West Bank. Jewish settlements are considered illegal under international law, but have nonetheless continued to be built. Earlier this week the European Union enacted a new rule that prohibits member states from offering assistance to Israel, unless settlements were specifically excluded from any agreement.
Unlike the last time the two sides met there will be no formal moratorium on settlement building. Palestinian President Mahmoud Abbas was invisibly angry when US president, Barack Obama, said that peace talks must resume with pre-conditions during a joint press conference held by the two men in March.
The Kerry plan, if accepted by both sides, will lead to face-to-face talks based on the creation of two states, based on 1967 borders, with agreed land swaps to take account of what are commonly known as 'facts on the ground' – or the settlement blocs.
Despite the Arab League's "full support" for Mr Kerry's proposals, senior Palestinian officials appeared not to be as willing to support the plan, with one last night saying that the committee required more time.
Should the Palestinians eventually agree to sit down with the Israelis, Mr Kerry will be able to claim his first significant diplomatic coup. He has privately been maligned by both Israelis and Palestinians over the last four months, during which time he has visited the region six times, as being naïve and leading a process that neither side was interested in.
Few gave Mr Kerry much hope for an early breakthrough, even as he arrived in Amman earlier this week. He was not originally scheduled to meet Israeli officials, but following a meeting on Wednesday with nine Arab League officials it became clear that Arab opposition to his initiative was not as deeply entrenched as previously thought.
Hopes of progress were hinted at today when Israel's elderly president, Shimon Peres, who has pushed both sides to accept Kerry's efforts, suggested that there was progress. "From the latest information at my disposal, Secretary Kerry has succeeded in advancing the chance for opening peace talks," he said.
"I am grateful for his efforts and I know that the endeavour [sic] is a serious one. The coming days are crucial and we are within touching distance. I believe that the significant effort will bear fruit on both the Israeli and the Palestinian side – both parties are making an effort to overcome the final obstacles."
At least one newspaper close to the government reported that the President Abbas had decided to agree to talks.
Mr Kerry has invested a lot of capital in this latest process. However, getting the two sides to talk is only the first stage in a long process. Long standing problems such as the status of Jerusalem, which both sides consider to be their capital; the right of return of Palestinian refugees and the recognition of Israel by hardline Palestinian groups such as Hamas, which controls Gaza, are all serious problems that need to be overcome before any last deal is reached.
Register for free to continue reading
Registration is a free and easy way to support our truly independent journalism
By registering, you will also enjoy limited access to Premium articles, exclusive newsletters, commenting, and virtual events with our leading journalists
Already have an account? sign in
Register for free to continue reading
Registration is a free and easy way to support our truly independent journalism
By registering, you will also enjoy limited access to Premium articles, exclusive newsletters, commenting, and virtual events with our leading journalists
Already have an account? sign in
Join our new commenting forum
Join thought-provoking conversations, follow other Independent readers and see their replies