Palestinian toddler burnt alive after masked 'Jewish extremists' target home in arson attack
Israeli leaders have condemned the 'evil' terror attack and called for restraint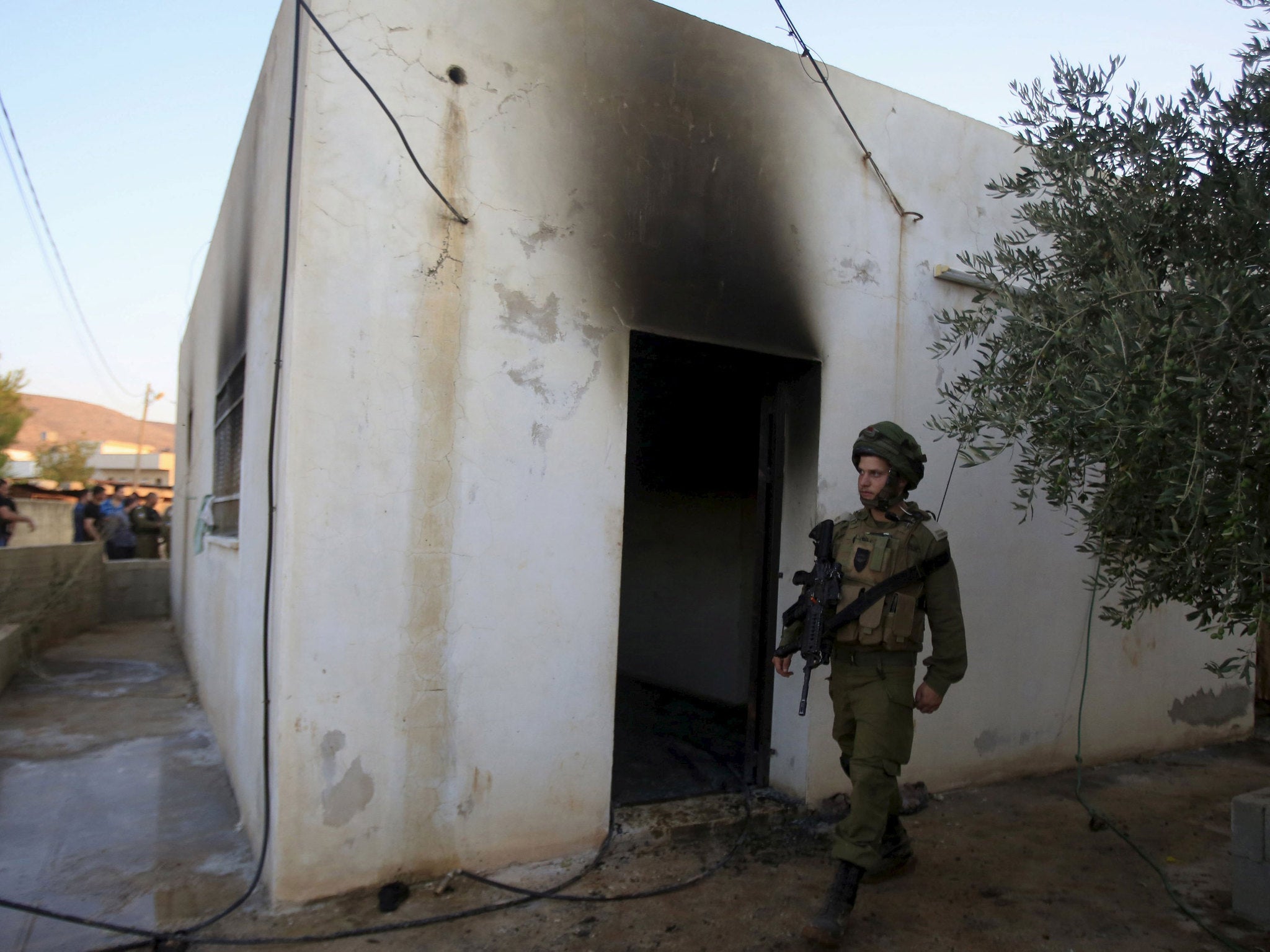 An eighteen-month-old Palestinian child has been burnt alive in an arson attack by suspected Jewish extremists on a home in the West Bank village of Duma.
Ali Saad Dawabsha was asleep with the rest of his family when masked individuals targeted the house with graffiti before throwing two firebombs into the home at 4am on Friday morning.
The attackers allegedly daubed the walls of the two homes in Kafr Duma with a "Price tag" slogan - as used by Israeli extremists in the past - which was quickly shared on social media.
They also reportedly sprayed "revenge" and "long live the Messiah" on the walls in Hebrew, according to Haaretz.
Although the child's father, Sa'ad, managed to get his wife, Reham, and four-year-old son Ahmed out of the building, witnesses told reporters he was unable to find the youngest as there was no electricity. The house next door, which was also targeted, was empty.
Four people were evacuated to a hospital in Nablus, in the West Bank, and then to a burn unit at Sheba Medical Centre, Tel Ha-Shomer. Israel's defence minister tweeted on Friday morning that the family would be transferred to Israeli hospitals.
The toddler's mother sustained 70 per cent burns. An Israeli military spokesperson said three people were critically injured in the attack, with another suffering from slight wounds.
The attack has been labelled the worst since a Palestinian youth was abducted and set fire to at around this time last year. Authorities have urged people to show restraint.
The Israeli Defence Force (IDF) confirmed the attack, with Brigader-General Moti Almoz telling the Jerusalem Post he does "not remember an incident this severe in recent years."
Israeli Prime Minister Benjamin Netanyahu condemned the "terrible criminal act," telling the newspaper: "This is a terror attack. Israel deals harshly with terrorism, no matter who the perpetrators are".
However, the Palestinian Liberation Organisation (PLO) tweeted on Friday morning that the attack was the "direct consequence of decades of impunity given by the Israeli government to settler terrorism".
IDF spokesperson Lieutenant Colonel Peter Lerner labelled the attack "nothing short of a barbaric act of terrorism".
He confirmed that an investigation to discover the perpetrators and bring them to justice was on-going as soldiers are patrol the area. Two infantry brigades have reportedly stopped training exercises and returned to their bases.
Reporting by Reuters and additional reporting by Associated Press
Countries with the worst relations with neighbours
Show all 8
Join our commenting forum
Join thought-provoking conversations, follow other Independent readers and see their replies