Paul Bremer on Iraq, ten years on: 'We made major strategic mistakes. But I still think Iraqis are far better off'
Ten years on,  Paul Bremer recalls Iraq's  descent into chaos and the fight to restore order
Paul Martin
Monday 18 March 2013 21:24 Comments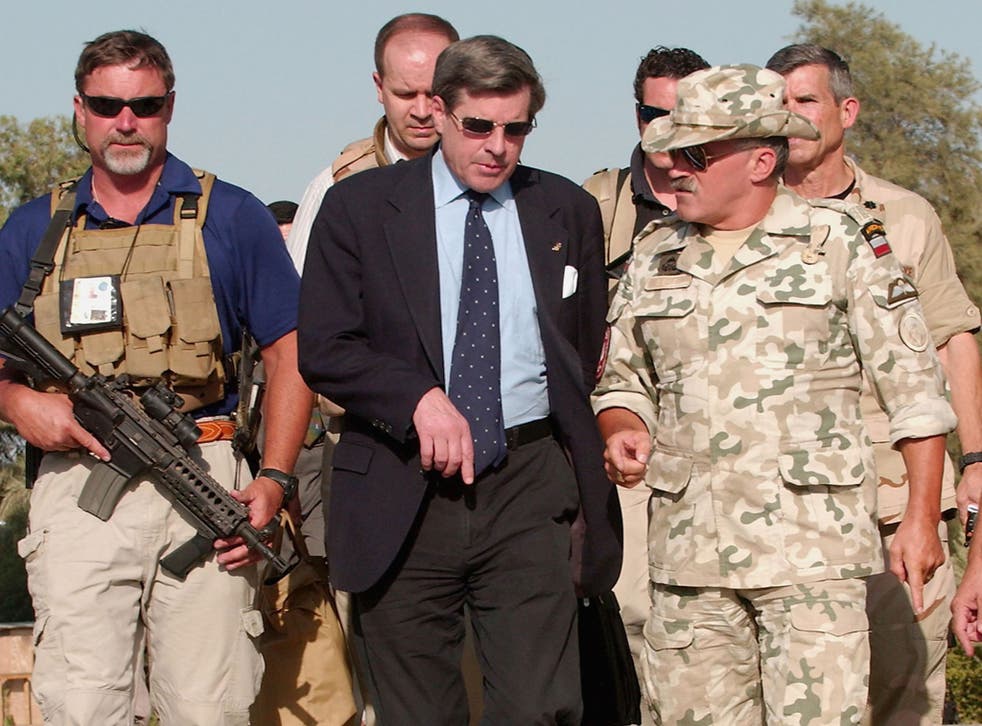 Paul Bremer, who ran Iraq for 14 months after Allied forces invaded 10 years ago tomorrow, today said that strategic military blunders had seriously hindered his efforts to contain the insurgency in Iraq and had cost Coalition and Iraqi lives.
In a revealing interview in his Maryland home, Mr Bremer spoke out about what he said was his own personal battle - against his country's top brass. He said a post-Vietnam complex had led US generals to fight a war against insurgents through an ineffective "whack-a-mole" policy. It had been based on a misconceived military doctrine and it was being fought with woefully small numbers of troops.
"It was a major strategic mistake. And it was knowable at the time," he said. Mr Bremer said he had urged President George W Bush and Defence Secretary Donald Rumsfeld to send double the number of troops. It took another four years, he said, before the right approach was put in place through the Bush-authorised "surge" - and the uprisings and civil strife around Iraq were properly dealt with.
Alongside him as we spoke in his basement study were photographs that told the story of his life: himself as a young Marine; with President Bush; him and his family with the Pope. "I did not expect such violence to break out after we arrived," Mr Bremer said. "I assumed we would have adequate forces on the ground. We should have learned from Bosnia and Somalia that you have to have sufficient force on the ground to protect the people."
He said the US leadership should have taken the advice of a think-tank that had urged 400,000 troops be deployed, not 180,000. The shortage of forces had "a double-barrelled effect. The insurgents concluded that we were not prepared to ... provide security. And a lot of the Iraqi people came to the same conclusion, and started to hedge their belief in the success of the occupation. We only got an appropriate strategy when General Petreus produced a new army doctrine [in 2007]."
To his critics, Mr Bremer bears a significant share of responsibility for Iraq's descent into chaos, immediately instituting a series of measures which, the critics claim, destabilised an already fragile security situation. The first orders he issued as the head of the Coalition Provisional Authority were to ban members of the Ba'ath Party from holding public office, and to disband the Iraqi army.
Within months one of the bloodiest insurgencies in modern times was under way. There were also accusations of massive financial mismanagement. In 2005 a US administration report discovered that around $9bn allocated for reconstruction had disappeared. There was not, however, any suggestion that Mr Bremer was personally culpable for this.
Today, a decade on from the invasion, Mr Bremer strongly defends his decisions. "We took opinion polls... De-Baathification never polled below 95 per cent approval. The mistake I made was to turn this over to a small group of Iraqi politicians, and they then broadened it. I think that hurt us because it gave the impression that we were prepared to carry out a really wholesale De-Baathification of the entire society. And that was clearly not our intention."
He also stressed the decision to disband the army was approved by the British and US governments before he issued his famous decree, and admits to other shortcomings - especially his regime's failure to get the country going again. "To defeat insurgency you have to defeat them but also improve lives... clear, secure and build. We never really got the first phase done - securing the population, especially in large urban areas."
Mr Bremer says the failures of American and British policies in Iraq gave an opening to Iran to expand its influence. Feeling the US was in disarray in Iraq, the Iranians became confident they could resume their nuclear programme without serious repercussions, he said. He now says the US and Britain pulled out all their forces too quickly, creating new dangers. In a thinly veiled attack on the new US doctrine of withdrawal espoused by President Obama, Mr Bremer said: "It was a mistake. We should have left troops in Iraq - absolutely yes. That was the recommendation of the American commanders."
As for himself, he was deeply relieved when his 14-month term of rule in Iraq came to an end. "When I left it felt good to get out. My staff and I still call 28 June 2004 our Liberation Day. I said to the new Iraq leaders: You have your republic - now make it work."
Mr Bremer has dedicated his life since then mainly to helping with sports charities. He organised a 4,000-mile trek by bicycle across America - in the company of 16 former soldiers injured in Iraq and Afghanistan. Some may have been crippled because of the military strategy he criticises. But he feels the removal of Saddam and the new regime was on balance better for Iraq than to have left the dictator in power. "The average income per head is six times what it was under Saddam. The violence, even though it is high by Western standards, is lower than it was. And I still think Iraqis are far better off."
Paul Bremer: in his own words
"We should have learned from Bosnia, Somalia, and Libya ... You have to have sufficient force on the ground to protect the people. We did not solve that problem until Bush made the courageous decision to Surge in 2007. I believe it led to increased casualties – among the Iraqi people and of course among the Coalition forces."
"We lacked an appropriate counter-insurgency strategy."
"The average income per head is six time what it was under Saddam. There is potable water, telephones, access to white goods, satellite and cable TV. The violence, even though it is high by Western standards, is lower than it was. And I still think Iraqis are far better off."
Paul Martin: conflictzones@gmail.com
Register for free to continue reading
Registration is a free and easy way to support our truly independent journalism
By registering, you will also enjoy limited access to Premium articles, exclusive newsletters, commenting, and virtual events with our leading journalists
Already have an account? sign in
Join our new commenting forum
Join thought-provoking conversations, follow other Independent readers and see their replies